A Mid-Century Look at the American Film Industry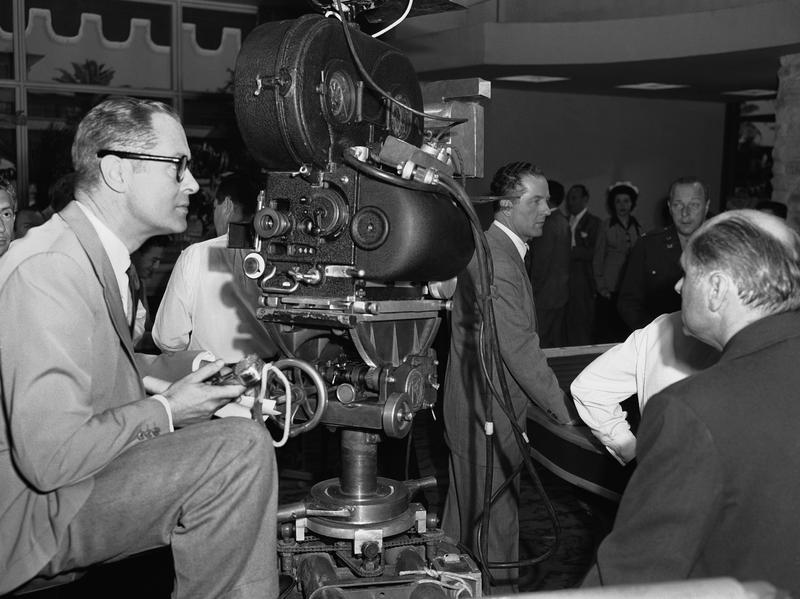 MoMA asks, Does the Public Get What it Wants? In this 1950 symposium, the Film Department at the Museum of Modern Art invites stars, producers, distributors, critics, and the audience to consider the state of movies in America. It's an interesting time to survey the medium. The five major studios still own theaters but they are being challenged in what will prove to be a successful lawsuit by the Justice Department. The Hollywood star system is still in place but showing cracks. Independent films are a rarity but garnering attention.
The panel consists of actor and producer Robert Montgomery, the famous silent star and co-founder of United Artists Mary Pickford, distributor Arthur Mayer, independent producer Janice Loeb, and critic Gilbert Seldes. Of these, Montgomery, Mayer, and Pickford provide most of the insights. Seldes brandishes statistics, showing that the movie industry is in trouble, with viewership down. Montgomery complains of tensions between the creative side of the industry and those who regard movies as a commodity. Pickford agrees, claiming stars are over-exploited. She plaintively recalls, "I didn't want to play a little girl all the time."
Mayer takes good-natured offense at all this. He denies that distributors are the villains, claiming they have almost no influence on the content of films. The talk turns to censorship. Montgomery complains of "censor board and legions" that can keep films out of "entire territories of the country." What this inevitably leads to is self-censorship, as well. Mayer points out that because of "block booking" he, as the distributor, couldn't object to a movie's content if he wanted to. He then makes an impassioned plea for film as "a high form of national expression," pointing to such popular movies as Hope and Crosby's Road to Utopia as the "people's art." Montgomery counters with a very funny story about his making, in the face of virulent studio opposition, the highly regarded Night Must Fall. Mayer reminds the New York audience that the most popular current film, by far, is the current installment of the rustic Ma and Pa Kettle series. This is a valuable snapshot of a now distant time in cinematic history, somewhat marred by unnamed moderator's longwinded interjections.
---
Mary Pickford (1892-1979) was the first American movie star. An astute businesswoman as well as actress, once talkies came in she moved over to the distribution and producing side of movie-making. But she will always be known as America's Sweetheart. The Woman Pioneers Film Project notes:
Pickford is often remembered for her portrayals of children in films including Rebecca of Sunnybrook Farm (1917) and Daddy-Long-Legs (1919). …Pickford's petite size and youthful beauty made her ideal for these parts, but it was her acting talent that seared these roles into the public consciousness. Her portrait of childhood captured both the simplicity and complexity of a young person's inner world, and also its physicality, through body language and mannerism.
---
Robert Montgomery (1904-1981) was a successful stage and screen actor for many years. By the time of this symposium, however, he had moved into directing and producing, at which he was also quite successful. His highly critical analysis of the studio system is echoed in later comments he would make on the then burgeoning medium of television. As the New York Times reported in his obituary:
In later years, Mr. Montgomery became sharply critical of the networks, charging that they were taking too much control of production and weakening the quality of the programming. He said this was true not only of dramatic shows, but also of news programming. ''The networks put on a man who is a personality cult, who reads headlines only and doesn't give the basis for them,'' he said once on the lecture circuit. Mr. Montgomery, a champion of public television, suggested that noncommercial television should be financed by a tax on the sales of time by commercial television.
---
Arthur Mayer (1886-1981) is by far the most colorful of the speakers. A true industry insider, he was far from the clueless distributor he portrays himself as here. Indeed, he was later honored by the Museum of Modern Art and taught film for many years.  On the site Yesterdays of Demopolis (Mayer was born in Demopolis, Alabama) one of his former students remembers him fondly:
Arthur Mayer's calendar resembled that of a farm worker who follows the crops: he taught History of Film at Dartmouth in the autumn and at Stanford in the spring; and he taught Economics of the Film Industry at USC in the winter.  He and his wife, Lillie, spent their summers in Manhattan.  "They make much more fuss over you if you're there only three months," he told me.  "If you're there all the time, you're just another guy." Arthur - no one called him Professor Mayer - was never just another guy.  He didn't merely teach the history of film, he'd lived it.  By the time he turned to teaching, in 1964, he had run the Paramount Pictures publicity department; distributed the postwar films of Jean Renoir, Vittorio de Sica and Federico Fellini; managed New York's Rialto Theatre; and produced some B movies.  Hearing Arthur lecture was like taking an industrial engineering class from Henry Ford.
Audio courtesy of the NYC Municipal Archives WNYC Collection.
WNYC archives id: 68925
Municipal archives id: LT271