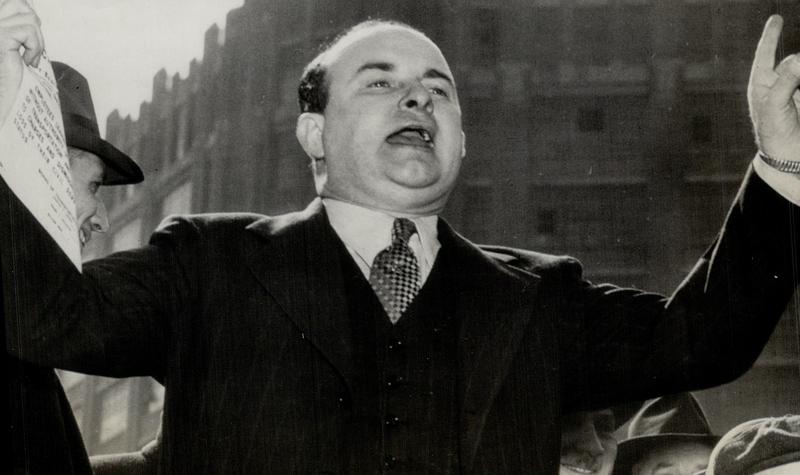 Summary
This episode is from the WNYC archives. It may contain language which is no longer politically or socially appropriate.
Jay Nelson Tuck moderates.
Guest: Mike Quill, President of Transportation Workers Union discusses subways facilities and the sale of the city's plants to Con Ed.
Panelists include Stan Siegel, Peter Franklin, Jim Farrell, and Ed Stover.
Audio courtesy of the NYC Municipal Archives WNYC Collection
WNYC archives id: 71609
Municipal archives id: LT8236
Transcript
This is a machine-generated transcript. Text is unformatted and may contain errors.
Can the fifteen cent subway fare be maintain New York City subway feed from it to operate at it are you in favor of selling the city's power plant to Consolidated Edison does New York City have insufficient subway facilities for the answers to these and other questions listen now to your city stations campus press conference each week at this time in this transcribed discussion editors of college newspapers question and here's where they personality our moderator is a noted editor and US paper and Jay Nelson and now to introduce the panel and tonight's guest here is Mr Tough Good evening one subject that concerns every one of us is the fifteen cents. And it also very much concerns our guest tonight he is Michael J. quill president of the Transport Workers Union which represents the city's subway employees and many others in the field of transportation I want need to tell you where Mr Quayle was born when you hear his voice in a moment you'll hear Ireland itself. In the Irish rebellion came to this country in one nine hundred twenty six and two years later I went to work for the I.R.T. as a ticket agent he became president of the infant in one nine hundred thirty five two years later he was elected to the executive board of the CIA and also to the New York City Council in which he's three terms since then he has held the world wide number of offices in the CIA and in the merged. Here TONIGHT Question Mr quill are stands for the goal of the N.Y.U. square Journal Peter Franklin of the City College observation post and Jim Farland both of the Fordham lexigram And Ed has the first question Mr Cornell can the fifteen cent subway fare be maintained in spite of the subway system operating at a loss. I believe that it can and when will it show are going to be lost I believe that. There should be a subsidy of the subsidies provided by the state of the city is not the question I think the subsidy to me and ten to fifteen subway for City subway fare should come from the outside but I've read time on a party which is raking in hundreds of millions of dollars in automobile traffic for the bridges and tunnels. Well sir as far as I know many other cities have theirs which greatly exceed our fifteen cent fare now do you feel that fifteen cents or perhaps twenty cents is an unreasonable amount to charge the commuters. I understand that other cities have higher subway fares and I am. There that's why the subways and buses systems of other cities are dying they have dying from the onslaught of the automobile traffic it was the last subway a fan of the law transit thing that made New York City great not Bronx would never have been built up but for the law fire Queens would never have been better top broken would never have been built up real estate became great in the last subway fan and I think real estate should now to pay the bills Jim Wells are chairman Robert Moses of the Triborough Bridge and Tunnel Authority has presented us with a rather ambitious bridge building program if you were deprived of some funds to subsidize the subway would he not in turn have to raise the tolls on his bridges in order to maintain this ambitious building program in other words that you pass the very thing from the commuter on the subway on to the commuter who drives his car nor Jim I don't think Mr Moore's would have to do that as a matter of fact Mr Morris cut down the cost of operation crossing the bridges and tunnels over the last twenty five years if you're not just set out to pick up the cost jobs Washington Bridge and then have trip tickets across the tunnels and they're still the wealthiest corporation in the country today almost Well if you would subsidize the Transit Authority which is public body to keep the subway fares down would you also subsidize privately owned bus companies to keep the bus fares down no I don't think that the private view on bus companies should be subsidized I think they may get some relief but I don't think it should be in the form of a subsidy whatever gasoline tax stamp paying now or whatever other city a tax and they are paying they may get some relief but I don't think they should get an outright subsidy. Peter is the coolest suggestion has been made for a ban on parking in the midtown business areas as a cure to the city's traffic in transit problems do you feel that such a man is necessary I think it is long overdue Peter I think. It is necessary I think that said you will show up and I have said this is far back as five years ago if we keep on putting out a mob in the traffic into the downtown areas of this city as we are doing now the city will choke from automobile traffic I think there should be a ban on talking stamps Mr Cuomo has no doubt that the city is choking in large measure from the automobile traffic but is the city all the city transit facilities capable of meeting the demand with the tremendously increased demand that would be pushed on them from putting a parking ban there is not question about to but they can meet the demand we might suspect out the work hours we might be staggered but what colors what we have lost better than one minute passengers a year over the past ten years if we could get them back from the automobile trade we would welcome them in the subways and buses that is not true though that a lot of this planning about staggering work hours has proved unsuccessful in several cities and in England where the problem is even more acute than it is here in England you're don't have the same problem take the city of London which is and they are you're something like my son Jenna stuck Tokyo their city is stretched out into several bars stretching many many miles you don't have that situation and that the same as you have here you have never in any part of the water such a large and compact city as you have in the city of New York. Sara What steps would the Transport Workers Union favor in order to stop the declining number of subway riders. The only steps we can favor is what can be done by the transit of part of the city government and the state legislature and that is to give a subsidy to maintain the fifteen percent failure to eliminate traffic from the downtown areas of all the bottles that I've mentioned and to bring the people back to the transit facilities well sort of what I really had in mind was this what causes do you attribute to the decline in the number of New York City people who are actually running the subways every year we get statistics on the fact that this number is decreasing it is the natural human feeling of people trying to ride out a one automobile is having group riding as they had let me join in the water many of the industrial areas that people would rather ride on automobile effect but that does have to ride the automobile is going to result finally and shopping the city of New York Peter Mr Poole one of the suggestions made recently for saving the city's money was the sale of the city's power plants to transfer power plants to Consolidated Edison How does your union and yourself stand on this proposal Well our young and I long what I'm not really about in the city of New York or if have been C.E.O. of the entire American labor movement I've gone publicly on the record against the sale of the power plants this is not a recent proposal comes out of that and then to some company I have been trying to take over these plants since like Rob it's back in nineteen point B. PETER Well what sir are your specific objections to the sale that the sand would be given away that comes from head to some company offering product a one hundred million dollar property they are offering you keep two million dollars over the period of the next ten years that then kind of I'm going to do this and whatever some of my early on all of the electric power generated in the city of New York and what have the right to raise rates I will not only to the subway companies to the board of transportation after the now times have a party but they would have the right to remain free after the com So most of the End Times I think Jim Also are you weeks ago here on campus press conference a commissioner of air pollution control pointed out that Qantas and will be taking kind of to these facilities subject to the responsibility of spending more millions of dollars to repair the plant in order to remove smoke control violations which the city itself is not prepared to spend this at this time therefore that the city is benefiting by releasing a future liability What do you think about Collins and I don't know about you but I don't think that we should give away the subways property of the city of property because the two have to spend on dollars for the sake of getting rid of some snow we might be buying you know small for all small. Mr quill at the time of the subway strike last year you roundly condemned to the motivations Benevolent Association and now that the latter group is a part of your union do you still are we now in strikes as a means to achieve your demands Yes I do or announce a strike in the subway I want to get some last resort I think it would be criminal to call a strike in the subways of the city of New York I have been a leader of the Union for twenty five years and then twenty five years I have never called the subway strike because I would not attempt to telescope the traffic I've been writing Abbott's I have eight million people of one great city. Yes sir you said as a last resort does this mean to imply that a strike is not ruled out absolutely out of sight is not ruled out absolutely whenever you don't want to close the collective bargaining table whenever you don't want to slap your face when that is not what the past talking to tell you then your kind of strike as a last resort we're going to twenty five years I have always found that the little food and little crack at least you know the government's plan even though open Yes I've always found the dollars plan working in the city of New York elsewhere should work on a broader scheme I wish I want to go through skimming. And that's the quote you mentioned again I'd like to bring of this question of the left are suing now the common law and says that this is illegal it's a criminal offense to go out on strike knowing this so your union would still even consider it as a last resort we do not recognize the condom Waddington Act We have posted on why didn't act at the time it had been defied over the country it was replied to life by the mortal man and nothing happened to the most of man because T.W.A. stepped in to save them it was defying state it has been defined by the garbage workers in the city of Yonkers the convent want them law is not the way to solve the problems of the collective bargaining table you cannot stop people into submission that. Mr Crow we've mentioned striking now let's mention something about the names of these strikes what are the benefits for the transport workers that the T.W. is presently working for aside from the these mention of the power plants and the fifteen cents. That benefits that you're going to can bring to the workers the benefits that the D.W. is presently trying to bring to the workers I can tell you want to define if it's we have delivered already and I give myself as a prime example I walk in the subway as a laborer for fifty cents an hour building the Avenue subway I want that as a ticket agent for twenty seven cents an hour today these jobs are pin from ten dollars and twenty cents to talk dollars and seventy cents an hour I want that eighty four dollars a week seven days a week without paid vacation is today we have to three and four weeks paid vacation we have sick leave the first day of sixty back we have it paid legal on days we have collective bargaining we have dignity you are talking to the human being that's the benefit that T.W. You have brought to its workers. Staying on top of it one specific question I have what is the. Retirement set up which you presently have in the subway system there subway system. Set up various in the private groups we have one voluntary retirement in the ticket we have a country betrayed retirement plan I'm not sure of the figures but is a very satisfactory one not even the most of them is benevolent association. Objected to that last year. Jim Farland sorry Well I think it will be based upon these very advances that you have made for the unskilled workers the modem is benevolent association and their cohorts have a charge that while the unskilled workers have advanced phenomenally under the T.W. the skilled workers have been lost in the shuffle and the gap between the two has been no solace and that the skilled worker is now being treated unfairly How do you want your the story of this kind of workers not being treated unfairly I think that I'm being treated unfairly Jim to some extent there are yes we have a long ways to go and the proof that we were right rests in the fact that the M.B.A. have disbanded in one thousand five hundred of them have come back into T W back in the house of labor who have been left and I'm sure they're going to be back for quite a while and we've got a happy about it Peter Mr Crow it's quite obvious of course if you're well in favor of city employees being unionized I'd like to ask one question though how do you feel about the possibility of the police department being you know I have always said the police department should be unionized I think they should have a strong you've to protect them I have said that for many years of course the next question to that is have the right to strike ice and know that in their contracts they should have another strike the same as T.W. we have in the two year contract. What sort of way would they have. Obtaining things they felt they needed if the strike weapon was entirely removed and Mr Tuck the same way as we empty doubly you have achieved God or again without strike you have the right to bargain with the right to petition the right to come to Dublin to N.Y.C. on radio or to the other radio stations to television to parade and to have meetings to raise general I am shocked at a strike I want to question your are regarded as one of the most ferocious men and you know you say you're twenty five years you've never called a strike and yet every time he gets on all the papers live in fear and trembling that Michael is going to tear the subways one into the other why is this that well from time to time the newspapers missed the talk proved to be wrong the wrong. Also you point out that the transit authority in the T.W. you have in their contract the fact that there isn't there and a strike was and if the police department should have the same type of contract to prohibit them from striking however you have stated that in the event of the last or last resorts running out you would go to the straight for the police department in such an event b