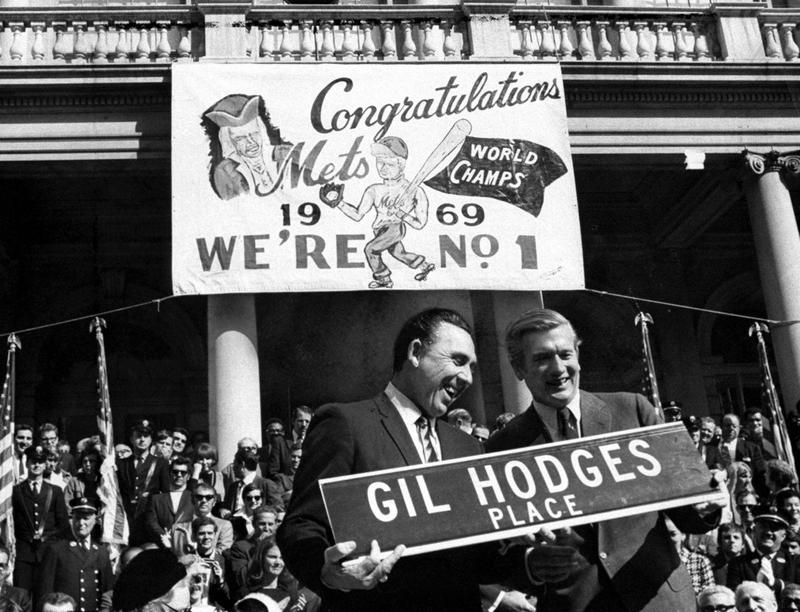 This episode is from the WNYC archives. It may contain language which is no longer politically or socially appropriate.
Abruptly begins with audio from United Nations, interrupted at 4:30 in for the City Hall reception for the New York Mets, winners of the 1969 World Series.

Star Spangled Banner sung.

Mayor John V. Lindsay speaks to the cheering audience. He introduces the President of the NY Mets, Joan Payson and Chairman of the Mets, Don Grant.
Grant reminds everyone present that many people contributed the victory from the very top to the "man who shined Mr. Jones' shoes." He also thanks the "greatest fans in the world."

Mayor Lindsay then renames the street on which Gil Hodges lives: presently 3400 block Bedford Ave. Brooklyn becomes "Gil Hodges' Place" for the day.

Gil Hodges, Mets manager, thanks the Mayor and reminds all listening to not go over to Gil Hidges' Place. Hodges is then awarded the Bronze Medallion of the City of New York.
Hodges then introduces the members of the team, including the coaching staff.

City Council President Francis Smith speaks.

Ed Kranepool speaks on behalf of the team.

Eric Zorro reports on the day's events.
Audio courtesy of the NYC Municipal Archives WNYC Collection
WNYC archives id: 48883
Municipal archives id: T4928