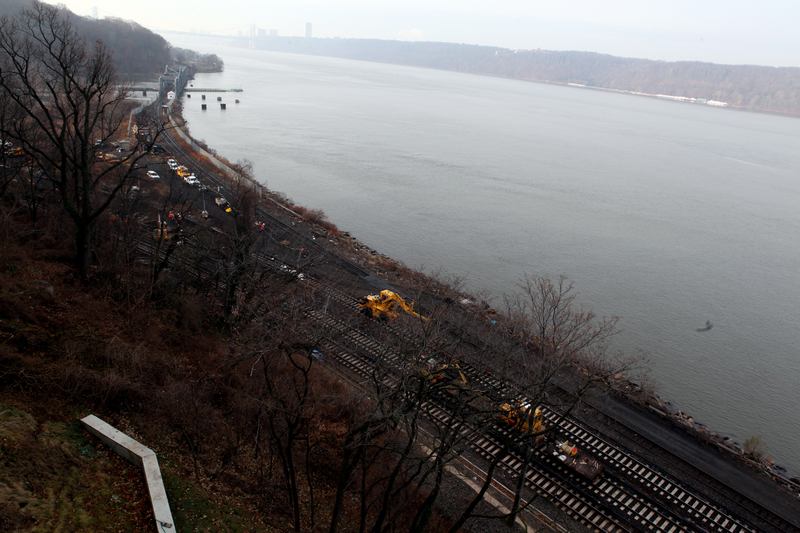 Metro-North Railroad will resume more than 98 percent of its regular Hudson Line service in time for Wednesday morning's commute following Sunday's massive derailment. According to Governor Cuomo, the railroad was able to clear debris, begin rebuilding tracks and restore one of the three tracks in the area that was not significantly damaged in the accident.
Workers were on the scene all night and by Tuesday morning, the Metropolitan Transportation Authority had begun rebuilding two of the three tracks damaged during the crash.
By Tuesday afternoon, investigators were pointing towards human error as the cause of the derailment that killed four people. National Transportation Safety Board member Earl Weener said information from the train's two data recorders showed the train was going 82 mph on a turn when it should have been going no more than 30 mph.
Weener also said alcohol tests from the driver had been returned negative, but that drug test results were not yet in.  Weener added:  "It's premature to be able to say yes (the driver ) was or wasn't conscious."
Reports on Tuesday morning say that the driver was either dozing or zoning out. DNA info's Murray Weiss told WNYC's Brian Lehrer that sources say the driver said he jerked awake as the train was rounding the bend at top speed. The NTSB says brakes were applied just moments before the train came to a rest near the Hudson river early Sunday.
Also on the Brian Lehrer Show, Governor Cuomo said: "There are all sorts of liability questions. There's going to be all sorts of law enforcement agencies that will be taking a look at the liability."
He added: "This operator is not going to be operating a train any time soon, of that I can assure you."
But Cuomo said he wouldn't speculate on the cause of the excessive speed. 
Crews repairing tracks at the site of Sunday's Metro-North train derailment. (Stephen Nessen/WNYC)
About 900 gallons of diesel fuel was siphoned from the locomotive before it was removed from the accident scene and workers have used a specialized piece of equipment called a Rail Vac to remove any remaining fuel that spilled during the accident. No fuel reached either the Harlem or Hudson rivers, the authorities said.
Metro-North crews have been rebuilding about 800 feet of track that were damaged by Sunday's derailment at Spuyten Duyvil in the Bronx. The section where the accident occurred has three tracks. The middle track was badly damaged and the outer track, closest to the river, was destroyed. Crews will continue to rebuild the two damaged tracks while service resumes on a single track.
As a result of that limited track capacity for a one-mile segment, six morning peak trains will be combined into three, and all customers should expect possible Hudson Line delays of 10 to 15 minutes.
A candle memorial for the four victims of the train derailment, overlooking the crash site in the Bronx. (Stephen Nessen/WNYC)
The MTA and state police working together to get large equipment onto the tracks for fast repairs. (Stephen Nessen/WNYC)