Transportation Nation
Metro-North Promises More New Haven Line Trains, a Credit Program, and an Investigation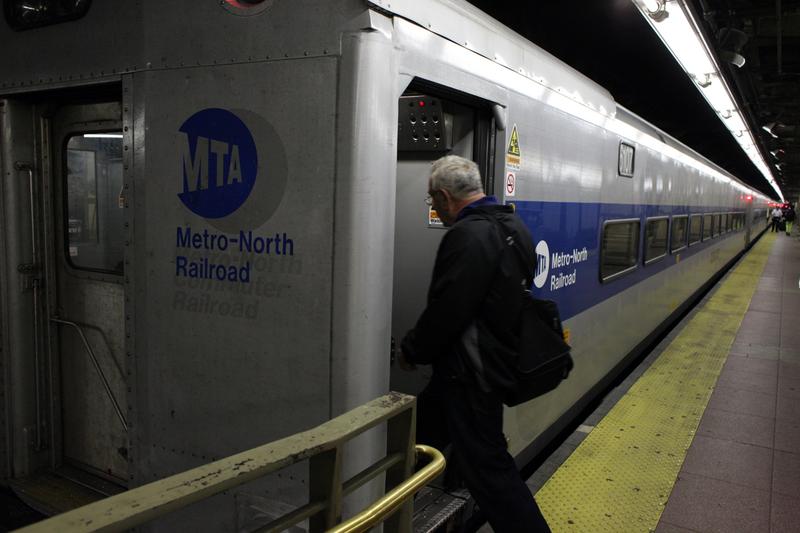 Following a power outage that has curtailed service on the nation's most heavily traveled commuter rail line, New York's MTA says it will reimburse ticket holders.
MTA chief Tom Prendergast said the credit program "would mitigate some of the impact" to monthly and weekly ticket holders on the New Haven Line.
The credit was approved at a specially-convened MTA board meeting Tuesday.
Prendergast acknowledged that reimbursing customers was unusual. "The offer of a credit is something very, very rarely done," he said. "As a matter of fact, I can't recall it being done." (It wasn't done for MetroCard holders after Sandy, for instance.) He said it was prompted by the "magnitude and duration" of the problems.
The Con Ed feeder cable that powers the New Haven Line failed last week. Since then, the MTA has only been able to provide partial service.
Related: Your Metro-North Survival Guide
Details of the credit program will be announced later this week. Officials said the credit will be good through March. Depending on the ultimate length of the power outage, the cost to the MTA will be either $2 million (for one week) or $4 million (for two weeks.) Tip: monthly and weekly ticket holders should hold on to their tickets.
It wasn't immediately clear whether the MTA would seek reimbursement from Con Ed.
Prendergast said full power is estimated to be restored Oct. 7, with the goal of providing full service the following day.
In the interim, the MTA has been running a combination of diesel trains, electric trains, and providing bus shuttles at makeshift park and rides.
But the New Haven line should become incrementally more passenger-friendly soon. Metro-North president Howard Permut said Con Ed has hooked up another temporary transformer, enabling the MTA to add more electric trains to the schedule. By Wednesday, he said, service on the New Haven Line should be at 65 percent of normal. The new schedule, which is in effect from Wednesday to Friday, can be found here.
Permut acknowledged that conditions on the New Haven Line and the neighboring Harlem Line — which has experienced spillover — have been less than ideal.
"Our goal is to continue to reduce standees, to eliminate leaving people on the platforms," he said.
Prendergast said the agency fully supported calls for an outside investigation, and would conduct an internal one as well. "We need to know what happened, and what we need to know to prevent a recurrence," he said.
Con Ed said its own work may have led to the power disruption.