Men Not at Work at Troubled Mall Development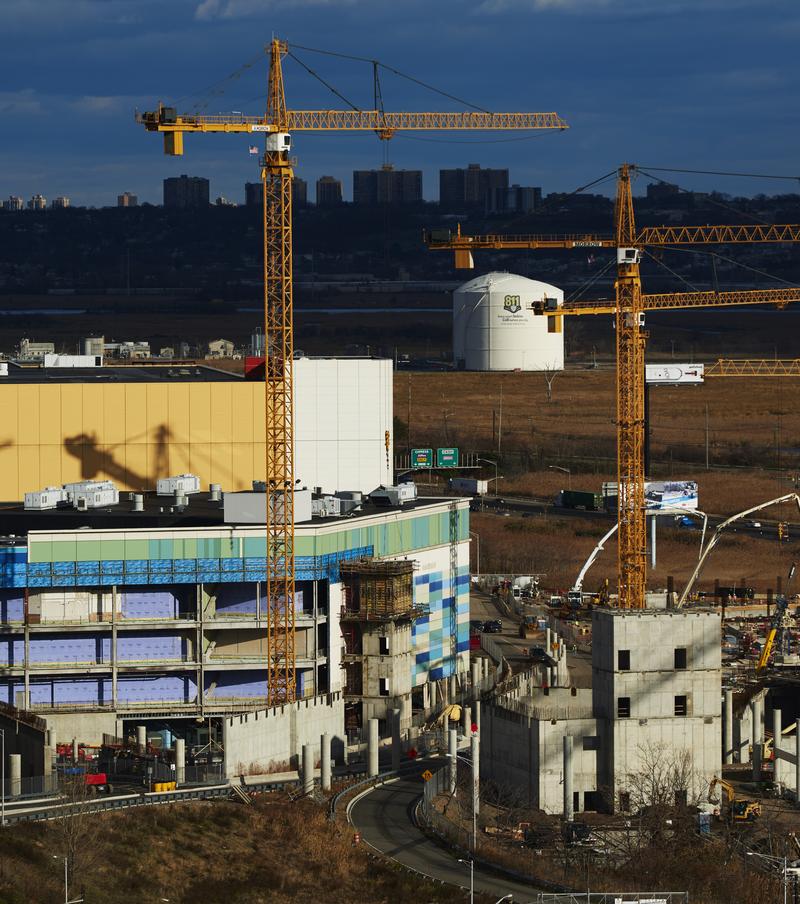 The half-built American Dream mall in New Jersey's Meadowlands has yet again missed a target date to secure construction financing, raising fresh questions about the developer's ability to complete the project.
On December 8th, developer Don Ghermezian told WNYC all the money is teed up  — nearly $2.7 billion dollars to complete work on the 90-acre mall near Met Life Stadium. The money is to be raised through tax-free municipal bonds and through private borrowing.
"I anticipate that prior to the Christmas holiday the public will know fully about the commitment on the financing," Ghermezian said.
But Christmas came and went. Then a company spokesman said early January was more likely. Now it's February, and there's still no news of how the Ghermezians' company, Triple Five, will pay to make a retail and entertainment pleasure dome out of the eyesore on state-owned land next to the New Jersey Turnpike.
Today the site is lifeless. The hundreds of workers who were here in December didn't come back from Christmas break.
So what's happening?
It's possible the developers looked at rising interest rates and uncertainty in the bond market, and decided to delay.
Another factor may be American Dream Miami - another megamall project the developer is pursuing simultaneously in Florida.
This week, a spokesman for Triple Five told WNYC in an email "no updates so far" and did not elaborate.
Hundreds of millions of taxpayer dollars have been pledged to support this mall if it's ever built.
In December, Don Ghermezian said his family is committed to opening American Dream, which was known early as Xanadu. The mall has defeated two other developers since it was begun in 2003. 
"There was no project that we've come as far as we've come with the American Dream and decide to step back. There's no fear on my part that American dream will not get built," Ghermezian said. 
Triple Five also owns Mall of America and West Edmonton Mall in Canada.