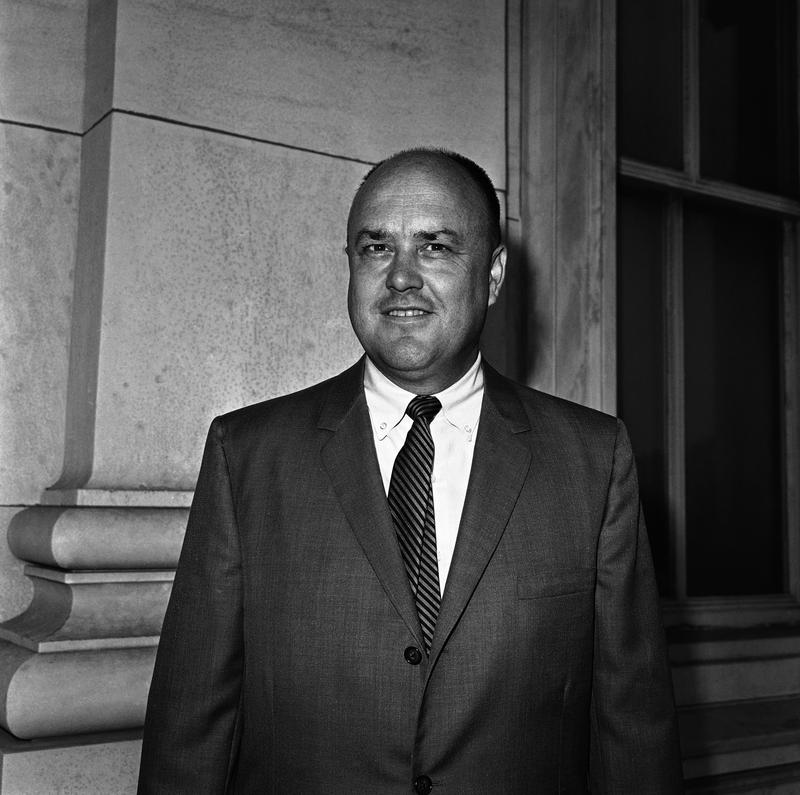 Summary
This episode is from the WNYC archives. It may contain language which is no longer politically or socially appropriate.
Republican State Representative of Wisconsin Melvin R. Laird speaks about plans for the Republican platform for the party. He speaks about bipartisan cooperation on issues of foreign policy.
Speaks particularly about Laos and South Vietnam.
Audio courtesy of the NYC Municipal Archives WNYC Collection
WNYC archives id: 70386
Municipal archives id: T198
Transcript
This is a machine-generated transcript. Text is unformatted and may contain errors.
We are all delighted to have with us the three members of the Republican platform committee and the attention of the country is turned toward the work of this committee as certainly the the history of this year and perhaps of of the years coming before us will be to a considerable extent objected by what is done by Congressman Layard's Committee he is as you know chairman of the one hundred men and drafting committee which will meet in Chicago on July sixth and probably make the Menos of the Republican convention this is not Congressman lads' first experience. The same hot seat was something he occupied in one nine hundred sixty during the closing days of the writings the dramatic closing days of the revolt the writing of the one nine hundred sixty Chicago. Platform and he also was chairman of the platform which was put up for the byelection just two years ago in one thousand nine hundred two he's been through this and all of us are anxious to hear what he can tell us about the platform and how it is going to affect the Republican campaign this year. Thank you very much. Present Congressman let's come and Congressman gal and I are very happy to have this happen to need to visit with you and give you a little background information on the deliberations of the platform committee for the one nine hundred sixty four Republican convention. I might add that Mr President said our convention this year is going to be held in San Francisco and we don't want any of these people going to Chicago looking for it. And we do start our deliberations on the sixth of July at the St Francis Hotel and I'd like to run through briefly for you some of the program that we planned during that first week because I think there will be more news emanating from San Francisco during the week of July sixth than during the entire week of the Republican convention starting on July thirteenth we will be having our hearings and for the first time all of our here eons before the platform committee even the Including our organizational meeting on the first day July sixth will be open to the press and will be open completely for every individual every news service every newspaper radio television station to cover is adequately as they think it deserves coverage. We feel that this is a good idea and we have planned our program so that we will have a very interesting news source I would think on each of the programs of each day that the platform committee will be holding for the hearings will start on eight o'clock on Monday and the first two witnesses before the entire platform committee will be Dr Milton eyes and our will give a report on the critical issues consul and the various position papers that they have developed during the last year at following Dr Eisenhower's appearance by Merriam former assistant to President Eisenhower who was appointed by me as national coordinator of the party to people program will make a report on the forms which we have had in all of the major cities throughout the United States going to the people getting their ideas their criticisms their suggestions for building our party platform for one hundred sixty four then on Tuesday and each day Tuesday Wednesday Thursday and Friday we will meet as a full committee each morning and we will have a keynote speaker before the full committee each day each morning in those morning sessions on Tuesday the keynote speaker will be the governor of this state on Wednesday the keynote speaker will be the governor of the state of Michigan who will be representing the Republican governors on Thursday the House and Senate policy committees the chairman of these committees will have their keynote appearances before the full platform committee and on Friday Senator Goldwater will be the keynote speaker in addition to this we have been time has been requested for governor Scranton we have not worked this out this has been a rather late development within the last week and I have been out in San Francisco and in the on the West Coast and we have not worked out any appearance for him as yet but certainly he is. Welcome as are all leading Republicans we've invited Richard Nixon we've invited embassador lodge to make an appearance before the committee during these morning sessions in the afternoon the committee will break up into four panels and already two hundred twenty organizations have requested time to appear before the platform committee and they will be appearing before these various panels We will however in the morning full committee sessions have outstanding witnesses in addition to the keynoters such as the president of the A.F.L.-CIO George Meany the president National Manufacturers Association will follow him and then the mare of Louisville representing the mares of the various cities of the United States bill Congress will make an appearance on Wednesday a typical morning for a full. Session of the full platform committee and issues that we will have at leading witness before the full committee in the area of science and technology foreign policy education agriculture and many of the other major issues which face us as a nation as we go into the one nine hundred sixty four campaign and as we develop our party platform for this campaign I'd like to make it very clear that this document which will be prepared by the hundred members of this committee it will not be a document for any one individual it will not be a Goldwater platform it will not be a Rockefeller platform and it will not be a Scranton platform it will not be a platform for the Republican governors it will be a Republican platform for one hundred sixty four developed by the hundred members of this committee taken to the convention floor to be ratified adopted changed as the delegates elected by each of the fifty states and the territories throughout the this great country of ours decide this is a document that I believe will be truly a national statement of principles from a party that will stand behind this statement in the east in the West in the north and south because. The Republican Party in this year nine hundred sixty four is truly the only national party which we have in America it is not a coalition party as we go into the one nine hundred sixty four campaign it is a national politics party that will not be running on one platform in Texas in another platform throughout the United States we are having some difficulties in developing our positions as we go into the one nine hundred sixty four campaign and one of the areas where we are having the most difficulty in developing our positive position for the one nine hundred sixty four campaign is in the area of foreign policy we in the Republican Party has had a long history of supporting the idea of bipartisanship in foreign policy this was started by a great leader of the Republican Party Senator Vandenberg and followed through by Governor doing when he was the standard bearer of the Republican party several years ago but in order to have bipartisanship in foreign policy it is necessary for us to clearly understand what the policy is of the administration which has the responsibility for formulating that foreign policy at the present time the greatest support which is received by the secretary of state of this nation of ours today is the support he receives from the Republican Party President Johnson has said that we have one hundred twenty different foreign policy I believe that if we look at the foreign policy of our country in this year in one hundred sixty four we have some four hundred different foreign policies because we have the variations of rust the variations of McNamara the variations of Fulbright the variations of Morris and these other spokesman for the Democratic Party in the formulation of foreign policy in this year in one thousand nine hundred fifty four if it would have been a Republican and it called the war in Vietnam on McNamara war. We would not have heard the end of it is far as the Republican Party is concerned from one end of this country to the other we find ourselves in a position where the secretary of state comes out in announcing Gates' apology as far as B.F. Naam is concerned and within a period of twenty four hours the Democratic chairman of the Senate Foreign Relations Committee comes out enunciating in an entirely different position we find that the chairman of the Latin American subcommittee comes out Senator Moore's setting forth an entirely new a position we find Senator Mansfield the Democratic leader of the Senate of the United States supporting the Deval put provision proposal as far as Vietnam is concerned so truly we do have difficulty as far as the Republican Party is concerned in finding out what the foreign policy of this it ministration is in Southeast Asia in Europe in Africa yes in Latin America and for that reason is Germany the platform committee several weeks ago I addressed a letter to President Johnson asking him to enumerate and set forth clearly what the short term aims and long term objectives were of his administration in the area of foreign policy a set of position papers they were called were presented to me by the secretary of state secretary of state Dean Ross and I want to tell you that the so-called position papers were really just a list. Of trouble spots throughout the United States and it seems to me that what we had in these position papers was merely an inventory of where we have problems as far as foreign policy is concerned without any regard to what the position is of the United States of America in meeting those problems what concerns those of us that are working on this platform or the Republican Party of one hundred sixty four is that we do not handle any position on these various areas and we do have not one hundred twenty foreign policies at the present United States and set and this would be bad enough but we have some four hundred different foreign policies which represent a policy of response and not a policy of initiative as far as developing policy in areas of the world what concerns me today of course and what concerns all Americans is the situation that exists in South Vietnam the dangerous precedent which was set in one thousand nine hundred sixty two is one that the United States should be very leery of as we go in and look at the one thousand nine hundred sixty four problems in South Vietnam the protocol in a court agreement in Laos in one thousand nine hundred sixty two we called it tension and letters which I addressed as a member of the Defense Appropriations Subcommittee of the House of Representatives I called the attention of Dean Rusk in that year the problems with accepting the troika principle and the fact that we were giving to the Communists to communist Poland the right to veto in this agreement of protocol in accord. Secretary Harriman came back and answered that letter with a letter in which he says this is not true there is no veto this does not concern this is should not be of any concern but it was just last just three weeks ago that Ambassador Stevens in a speech before the United Nations says the problem that we haven't lost today can be directly traced to the Peto that was given in the agreement of protocol in a court of one nine hundred sixty two for Laos at least the ambassador to the United Nations is finally recognizing what the State Department and Secretary Harriman failed to recognize in one thousand sixty two when they negotiated this kind of a going to agreement in Laos and the stage is being set in this year and eight hundred sixty four for that same kind of an agreement as far as South Vietnam is concerned President Kennedy in one nine hundred sixty one asserted and I quote If there is to be a successful peaceful solution there must be a cease cessation of present armed attacks by externally supported communis as far as loss was concerned there must be a stoppage of these attacks as far as externally supported communists are concerned sir shortly after he made that statement however the one nine hundred sixty two agreement of Geneva Accords was negotiated the official Fishel position paper supplied to me by Secretary Rice just the other day as far as the the president is saying no negotiated settlement and he had no I'm as possible as long as calm at the communists hope to achieve victory by force what interests me in this position paper was the terms and I quote by force. What does this mean does it mean that another worthless saddle is being dangled before us by the Communists who seem to have temporarily can curtail their military activities during the past three weeks friends we do not have a clearly defined foreign policy is far as our long term aims and short term objectives are concerned in any area of the world and we in the Republican Party in developing our position papers have been going to the best people in this country does so let's it there is but so that we can show that there is one party in this year in one thousand nine hundred sixty four that can speak with a clear voice as far as foreign policy national security and the other major issues facing the United States of America in this campaign we will be a national party we will be a not unified party and we will go on into this campaign based upon the statements of principle and policy which are and whom rated in our one nine hundred sixty four document we will not be a party as the Democrat Party is today when all of the horse all of the leaders are pulling in different directions as far as the unity of the United States of America is concerned and as far as our positions from one end of this country we're the present the United States going out and out a great campaign trying to divert the attention of the American people from these major issues of foreign policy by the use of the war on poverty well this war on poverty campaign that is and has not done a any good in wanted from one end of the world or the other because it has an a great deal to do and we mean the prestige of the United States because a deliberate attempt has been made to overestimate. The conditions of poverty and to play in the hands of the communists from one end of this world or the other it seems to me that we do indeed on the international scene and on the domestic scene we have widespread poverty but it is a poverty of politics a poverty a firm leadership and a poverty of confidence in America's role as the free world's last best hope in our fight against condoms the Republican party declaration our platform of one thousand nine hundred sixty four will offer the best hope for America as we going to the one nine hundred sixty four campaign thank you very much. The for the last year and I'm going to pick the questions we started with questions from the press table. What will the five percent controversy be concerned with in connection with the plans to go in with a plan I wou