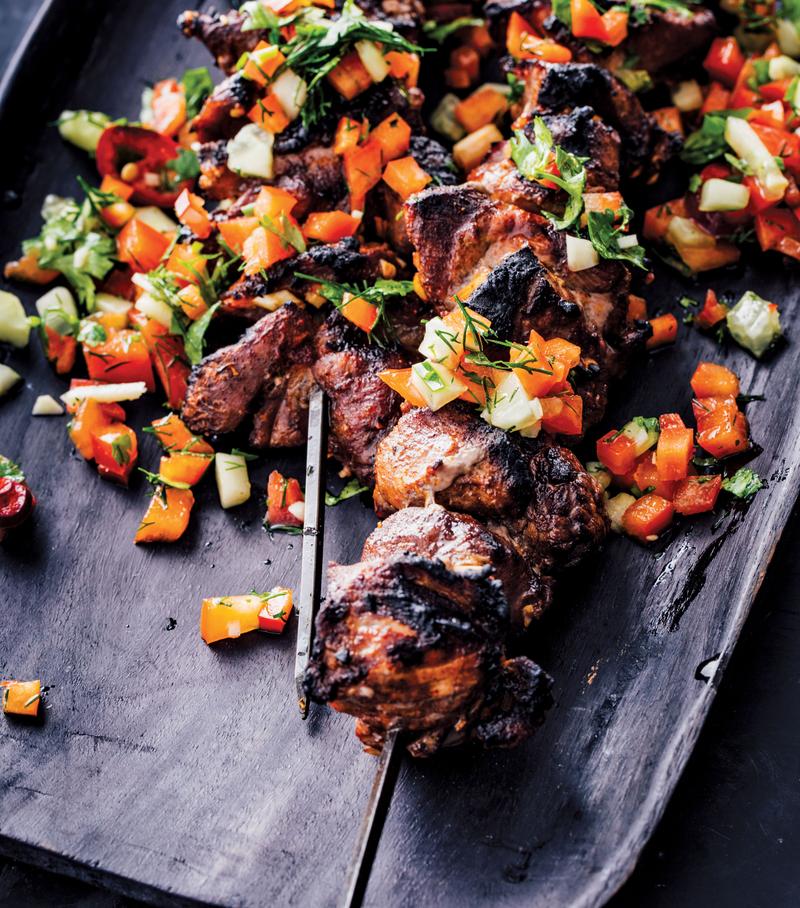 Award-winning New York Times food columnist and cookbook author Melissa Clark joins us to talk about cooking festive meals for Passover and Easter celebrations! She shares her favorite recipes and tips for both holidays, and answers questions from our listeners.        
Check out two of Melissa Clark's recipes below:
To find wines to pair with your cooking click here.
Sugar Snap Pea Salad with Watermelon Radishes, Mint and Manchego
Time: 15 minutes
1 small watermelon radish, peeled sliced (about 1 cup)
4 ounces sugar snap peas, sliced (about 1 1/4 cups)
4 ounces manchego cheese, coarsely grated (about 1 cup)
1/2 bunch mint leaves, torn (about 1/3 cup)
1 clove garlic, grated on a microplane
1 tablespoon freshly squeezed lemon juice
1 teaspoon sherry vinegar
Pinch kosher salt, plus additional to taste
3 tablespoons extra-virgin olive oil
Freshly ground black pepper to taste
1. In a large bowl, toss together the radishes, peas, cheese, and mint.
2.  Put garlic in a small bowl and add the lemon juice, vinegar, and salt and stir well to combine. Drizzle in the olive oil, stirring constantly, and add pepper to taste.
3. Pour the dressing over the salad and toss well to combine. Taste and add more salt and pepper if necessary.
Yield: 4 servings
Georgian Lamb Kebabs with Dill Sauce 
My friend Alice Feiring, esteemed wine writer and champion of natural wines, also happens to be the foremost American expert on wines made in Georgia (the country, not the state). Because of her, not only have I developed a taste for the nutty, concentrated wines of the region, but I've also fallen for the food—at least what I can sample of it in New York City. I particularly love the juxtaposition of sweet spices—cinnamon, allspice—with cayenne and black pepper to give dishes both a haunting fragrance and a heated kick. Here, I rub that combination onto cubes of lamb, which, after grilling or broiling, are served with a chunky, dill-flecked cucumber relish spiked with red wine vinegar and sweetened with bell peppers. It's an unusual and powerful set of flavors that will make everyone wonder what you did to make these lamb kebabs taste so darn good.
For the lamb: 
1 garlic clove, minced
1 teaspoon kosher salt
1 teaspoon ground cinnamon
1 teaspoon hot paprika
¼ teaspoon cayenne pepper
¼ teaspoon ground allspice
¼ teaspoon freshly ground black pepper
1 pound boneless lamb, preferably from the leg, cut into 1½-inch cubes
2 tablespoons extra-virgin olive oil, plus more for grilling

For the dill sauce:

1 red bell pepper, seeded and finely chopped
½ cup finely chopped cucumber
⅓ cup chopped fresh dill leaves
¼ cup chopped fresh cilantro leaves
1 red or green chile, seeded and minced
1 garlic clove, minced
Fine sea salt and freshly ground black pepper to taste
2 tablespoons extra-virgin olive oil, plus more to taste
2 teaspoons red wine vinegar, plus more to taste

TOTAL TIME: 20 minutes + atleast 30 minutes for marinating.
SERVES 4

1. Marinate the lamb: In a large bowl, combine the garlic, salt, cinnamon, paprika, cayenne, allspice, and black pepper. Add the lamb and the 2 tablespoons oil, toss to coat it well, and marinate for at least 30 minutes at room temperature or for up to 24 hours, covered, in the refrigerator. If you will be using wooden or bamboo skewers, soak them in water for 30 minutes while the lamb marinates.
2. Prepare the sauce: In a large bowl, mix together the red bell pepper, cucumber, dill, cilantro, chile, and garlic; season with sea salt and black pepper to taste. Add the oil and vinegar, and toss well. Taste, and season with more salt, pepper, oil, and/or vinegar if needed.
3. Heat a grill or broiler to high.
4. Thread the lamb cubes onto skewers, shaking off the pieces of garlic that cling to the meat. Brush the lamb generously with olive oil. Grill or broil (on a broiler pan or rimmed baking sheet) until the cubes are charred at the edges but still rare inside, 2 to 4 minutes per side (or cook a little longer if you like). Serve with the dill sauce.
Reprinted from Dinner. Copyright © 2017 by Melissa Clark. Photographs copyright © 2017 by Eric Wolfinger. Published by Clarkson Potter/Publishers, an imprint of Penguin Random House, LLC.