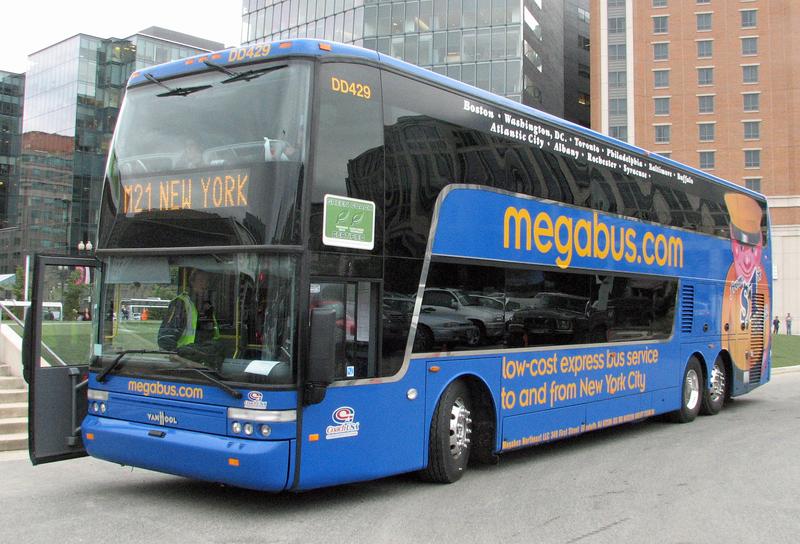 The discount bus company says that as of Thursday, it's served 30 million passengers across North America, after just 7 years of operations.
The Coach subsidiary made a name for itself with $1 fares (pro tip: book well in advance) and has grown rapidly, going from serving seven cities to/from Chicago in April 2006 to over 100 cities across the U.S. and Canada.
Discount bus service has benefited in part from high gas prices, its expansion into the Midwest, and and a government safety crackdown targeting so-called Chinatown bus services. Earlier this year, the feds shuttered popular bus company Fung Wah.
As one Yelp user put it: "Ever since Megabus and Bolt came around, I've been riding the Chinatown buses less. I mean for just a little bit more $ why not?"
Joseph Schwieterman, a transportation professor at DePaul University, said Megabus's growth demonstrates a shift in how Americans view bus travel. "I'm from the generation where if you stepped on a Greyhound, it meant you had no other options." But "since 2006 (bus travel) has come on like a storm" -- especially for the internet generation."
It's no accident that bus companies tout Wi-Fi and electric outlets.  Schwieterman said rider surveys and his own observation has found that "at any given point on a discount bus -- and even Amtrak -- half the passenger base is using a device."
But while intercity bus travel is catnip for tech-dependent youth, it has yet to make significant inroads into some markets. Here's who you are less likely to see on a discount bus: families and what Schwieterman calls "briefcase-carrying business travelers."
Many of those people continue to gravitate to Amtrak -- which is also experiencing a ridership boom.  Last fiscal year the rail agency set its own ridership record of 31.2 million passengers in a single 12-month period.
Schwieterman says the big question facing discount bus service is whether its business model will work between smaller cities. "We know it's working in big transit cities like New York and Chicago, where people are used to taking buses and trains. We're less clear if it's going to work in (places like) Texas or Florida."