Meet a Man Who Does Not Take Voting For Granted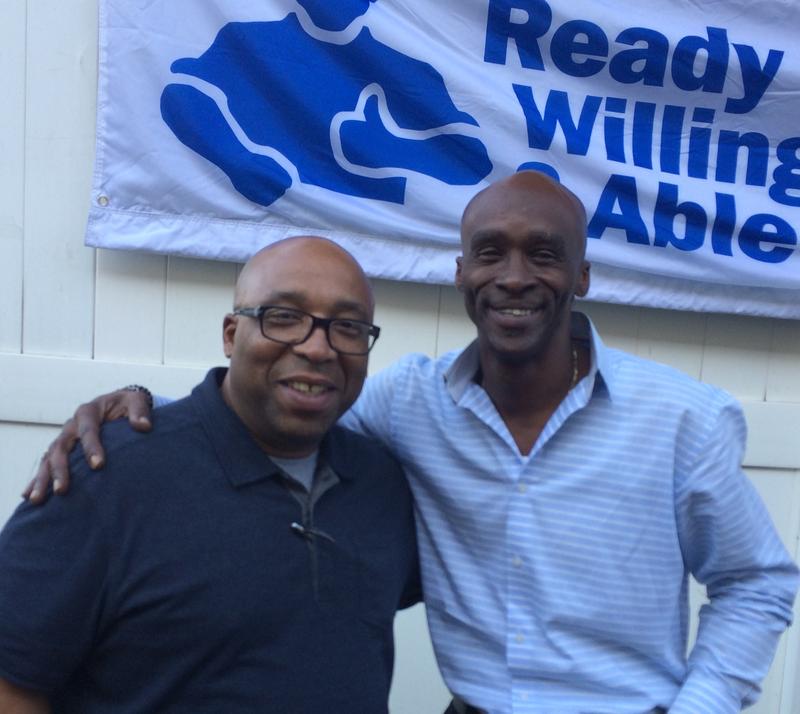 In New York State, people who are in prison or on parole for a felony lose their voting rights while serving their sentence. When the sentence is complete, those rights can be restored by completing a new voter registration form.  Many voters don't go to the polls — but one New Yorker is not taking his rights for granted.
Carlos Jones, 51, stands around 5 feet 5 inches tall with a broad, gap-toothed smile, black-rimmed glasses, and a pen tucked into the collar of his polo shirt. We met at a barbecue last August in the neatly manicured Greenpoint, Brooklyn, courtyard of The Doe Fund, an organization that helps men who are formerly incarcerated or homeless.
"You know, I can remember when the bets was against me that I don't make it to 17," said Jones, "'cause I come from the Lower East Side, Manhattan, Alphabet City, where it was a dumping ground for drugs."
He first remembers being arrested in 1981 when he was 16 years old for selling heroin and cocaine — a felony. From there, he was in and out of jail for more than three decades.
Jones says that all came to an end on March 11, 2014, when he joined The Doe Fund.
---
In the weeks before this year's general election, WNYC is taking a magnifying glass to our democracy to explore what it takes to participate. It's part of a project we're calling Electionland – with our partners at ProPublica and Google News — that culminates in a nationwide examination of how our electoral system performs on election day.
---
"I'm here to tell you now, I'm alive and well," Jones said. He was also eager to exercise all his rights as a citizen. So in April, Jones, attempted to vote for the first time in his life during the presidential primary.
"Walking to the polls was like something lifted off my shoulders," said Jones. "You know,  I videotaped it on the way back because I was just so, so in awe, I really was."
In that video, Jones reflected on the significance of what he was doing.
"On how African Americans…for so long, you know, like my ancestors and the people before them coming out of slavery," said Jones.
Except Jones' big moment didn't quite work out. He did fill out the form, but he didn't register with a political party, which means he wasn't eligible to vote in the primary. He voted by affidavit ballot and then received a notice from the Board of Elections telling him his vote did not count.
Felons and the New York Vote
There's a common perception that if you're convicted of a felony in New York State, you lose your voting rights for good.  
It's true in 12 other states, including Florida. In fact, more than 6 million people nationwide are barred from voting because of felony disenfranchisement laws, according to The Sentencing Project, a nonprofit group.
But that's not true in New York. Here, felons only loses their voting rights while they are serving their sentence or are on parole. But it's not always as easy as it should be to restore those voting rights. Some advocates say bureaucratic glitches between the state Department of Corrections and the Board of Elections can force some people to jump through administrative hoops — providing dispensation documents or other proof the person has completed their term.
But Jones is proof that it can be done. He received a confirmation from the Board of Elections this summer that he was registered for the upcoming election.
Exercising His Right for the First Time
He said too many people take their voting rights for granted.
"I was one of those people, so I understand what it's like. It's like, 'Oh, I don't care. It's not going to affect me.' But it does affect us. You know, it affects the community because of things that are being taken away," he said.
For example, Jones remembers there used to be more community centers and tenant associations at every housing project.
"Now those things don't even work. They not even here, because of people that have the attitude of not going out and voting," he said.
In this crazy presidential election season, Jones said he is excited to go to the polls on Tuesday. It will be the first time he votes — for real.