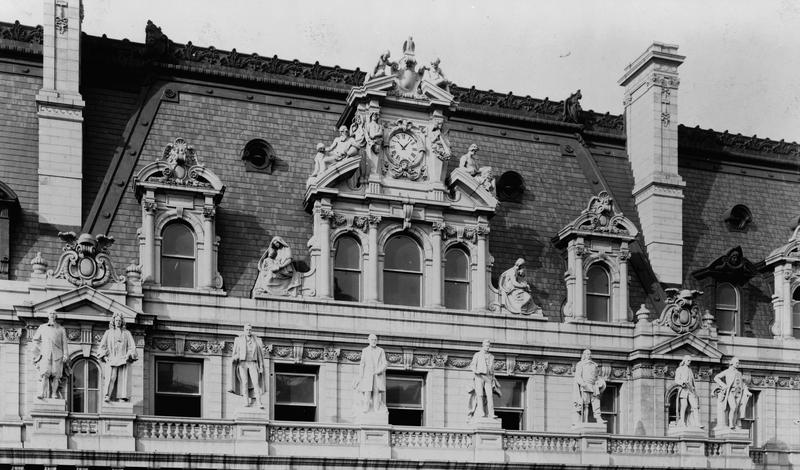 Summary
This episode is from the WNYC archives. It may contain language which is no longer politically or socially appropriate.
Press conference for the press to ask questions of the the task force to ensure the documents of the City are preserved. Mayor Lindsay opens with a description of the planned course of action, noting that in the past the preservation of the City's history has been done rather loosely, resulting in gaps in documentation. He then introduces the members of the task force:
Professor Richard B. Morris, Department of History, Columbia University
Dr. James J. Heslin, Director New York Historical Society
Robert W. Hill, Manuscripts Division, New York Public Library
Professor Joseph McGoldrick, Department of Government Queens College
Dr. John Meng, Hunter College
G. Michael Morris, Registrar City of New York

Morris thanks the assembled audience and speaks of the importance of creating a city archive, specifically noting that there has been a great deal of theft in the past. He says items have been mutilated and sold. Important documents have been stored improperly - near steam and water pipes and subject to fire hazards. They have been inaccessible to researchers.

He identifies 4 goals of the task force:
1. To ascertain the significance and dimension of the problem.
2. To determine how the city's records can be stored more safely and efficiently.
3. To recommend more systematic methods for record disposal and centralization.
4. To investigate the latest devices for information retrieval.


Questions specifically about the sale of autographic materials, as well as stamps. The prosecutor's office is not currently pursuing any of these cases.

Morris believes that a systematic method of record destruction must be instituted. He also believes bulk can be dramatically reduced through microfilming.

Around the 15 minute mark the first portion of the press conference ends, followed by several minutes of room noise.

Mayor Lindsay's usual press conference then proceeds. Questions relate to ferry lay offs following the closure of the Riker's Island ferry.
Other questions relate to a proposal for a review board and budget issues.
Audio courtesy of the NYC Municipal Archives WNYC Collection
WNYC archives id: 72287
Municipal archives id: T3188
Transcript
This is a machine-generated transcript. Text is unformatted and may contain errors.
They said Gentlemen. Here's our program I'm going to I'm going to introduce this task force which is a very important one on a very important subject and the chairman of the task force is going to talk for a little bit and I hope you'll ask questions of him and of me on the subject and then when we're all through with that subject and I'm going to have just a general question and answer session for as long as you wish. And I think the task force at that point would like to be excused because they want to meet providing we have a room ready we got the room ready done all prepared for that so I think that's the program that will follow. There's no reason for you to be held here for an hour after whatever it takes here to have a press conference Well gentlemen. I'm very I'm deeply honored the city is very fortunate I think in. Having this group of men that you see here sitting here come forward and being and being willing to roll up their sleeves and go to work on a subject of critical importance to this city. And it's so important to the state to and every other major city because the subject of record keeping and the preservation of vital documents in a scientific orderly way is terribly important and increasingly important. No city has really done it right and our city is no exception and we've it's been Scotch tape rather loosely. Done in the past and it's high time that there was some serious effort made to see to it that important documents are preserved. There are documents and materials at this moment which are not being preserved and it's terribly important for the future and for history that they be preserved there are some gaps and past centuries in the history of this city in our records and in our historical documents knows the gaps that shouldn't have occurred if one hundred years ago they had been proper record keeping functions we'd have those documents today. And I'm going to ask the chairman of this new task force that I have appointed professor Richard Maurice to make a statement to you on this subject and of the people of New York. Is the department of history at Columbia University and with him here. Is Dr James Hansen director of The New York Historical Society Robert W. Hill the chief of the manuscript division of the New York Public Library Professor Baird still of the Department of History of New York University professor Joseph McGoldrick the Department of Government of Queens College president John Manning of Hunter College Dean Harrell stret of the State University of New York. Mr Albert. Bargain wass state curator Museum of the city of New York City register Mr G. Michael Marrus who's taken a deep interest in this subject from the day that I pointed him and also before the reason I pointed him was because of his interest in this subject among other things and Professor Maurice as I mentioned Professor Herskowitz of Queens College is a consultant to the task force. And will carry a large part of the laboring or. And I'm delighted that. This group. With Mike Mars and others have corralled a team of young people who are already at work taking inventories. And examining our current situation to make sure that the records of the twenty S. and one nine hundred centuries most especially modern times are in order and kept that are microfilming is right and proper that our relationships with universities and with libraries on this subject are correct and proper and mainly that the central point is that we preserve our history. So it's great pleasure and with gratitude that I introduce this task force and ask its chairman Professor Maurice to come forward and lay it on the line. Thank you Mr Mayor. Let me say first of all of that I expressed the view of the historians everywhere of. Appreciation of the perception of the mayor and they are gratitude that at last something will be done to deal with a major problem in the preservation of historical records and secondly I should like to express my own personal gratification at the exception says to save on this task force of very distinguished and very busy people who are putting aside time in what is of course a sweltering season of the year to finish a job which we consider as our agent now in its care of public records and it's consign documents of historic value New York City which is the largest and among the very oldest municipalities in the nation has traditionally demonstrated astonishing indifference. Historians and archivists have long been concerned about this problem and. Low it affects the operation of the efficiency of the city government it has had that to NEVER been made a public issue each time an inventory of the city's public records has been made items of great historical importance both qualitatively and quantitatively. Have disappeared they have been mislaid destroyed sold mutilated all pilfered they have been allowed to mold in damp solids to gather dust in filthy attics and to be negligently stored adjacent to steam and water pipes and subject to a fire hazard they have been placed anywhere save where an investigator can readily get at them it is therefore a source of special gratification now that something is going to be done about this problem among the goals of the Mayor's Task Force on in a civil archives on the following first to ascertain the significance and dimension of the problem secondly to determine how the city's records can be stored more safely and efficiently three to recommend a more systematic methods for records disposal and centralization and flaws to investigate the practicability of introducing the latest devices for information retrieval in short that task force believes that improve record keeping well expedite the efficient operation of active city departments and agencies while assuring the citizens of this city that the documentation of a great historic past to which people of all ethnic racial and religious groups have contributed is properly safeguarded and promoted finally the task force is determine to provide assurance that persons who have a valid reason to examine the public records of this municipality are efficiently and courteously slightest Thank you. Like them that any. There's. Not a question that's like. Yes. Talk about items of great historical importance that have been found missing or damaged or destroyed that's right if you put a dollar figure or give us some idea of how much or how many things of historical significance of disappeared or been destroyed Well let me let me put it this way one autograph dealer New York. Who was no longer alive made a million dollars over a twenty year period in selling records that he had bought from a rag which had been disposed of by the city of New York back in one thousand nine hundred fifteen This gives you some idea of the. Of the element of value to these records I don't think we can put a dollar value on these records problem still exists of course still exist records have been destroyed on a very recently because of lack of space all records have been destroyed because of lack of space very very recently are you going to make any attempt to recover some of these articles you know where they go you know where they are. In some cases I think we don't know where they are in other cases I think it would be kind of a massive detective problem I'm not sure that this is the responsibility of the task force I think this may be the responsibility of the district attorney. I actually my next question have people in cities service been making a very good living off of selling crime articles to the Web to dealers and others and I have no evidence that that is the case at the present time but I am convinced after working for years for example at the Hall of Records that many years ago. On a graphic materials autographs of Alexander Hamilton and Aaron Barr and so forth was systematically pilfered all the autographs were cut out of the documents thus making the documents unuseable usable for evidence will pipe as well as stamps on bonds were actually cut out of the bonds and sold to stamp dealers in New York this is knowledge which I had going back a long time ago I have no such knowledge at the present day is there any information now in the hands of the district attorney with this you know nothing of this kind. Well I'm not prepared to discuss what is happening at the present time and this I think is what the task force is both to find out I make no accusations and know nothing about what is going on at the present time we going to best again. This has happened in the past. I'm sorry to be going. To Mr Hill office is better prepared to answer that The New York Public Library only has a relationship with what is known as them in a civil record the Archives and Records since it doesn't have any relationship to the city right just over all the control or all the financial pop and so forth so that this represents only a minute phase of our total problem. Here. They are joined to destroy your record and say. The right. Well I haven't said how much will we're going to recommend destroying but I do feel that we should have a systematic program of record destruction I mean I do think there's a great deal of. Useless material that automatically can be destroyed the federal government for example has a series of has a list of disposal items for example the post office receipts which are more than three years old are automatically destroyed we have a congressional law which sets up a whole list of things few people can argue with the justification for that in some cases I think that we can reduce the bulk by putting things on microfilm and reduce the bulk enormously and then destroying the records I think there are all sorts of ways of reduction of space. In connection with modern records that we are now collecting going to do with my. Life with which it would be several million million linear feet would be my guess but no one has ever made a space dimension examination of so that I couldn't I couldn't do more than guess. What was going on there any other. Manus. But I would not I think at this particular time that I don't want to prejudge the report of the historic task force we have in the past lost important documents but I would I would rather not specify particular documents that are that are missing at this time. Expressed my thanks again members of the Task Force best of Mars and everyone I'm very grateful to if you're going to do if you find it possible to throw out some unnecessary at documents records place throw out the red tape with them and that is right by just coming to one thing you think. Yeah well I think I have a right to shut it. Again I've got to give it up if you want to know I don't like everybody but I can't. Help but know. They're. Not. Very bright. Like. I. Was. Like. I feel like a bit. Of a. Farmer's Wife. Right. Right. OK so you're going to do it right you like. Yeah. Nice. OK. OK all right if I sit down for this one. Thing right I think. We really have. Got a. Good thank you from one of my blocks away from the cameras that are right. Here. Yeah OK OK And it yeah. What's the ban. For public events I mean for the guys. Variable I. Want to know if. You want to be. Reemployed the governor rock signed a bill which used them. It's not our plan to take on. Additional ferry boat captains for the simple reason that there is no employment. We have too little work for the existing very boat personnel as it is and shortly the Rikers Island ferry will be closing down that's a function we're going to lop off for reasons of economy to save the city some money and also it's not needed with the new bridge and that will create that will create a surplus of of people for the available jobs so there is there just not just a fish and jobs for the city to be rehiring people. Are working. Very. Well we've been through this before. Before I became mayor as you know there was an illegal strike of the Staten Island ferries and at the request of Mayor Wagner a rival union came in and ran the ferries. That strike continued for a period of time and. It was I think it was made clear at the time that if that rival union with its membership who are qualified to run the fair is would do the job they'd be retained on the job and the strike at the time was in the legal strike. And the city government can see no basis for displacing those who came in at the request of the city government at the time to run the ferries because of an illegal strike and just throw them out of work now. In favor of those who walked out. But in any event. You don't have to reach that point in in rationalizing a decision here for the simple reason that there are not enough jobs to go around and it would be most unfair to replace the men who are there now and have been running the ferries for this long period of time with other men. And if they were run for all that would be another thing but this simply isn't and the city's The city's not in the business of of necessarily making work we don't we think that. The needs for economy of are important here finally I do want to give me I just want to say this point too and that is that the deputy mayor city administrator Dr Castello. Is making every effort to see to it that in other areas of city employment where there is a need for people that these particular. Gentlemen will be offered work. That are claiming a claim today that the reason you won't rehire is that Mr Kerr the N.M.U. is threatened to shut down the waterfront if you took them back because they belong right. No that's not the reason the toll it I think I stated what the reason is. Right from the end we have received no such threat we have received all along. A position on the part of the N.M.U. which is that they feels that the city made a commitment to them. That those men would keep the jobs if they came in and ran the ferries during a time when it was very difficult for them to do so in spite of the fact the strike was illegal. It's difficult for work for some other union for working men to come in and in effect strike break at least they were called strike breakers at the time and the city made a commitment that if they continue to run the ferries during this portion of period of an illegal strike that they would have their work they'd keep the jobs one thing and I think I think that's important but I don't know what it's like the particularly irks the ferryboat workers they say they've been unable to get your year personally and told their side of the story but if you would listen to them for a short period of time perhaps they say they can convince you that there are jobs available for them and summers to get I've listened all of the arguments that are made on the jobs we know exactly where we are we know the timetable on the closing of the Rikers Island Ferry which