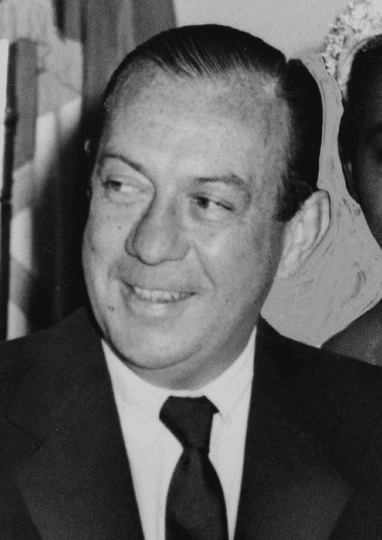 Summary
This episode is from the WNYC archives. It may contain language which is no longer politically or socially appropriate.
Mayor Robert Wagner answers questions about the city budget and other municipal business.
Hosted by Marvin Sleeper.
Wagner wishes the audience a happy Christmas and encourages an effort towards fire safety.
Panelists: Penny Fox of the Hunter College Arrow, Larry Barrett of the NYU Square Bulletin, and Jerry Sukoski of the Columbia Graduate School of Journalism.
Questions:
Commuters who don't pay taxes for transportation in New York. His hopes for the pari mutuel tax. Budget cuts. Exemptions for business that come to the city. New York's education problems: providing adequate schools and teachers. If we had more religion, perhaps juvenile delinquency wouldn't be such a problem.
Audio courtesy of the NYC Municipal Archives WNYC Collection
WNYC archives id: 71928
Municipal archives id: LT6344
Transcript
This is a machine-generated transcript. Text is unformatted and may contain errors.
Mayor was there is anything pending regarding the raise the barrel president Mr Mayor you have asked for over forty million dollars for state aid this year that the state did not grant last year I optimistic about getting it as a detriment definite program been drawn off whereby commercial T.V. producers can you have access to the city files or the answers to these and other questions let's go now to the campus press conference I transcribed program in which college editors interviewed prominent personalities in the news here to introduce the panel and their guest is your moderator Marvin sleeper award winning reporter for The New York Journal American Good evening and welcome to the Christmas edition of campus press conference I can't think of anyone more appropriate to have before our microphones on this festive light than the mayor of our town except of course Santa Claus who by now is probably really your home but perhaps through the good offices of Mayor Wagner Santa will pay a second visit to the expectant homes of our city councilmen later this week we understand they all wrote sugary memos to Santa asking for a two thousand dollar expense account increases perhaps the latter can forecast for us whether or not Santa will be climbing valid Chiles again before the year is out but before we get to the questioning the mayor I think it would be nice on this holiday night for him to greet the city on the city's own station How about it Mr Mayor thank you Marvin and I most certainly do want to wish you all in our wonderful city the merriest merriest of Christmases this goes not only for myself but for Mrs Wagner and our two boys Bobby and Duncan I suppose at this hour on Christmas night we are all a little worn out from the big turkey dinner and a full day of Ewald ride excitement. And perhaps with this for tea comes a little carelessness on the part of all of us but please check all the fire hazards before turning in switch off your Christmas tree lights get all of the Excelsior and discarded Christmas present wrappings in a safe place where they can't possibly start a blaze if you are now out visiting and just about to drive home take one last drink if you want to but make it a cup of hot strong coffee drive sanely and get home safely these are just a couple of ways to ensure that you will be around for many many more Christmases to come again a very merry holiday to you and yours and now for the questions from our campus press conference editors around the microphones with later Wagner our county Fox of the Hunter College enrolled Larry ballots parent of the N.Y.U. square bulletin and Jerry said custody of the Columbia Graduate School of Journalism How about the first question from you Jerry Mayor Wagner Friday you sent an annual message to the governor outlining the city's fiscal condition for the coming year several of your requests for additional monies amounted to over forty million dollars. Do you think that the city will get the money this year well Jerry it's rather difficult to in the first place. Pan a certain amount on the request that we have made but we have made these requests not just this year and not just last year but I made them during the term of the last year of Governor do waves administration and of course last year as we pointed out in our message which went not only to the governor but to all of the legislative leaders we received a good deal of help and we're very grateful to the governor and to the legislative leaders for that help again we are repeating our requests and as we have stated before they are requests based on what we think are due to us and in our equity we will really should receive them now of course it's up to the legislature and the governor to see how much we will receive of just desserts and I sincerely hope they will look on them kindly and as I have said many times before I'm always optimistic Was there one of your requests is that the state allocate to the city the income tax collected from nonresidents. Why commuters from New Jersey and Connecticut How about commuters from communities in New York state outside the city who get the services of the city but who pay no tax in the city while they also get services from the state to in their homes where they live and their families get services but these people who come from outside the state in the New York in our opinion receive very little help from the state and we in the city give them all of the services that's why we feel that money should go to us we give them police protection fire protection transportation. So Ridge sanitation facilities all of the things that cost a good deal of money because we feel that therefore we should be are entitled to the money that they pay those people who live in parts of New York state receive help from New York state too but so shouldn't the city receive a portion at least since. The man's working day is spent in the city and while he's in the city he's receiving city services that true it might lead to a lot of difficult difficult bookkeeping because we have a lot of people in New York who go to other parts of the state to work such as Westchester and Nassau and Suffolk and therefore we might have a good deal of difficulty in that home and home arrangements. Five percent parimutuel tax less than their last year we were turned down on a two percent. Parimutuel tax which the governor had recommended what makes you think we can get a five percent tax this year then I fail that we must stick to our original position and the more we hammer away at it and the more people realize that we should receive it then we're going to have greater support seems to me a tax that belongs to us because we give all of the services again we have to supply the police protection roads and so on for the approaches to these tracks and they're right here in New York City at least a model all of them except for about a month Park which is partly on in New York City and partly in Nassau County and we feel that it was wrong to take that five percent away from us a number of years ago Mr Mayor every year it's been generally described as a crisis budget making when the budgets come before the city planning commission all the Board of Estimate is there anything being done or has been done in your administration to eliminate this feeling of inadequacy and continual financial crisis which budgets placed upon the city well I suppose if you mean Gerry of your main budget. Crises are always in a meadow whether it's New York City New York state federal or any other place there is always a crisis because. I haven't heard of any government yet that was able to give all of the services and meet all of the requests that we in public office receive from the people. I think we're going to have a much more orderly procedure this year we are leaning of course more to the performance budget in the preparation of our expense budget that is greater freedom of action on the part of Commissioners and there and as I have said on a number of other occasions I am very confident and I the Board of Estimate agrees with me that. They will be no need for any further increase in taxes well last week on this show city administrator select proves to you that our budget is too big and that it must be cut and that there is room in it for cuts you agree with us well I'm sure though that that's part of his job and that was part of Dr Gaelic's job and we have made a good deal of saving and I think we pointed out last year particularly that if we hadn't proven the budget and we hadn't made economies that need for a new money would not have been one hundred million dollars more but hundred fifty million dollars more. By economies we were able to save that fifty million now we're working on a system that has been in operation for a good many years and I am the first one to want to see savings made and economies made in our budget and that is the job of the city administrator to help in that Gillet has made an excellent start on a good job and I'm sure Charlie proceed can follow up and that is why he's going in as the new city administration you may have some specific areas in which economies could be made well I am sure that economies can be made in the in some of the running of some of our departments so when we put in more modern methods of bookkeeping more modern machine methods and more modern ways of doing business which departments are well I don't think at this time I would care to specify which departments but we have made a kind of maze in the past in a number of the departments but you have to realize this at many instances where you have the opportunity to make economies you must use that money in order to strengthen other departments so and we may not find an overall saving you take for instance we economize in the police department by. Eliminating people from. Our modernize our police department by eliminating policemen from clerical positions so we can get them out on the beat but yet in order to have the clerical positions failed and we need them you have to retain civilians to to do that job now because we're in that way getting a more efficient police department but you'll probably find you're spending a little more money in order to have an efficient police department do you think when we talk about economies we have to realize also that a fashion city is very important and that where economies can be made in one place you must use the money in. Other places to strengthen as we have our police department the Department of Corrections itself Mr Mayor in line with our discussion of money we're wondering if there's anything pending regarding a raise the barrel PRESIDENT Well there's no such talk I don't know where that could ever have started I assume that when yours I mean the president you mean the members of the Board of Estimate as well first place we cannot legally do it you can't raise our own salaries and secondly we've never had any discussion about it there's no such move on foot that I know of and I'm sure I would have heard about it if there was. Of talking about whether it's legal or not I understand there is some law which would permit the Board of Estimate to vote themselves a raise if within forty five days there would be a referendum in which ten percent of the persons who voted in the last gubernatorial election were protest I understand that was so as far as the city council is concerned because. We had some opinion from the Cooperation Council on that good many of the legal authorities and a good many of the city councilman feel that that would be open to severe question in the courts and even if that was so as far as they thought of estimate is concerned there is no such a movement afoot and I'm sure they will be even if you could do it and you wouldn't have been any discussion well getting into another A think the city council are going to get a belated Christmas present of a well thousand dollars will be on for discussion at the next thought of estimate meeting this next Thursday everybody will have an opportunity to approve or disapprove it at those hearings it's interesting that now that I've received two letters approach of approval from two former distinguished presidents of the city council Mr New Ball Marist and Mr Rudy Halle Berry Jean that the councilman received an increase in their expenses because of the fact that they don't not receive any stenographic help they don't have any free use of the mails they don't have to print their own stationery they have to have their own telephone service they haven't even any desks or office space so you think it might be a good idea for them together I think it's certainly a legitimate request but again we want to give everybody a chance to be heard on the issue before any final vote is taken. I'm a waggonette municipal housing laws give landlords until nine hundred fifty nine to convert to central heating in view of recent tragedy and fire what chance is that of a deadline being pushed up the well that has been discussed a good deal and. A matter of fact the city council had some ninety seven meetings on this vale and of course we've had hearings before the Board of Estimate after the City Council approved these bills and I had hearings before me when I as mayor have to hold hearings prior to the my action on any bells. We may find that it would be a good possibility to shorten that length of time that was done after discussion with various real estate groups with our city departments and various civic groups it was merely an opportunity to have an orderly way to transfer. To convert a lot of these so-called water flats to our top central heating as we mentioned that they hearings before the Board of Estimate the committee of people who worked on the drafting of that bill are not just now going to let it go penny because we realize that there are phases of the bill that need further study and may need revision so it isn't anything set it's something that can be amended for the best interests of the people and try to do it in an orderly way. Do you think it will be amended Well that would depend on what the experts come up with I know all of us are anxious to try to have the to save lives and to put into operation the reconversion features and if it is at all possible in the experts tell us it can be done in all of these buildings and there quite a few of them in the city still here unfortunately. It will be speeded up liar you have a question asked. But the mayor some time ago City Council President Abe Stark said on the show that the New York City was in danger of losing some business that we had already lost too much business and that to combat this we ought to strengthen our Department of Commerce and to attract new business we ought to perhaps give tax exemptions he said that New York should establish itself as a production stand there as well as the showroom of the world. What are your views on the well area we want to do everything we can to attract business here to our city and to retain business which is already here it's interesting the now tell as a matter of fact in some instances where businesses moved out one of the reasons is they've been so prosperous here in the UK they have to move out because they were in an area where they couldn't possibly acquire any more property which is a pretty good sign that things aren't really going to par here in the city and I kept in touch with the figures given to us by Consolidated Edison and New York Telephone Company have a pretty good idea of how business is moving and they say for every business that moves out free want to move in here but at the same time we have already strengthened our Department of Commerce. We've given it a new status and we have given them all the help that we can possibly give at this time perhaps if it is we can say that is really functioning i