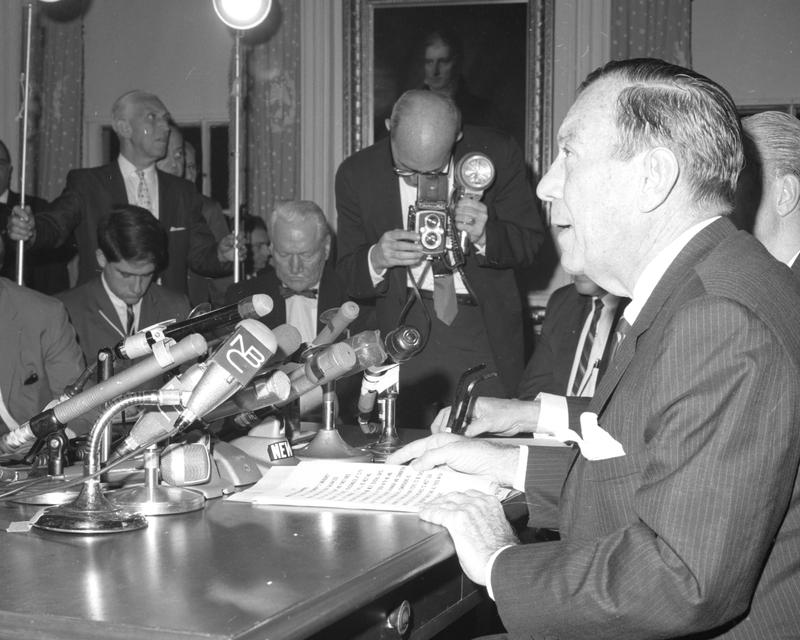 Summary
This episode is from the WNYC archives. It may contain language which is no longer politically or socially appropriate.
Reporter introduces context of the news conference: the mayor will address the press on the blackout. He is wearing a blue suit.
Mayor Wagner recounts in some detail the previous night in New York City during the famous "blackout" of November 9, 1965. Applauds performance of city workers and citizens. No serious incidents. Citizens and businesses are asked to curtail power use. Thumbnail reports from all departments. Mayor praises all who were involved as well as the people of New York City. Press conference follows. It was the greatest electrical failure in history and involved seven states and Ontario.
Audio courtesy of the NYC Municipal Archives WNYC Collection
WNYC archives id: 5706
Municipal archives id: T1460
Transcript
This is a machine-generated transcript. Text is unformatted and may contain errors.
Ladies and gentlemen we interrupt the programs to which you have been listening the United Nations on W N Y C N N Critics' Choice on W N Y C F.M. to bring you a special news broadcast we're speaking to you now from the reception room at city hall where in just a moment the mayor of the city of New York Robert F. Wagner is to meet the press representatives of radio television and the press are here to hear what is the first. Official Statement of the people of the city of New York by their mayor the mayor has issued. Various statements throughout the time since the emergency of last night but this will be the first time he's reporting to the people as the mayor of the city. He has just completed a little earlier in the day and meeting with all of his key commissioners and to receive their reports and what action was taken by city agencies during the blackout emergency and now the mayor will be reporting to the people of the city earlier today a release was received from the mayor's office which said that all electrical energy. Is restored for subways and commuter trains and the mayor said that he had received assurances from the officials of Consolidated Edison that it can carry the peak load usually occurring from now until about six o'clock the mayor renewed his plea earlier and probably will again in this report that the public refrain from the necessary use of electrical energy now the mayor has entered the room all of his key commissioners are already assembled around the sides of the room. Deputy Mayor Kevin always with them and the mayor is seated before the microphones and then it will begin his report. His men are still a group around the news lights have been turned on the mayor is dressed in a blue striped suit with a blue and white tie. He's just about ready to begin ladies and gentlemen the mayor of the city of New York Robert F. Wagner. Last night is history on hope and prayer is to avoid a repetition of this history. We cannot count on the almost miraculous coincidence number one the inspired performances of the various city agencies suddenly faced with the responsibility for meeting this emergency to the almost ideal weather conditions and three the suburbanite of restraint self-discipline and spirit of both good neighborliness and voluntary cooperation among our eight million citizens these three factors in combination chiefly accounted for the fact that we came through the night without catastrophic consequences obviously we had no control for the cause of the blackout the state Public Service Commission is the agency which has jurisdiction over the power supply or Con Edison Nevertheless since the city government and its agencies are responsible for absorbing most of the consequences and meeting the essential needs of our citizens in any emergency including such a total one as of last night I'm inviting the officials of the Consolidated Edison Company to meet with me and I people here to discuss this critical situation as soon as practicable the city governments emergency control board which was galvanized into action last night and function throughout the night reassembled at City Hall this morning it will be meeting and admittedly over the next several days. Its members will be in touch with me and with the deputy mayor as may actually Cavanaugh deputy mayor as Kavanagh and cannot and will be working on a comprehensive report of major and minor steps to be taken as a result of our experience in order to be better prepared to meet such total emergency conditions as those which we confronted last night I emphasize that we had to be fortunate to come off as well as we did last night but in the mean time I am by the reports submitted to me from the emergency control board to issue a warning against the assumption that all is well and that we can now return to business as usual and the use of electric power as usual we cannot all citizens are urged to most restraint in the use of power city buildings facilities and agencies have already been directed by me to maintain a curtailment of non-essential power use until further notice we must practice conservation of electricity just as we are practicing conservation of water until we are assured by competent authority which will be checked by our own experts at the danger has passed that on necessary precautions have been taken to avoid a repetition of last night's events. I have instructed commission advantage of the Department of Water Supply gas and electricity to maintain the closest possible surveillance and cooperation with the officials of Con Edison and of course in cooperation with all federal and state officials who are conducting inquiries into the situation and to keep me and the emergency control board advised of developments and decommission of the engine I was even at this moment meeting with the appropriate officials of Con-Ed for a total review of the situation as of this hour now I want to very briefly share with the citizens of New York the highlights of the reports of actions taken which were submitted at my instructions at this morning's meeting of the emergency control board I'm making public today a series of thumbnail summaries of the actions which the various city departments and agencies took to meet last night's crisis both to maintain essential services and to meet the emergency needs of our citizens with regard to this I have a few observations I would like to share with people first of all I must repeat what I said again and again last night during the emergency hours namely that the greatest tribute and the greatest praise Let's go to the ordinary citizens of New York City who in the hundreds of thousands and even millions in whatever ways they were individually affected by the crisis reacted with unexampled fortitude and intelligence obeyed the advice of duly constituted officials and in general good judgment and common sense in situations in which there was no official guidance they sell conducted themselves that it made me proud and should make all New Yorkers proud of their city and of their fellow citizens. I want to say the same thing about our city employees in the various departments and their leaders it was an inspiring and unforgettable performance all of which combined with the attitudes and actions of the general public resulted in the avoidance of disastrous consequences perhaps I am not justified in singling out any particular department or group of city employees for their exemplary performance but there was heroism on the part of many individuals in many departments However I must give special mention to our police department fire department and the Department of Water Supply gas and electricity the tremendous way in which they met every manner of unexpected circumstances and crises in hospitals homes office buildings subway stations and streets with unprecedented traffic problems and found the means to meet every need by utilizing material and manpower designed for other purposes for hospitals operating rooms and incubate As for old people's homes etc which simply or inspiring as one of a stray ssion sanitation commissioner had ordered a number of his water flushes to be sanitized and filled with City drinking water these flushes were sent to intersections in neighborhoods where water was cut off and given to people in pots pans and tubs for their essential domestic needs. Health Department inspectors have been dispatched all through the city to ensure that all food being served is unspoilt hospital's off duty nurses doctors and other personnel came from their various residences Dhamma Tori's and offices into the hospitals to provide all necessary assistance to patients in darkened hospitals until essential lights could be provided from emergency power sources when the disaster struck and power failed there were some six hundred thousand New Yorkers in the subways in trains trapped in tunnels and lonely reaches of elevated and underground and in the stations there was not a single casualty in the evacuation of every one of these six hundred thousand people this was accomplished by the cooperation and initiative of city police transit police other Transit Authority personnel and by firemen and by volunteers I do not have the total number but it was a very substantial one of individuals trapped in elevators every one of these two was evacuated without casualty some after long waits some with great difficulty this too was accomplished with combined forces of policemen firemen maintenance men and volunteers one of the greatest tributes to our city its citizens and its policemen consists in the fact that despite all of the emergency demands put upon our police for us to serve in numerous rescue situations the incidence of crimes reported throughout the five boroughs was one at one of its lowest levels in recent weeks. With the city plunged into darkness with the police employed on many rescue duties and functions including emergency traffic direction and the absence of all traffic lights there were never the less fewer muggings robberies and housebreaking and crimes of violence than on an ordinary night there was some mind alluding but it was almost insignificant in the whole crime picture a picture of the city at its most law abiding. And as was to be expected the incidence of fires was above normal but they were actually fuel false alarms than during an ordinary night all fires were promptly put out that's it was that when President Johnson called me and offered whatever assistance the federal government could often and when the commanding general at Fort Governor's Island called me and offered whatever assistance he could offer I could tell them that there was really nothing that we really needed at that time in the way of peacemaking or of military manpower all we needed and wanted was the restoration of electric power at the earliest possible moment and to make sure that this would not happen again that process was in the hands of kind Addison supplying the electric power which was working under the watchful eye of the officials of our Department of Water Supply gas and electricity I was even able to reply with another thank you very much to a telegram I received and which gave us a moment of good human relief which I shall read at this moment. Honorable Robert Wagner mayor of New York the city of North Las Vegas hearing of your immediate disaster. Wholehearted support and manpower equipment and materials to assist in the recovery phase of your stricken Metropolis signed William L. Taylor mayor city of North Last Vegas Nevada we did not need the assistance of the city of Vegas but we certainly are grateful and appreciative of their interest and goodwill. Well. There's always that possibility at this point we don't want anybody to be panicky and we realize that everything isn't back to normal so we have to conserve power so that we cannot have a repetition of last night and we have to wait until proper of. Our own and the affections of the state people will say that everything is normal and that we're protected so that it won't happen again. I mean. We don't feel that it should happen again tonight. The citizens. Conservation Program and that should be enough to get us. Out of the reasons that. People go home earlier so. We could come and serve in. Public. Life. And not that we know of this is a matter now being investigated I guess by a number of agencies that were not in a position to do any investigation outside the city of New York and now the Federal Bureau of Investigation direction of the president of. The state. Agencies Iran as well as the Federal Power Commission will have to await request from the. Mayor. I'm not in charge of directing they have. Understand from me from the press and from other public information that they have been ordered by the president. We don't know it yet we know that there's a cost on the one. Overtime that a number of the city employees and budget director will have those figures for. Again we do not know. The cost to industry. And there has been a substantial cost to various phases of industry you know that. From every ball reports comes from someplace upstate we had a report last night that it was some ten or twenty miles west of Buffalo other reports we see today that are somewhere around Syracuse. Now reports because. This is. What. You want to represent yourself you want to understand. That we will participate in the meeting after the agencies have investigated. And I know the president said that he had struck the. Federal Power Commission to work in cooperation with people that are just getting up here and I think we have to play that by ear I know we have to play an important role and then when we talk about that the actual physical investigation in the areas and. The right billion dollars by hearing. That I think we're going to have an awful lot of. People who are already power and I don't say that I'm one of the little something about it of the parent me something went wrong. And we have to have a. We'll review of this and I'm sure that some alternatives must be found to make sure that they can switch a little faster without anie trouble I read again that some of the reports that some of the switching that might help would be possible here Justin materialized because of some for the either. You know for a mechanical fault we don't want to see that happen again that's why I think it's possible maybe. Somebody made a mistake by. Some other way. I'm not going to be the judge of that we see all the facts Kay but I think that's a that's that it didn't work commissioner we have been we don't want to see this happen again we have been told the sabotage at the moment has not been ruled out in light of the fact that you're now dealing with what amounts to the old system of supplying power to the city you know any increase in precautions being taken to power stations within the city limits. Well I would say that I. Was not ruled out but it hasn't been established as the. Reason here. Certainly precautions are being taken and certainly it would not be well to make and public any precautions that are being. Oh. I don't know where he got that information because we have the information ready for a missile as he sends his task force around so he will find out what the situation is that the information that we have which has not been given to him. Or. Her but. Again this is. Well beyond the city of New York. The plans that they agency which supplies. Power to New York City which again is under the supervision of the federal and state people. Was that they could shift from the grade the grid kind of their local power house Hi Pat that this didn't work properly I don't want to see that happen again the only thing we had a problem to this in a very minor way really was a number of years ago. When we had some a time we had a breakdown on the west side due to a very hot day to do it over use conditioning but that was a very minor one and at that time they were to. Take a rest and I made some provision for alternative generator. Connection. Is the only thing that you are. Just on at all right on the. Long. I'm sure that they will come up with that I. Concentration has been on to try to get power restored how it was in the power was restored but it was it took an awful long time to marry I'm hearing that a part of the. Water with. The double burden public funds to connect the water off. I assume it was put some parts of it where for instance to make a lot of work depended on electricity and power for the pumping. That when there's no electricity pumping the water can't get to the. I was in the areas where we had to do something I saw part of it done also by the fire department that super promptly. Came in very handy realistically what do you think. You're hurting and I. Want to predict I I believe and the experts come back over there that if. People cooperate which I'm sure they will conserving electricity we will not have a repetition. Of. This but we do need the support I know we'll get a puppy. That's all well Mr Mayor export just one thing without the feeling where. I might say kind of tell me that extra precautions are being taken a very key electrical and water supply plants around the city but I'm sure we take always take gather with the other agencies the questions that are necessary in any situation and go into any detail on what a site people. Pinpoint. Spots for others who might be interested where some of these things are. Oh oh. Oh. Oh. Oh. Oh. Oh. Oh. Oh. Oh. Oh. Well certainly we want to make sure as I said I'm not going to sit here the day after and become a great expert on what should have been done and what will be done only concern is that we want to get the supply back here and we want to make sure that this doesn't happen again this May and maybe various alternatives but we don't want to see it happen again. By you and that's not good and you're not an expert in and they're so neither on my i we're not going to get any do any good discussing it here until the experts report back to us as fast as possible and then we take the appropriate action under the guidance of the experts just to make sure it isn't going to happen if. We're. Going to. What's your best guess for us all what. By. Our. Own prime minister. Has an administrative investigation I don't think that should take a very long I think people about it already they will be able to find out. Certainly in the. So as to what causes one then you get together and try to say that doesn't happen again common to place a Cornwall plan an operation could have prevented. The way we had last night. That statement may or may be not be correct at this stage I certainly want to be advised by our technician. You are. Right. I certainly do not and that's and a break that doesn't allow a fast change so that. If there is a break it would be only only momentarily momentary break of every one of a very short duration. I think the citizens of this city. Can understand this. That this place oh why this happens even over a broad period a broad area and we want to get to the bottom of here. I'm not going to say who was guilty of wipe until we have all the facts you know that's a very very favorite thing I'm sure a lot of people like to beat everybody over the head of a time like that with let's get the facts and look at this from an objective point of view guilty then not. Now the state that's their separate only contact we had with the military and I got a. Telephone call from General Don the commander of the first time here Governor's Island offering any assistance we told them right. There right their job their job security. And so you've heard the news conference from city hall Mayor Wagner reporting to the people of the city and on the action of city agencies during the blackout emergency and answering questions from newsman with the mayor here today for his deputy mayors Cavanaugh and can or can as well as key commissioners members of the emergency control board this has been a special news broadcast which came to you live from city hall and in just a moment we'll return you to our regular programming on. AM and F.M. from city hall we return you to our studios in the municipal building.