SchoolBook
Mayor Tries to Put Charter 'Sideshow' Aside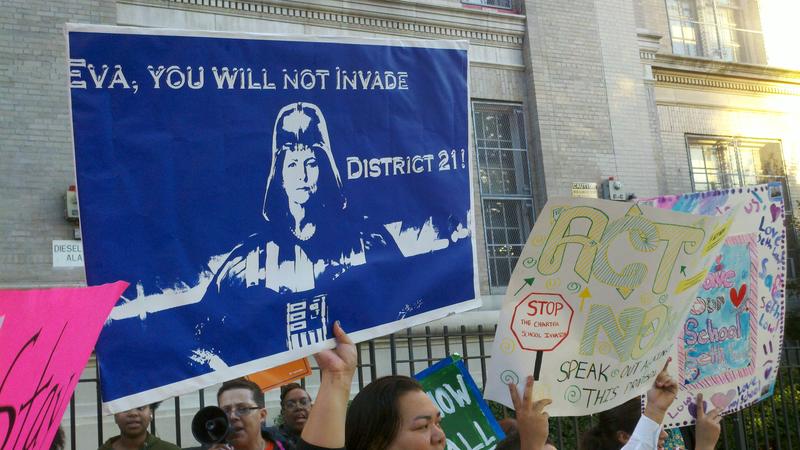 A day after the Department of Education reversed several school proposals approved under the Bloomberg administration, Mayor Bill de Blasio denied that the decision was an attack on charters and referred to the claim as a "sideshow" that did not represent the entire charter school community.
The de Blasio administraion on Thursday announced that the D.O.E. decided to drop six proposals for opening or expanding schools out of 45 that were approved in the final months of Mayor Michael Bloomberg's tenure. Three of the withdrawn proposals involved regular district schools and three involved charter schools run by the Success Academy charter network, led by Eva Moskowitz.
While the bulk of proposals inherited by the Bloomberg administration are moving forward — including charter schools and even some run by Success Academy — the reaction from many ardent supporters of charter schools took the mayor's decision to drop three Success Academy plans as an attack.
Moskowitz said the decision "makes utterly no sense." Social media lit up with invective, calling the decision "shameful" and anti-charter. The Daily News published an editorial titled "Bill slams Eva's kids." Even House Majority Leader Eric Cantor chimed in from Washington, saying de Blasio was continuing his "war against kids."
De Blasio on Friday reiterated his administration's criteria for reviewing the space-sharing plans and denied that withdrawing the proposals was an attack on charter schools.
"I think what we're seeing here is a diverse charter school movement, a lot of whom we are working with right now in this administration, many of whom do not think Eva Moskowitz speaks for them," said de Blasio.
Indeed, a group of charter school operators said that they met with senior leadership from City Hall and the Department of Education on Thursday about opening a "productive dialogue," according to a statement released by a newly-formed group called The Coalition of Community-Based Charters. About 25 charter schools are part of the coalition, including DREAM Charter School in Manhattan, The Renaissance Charter School in Queens and Amber Charter School in Manhattan.
The coalition also released a separate statement explaining why it would not participate in a pro-charter school rally in Albany on Tuesday, the same day that supporters of de Blasio's pre-k plan said it would rally for pre-k.
The charter leaders said "a competing rally, being organized by some charter leaders and just for charter schools, is not the right approach at this time."