SchoolBook
Mayor Touts Education Policies on Tour of Top-Scoring Schools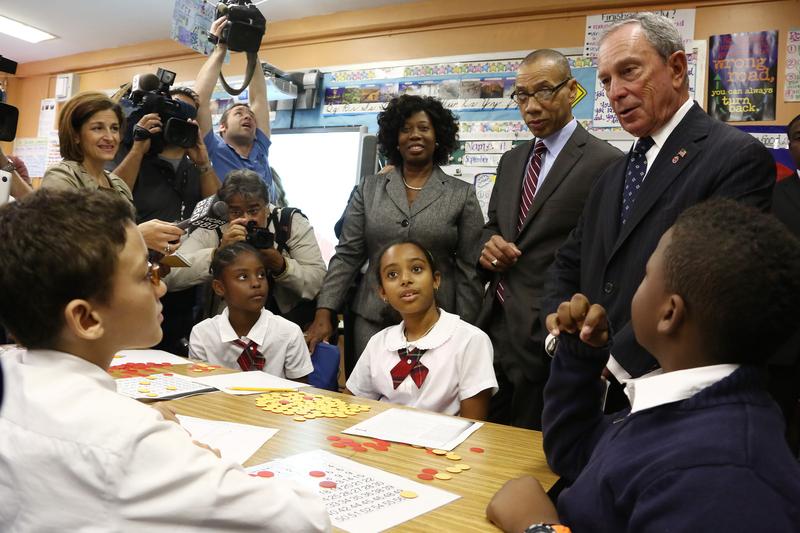 Members of Mayor Michael Bloomberg's administration spread out across the city Monday to congratulate nearly two dozen schools that placed among the top scorers on new state tests administered to students in April. The mayor said that New York City was home to 22 out of the state's 25 top schools.
"Twelve years ago, I think it's fair to say no one would have thought that possible," Mayor Bloomberg said. "New York City public schools ahead of  those in the suburbs? People would say — as Marty Markowitz would say — 'fuhgeddaboudit.'"
The mayor spoke to reporters at the Talented and Gifted School for Young Scholars in East Harlem, one of the 22 top performing New York City schools. And in addition to congratulating students and school staff for their hard work, the visit gave Bloomberg an opportunity to tout his education policies.
He brought up school choice and the number of new schools — 654 — opened under his administration; he said students now have greater diversity in their course offerings; he said school safety has improved under his watch. And the mayor noted that in 2001 none of New York State's top 25 performing schools on state tests were located in New York City.
Yet citywide, less than 30 percent of New York City students performed well enough on state tests to be considered "proficient" by the state's new standards.
Of the 22 city schools that did make it to the top 25 scorers in the state, many are highly selective and screen their students for admission, including the TAG School for Young Scholars. (Gotham Schools put together thorough notes on each of the schools.)
Others are in well-to-do neighborhoods, such as P.S. 321 William Penn in Park Slope, or have low percentages of African-American and Latino students or students who are English-language learners, as Gotham Schools notes.
When asked if he thought the schools' test score performance was representative of New York City, the mayor noted that 15 schools on the list of top scorers this year were in existence in 2001 and they didn't make it to the top 25 list before he took office. Plus, he asserted that his policies have helped advance the school system overall.
"Kids in every neighborhood and every part of this city have benefited," the mayor went on to say. "Are we where we want to be? No. And incidentally, we'll never be where we want to be. This concept of proficiency is, I've always thought, so misleading. There's no Nobel Prize winner that I know that says I stopped studying, stopped learning. There is no answer to the parent to says how much does my child have to learn? You've got to keep learning."
Mayor Bloomberg is making his defense in the face of criticism from community groups, the teachers' union and the candidates running to replace him. Critics have called his administration "obsessed" with test scores and disparaging of teachers.
Bill de Blasio, the Democratic candidate for mayor, has said that "history is not going to judge Mayor Bloomberg kindly" on his running of the school system. And his competitor, Joe Lhota, said as recently as Monday afternoon that New York City schools are better than they were 20 years ago, "but just marginally."