SchoolBook
Mayor: Now We Have the Pre-K Seats, Still Need the Funding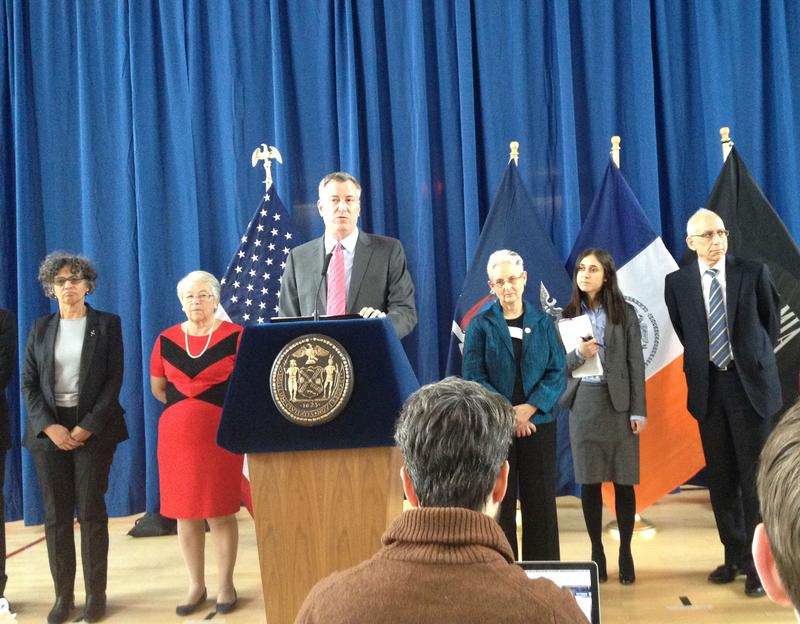 Mayor Bill de Blasio said on Tuesday the city is well on its way to reaching his target of opening more than 53,000 full-day pre-kindergarten spots for students this fall, based on new proposals from elementary school principals and community-based organizations.

The announcement was the latest salvo in his battle to convince a reluctant Gov. Andrew Cuomo and other lawmakers that the city needs to tax its wealthiest residents in order to expand pre-k. Space, he said, was not an obstacle.

"These are actual schools and actual community-based organizations with actual detailed plans, many of which have a strong pre-k history to build on," de Blasio said, speaking at P.S. 130 in Chinatown.

In response to a request for proposals from elementary schools and community-based organizations, the  Department of Education received enough response potentially to open 29,000 full-day seats this fall , well over the mayor's goal of 21,000 seats, and well on the way to his target to have 73,000 seats by the fall of 2015.

The the proposals came from more than 900 separate sites, more than double the number the city received last year. A total of 647 came from community-based organizations, many of which already provide half-day classes and could extend their programs if they received more money.
City officials said some of the sites came from the archdiocese, diocese, public library and New York City Housing Authority facilities. They said 280 proposals came from elementary schools, which it broke down by borough but not by school. Every borough saw a big spike in proposals since last year, especially Queens.
The next step: reviewing the proposals and conducting site visits to make sure they meet minimum qualifications, in time for budget negotiations in April. Health Commissioner Mary Travis Basset acknowledged these additional proposals require the city to beef up inspections. A "Daily News" report found one of every five pre-K centers run by the Administration for Children's Services has been cited within the past three months for at least one public health hazard.

Officials also said they would make sure the programs use high-quality instructors and a curriculum tied to the state's Common Core standards. But skeptics have noted that it took New Jersey 15 years to get to 45,000 full-day pre-k seats. 
"I remain concerned that if the program is implemented too quickly it will not be done well, but I hope my concerns are unwarranted," said NYU Prof. Pedro Noguera. "I do not believe that finding appropriate space, recruiting highly qualified teachers and providing them with a research-based curriculum can or should be carried out hastily."
Judging by statements coming out of Albany on Tuesday, the mayor's latest pitch did not seem to move the needle on the issue although Cuomo struck an upbeat tome. 
Speaking in an interview Tuesday with FOX's Maria Bartiromo, he said he prefers to help districts throughout the state expand pre-k with his $1.5 billion budget plan, without raising taxes.
"We will work out this issue, he said. "There's a question of how much New York City needs, how much the other cities need. That we can work out but I believe we have the resources to do it on a statewide basis. I believe everyone agrees that we need to do it on a statewide basis. So I feel good about the trajectory of this conversation."
State Assembly Speaker Sheldon Silver concurred, telling reporters the mayor's plan is "certainly not off the table."
The de Blasio administration has said New York City needs more than half a billion dollars a year for five years, to pay for expanding both pre-k and after-school programs for middle schoolers.