Mayor Proposes $82 Billion Preliminary Budget for 2017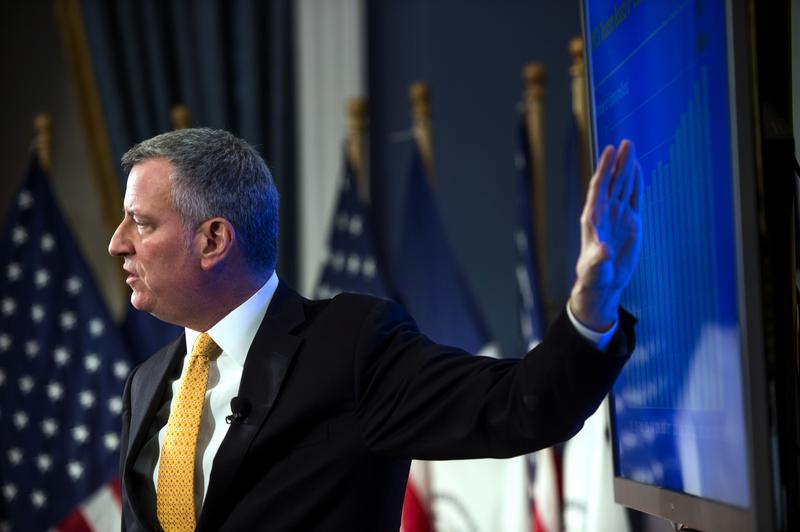 New York City Mayor Bill de Blasio outlined his $82 billion dollar spending plan for the fiscal year 2017 on Thursday, framing it as a "disciplined" budget that maintains service and uses caution in the face of future economic uncertainties.
The plan includes new federal grant money to pay for ongoing Sandy repairs along with increased pension investments to help support the city's retirees, who are living longer. It comes in at $3.5 billion over the budget for the current fiscal year, which ends June 30.
There are few new policy initiatives included in the plan. Rather, the mayor stressed his commitment to seeing existing policies come to fruition.
"We don't need to always have splashy new things when we feel the choices we've made are going to have a huge impact if we implement them right," de Blasio said at City Hall. "So this year is going to be a lot about implementing the pieces that are already underway and making sure they reach people."
Altogether, there's $740 million in new agency spending. To the extent that there are new initiatives, many had already been unveiled in recent months, including a new $15 dollar minimum wage for the lowest-paid city workers, which the city is now estimating will cost $115 million.
There's $62 million to pay for ThriveNYC, the city's plan to create more robust mental-health services, and another $17.4 million for NYC Safe, which specifically targets people with mental health issues that pose a risk to public safety.
There's also $53.7 million for a series of programs to address homelessness here in the city.
In terms of public safery, the city is expanding its Shotspotter program by another $3 million dollars.  That's the technology used by the NYPD to track down guns. There's also more money for park security in the wake of that recent case in Brooklyn of an alleged gang rape.
The budget also includes $5.4 million to expand FDNY ambulance tours in Queens and northern Manhattan and to conduct EMS pilot initiatives in the Bronx to improve response times.
The city plans to invest $47 million in the capital plan for a new Staten Island Ferry. 
The budget also aims to chip away at school overcrowding. The mayor proposed spending $868 million to create 11,800 seats over the course of the school capital plan through fiscal year 2019, bringing the total number of seats funded in that plan to approximately 44,000.
The increase in funding for new seats will target severely overcrowded neighborhoods such as Corona and Jackson Heights in Queens, and Sunset Park, Brooklyn, said Danny Dromm, chair of the City Council education committee.
Dromm said funding 44,000 seats in the current capital plan was at least a good start at addressing overcrowding.
"It brings us closer to the goal but I still think that we need almost double that, ultimately," said Dromm. "But an infusion of $868 million dollars is nothing to laugh about."
The amended school capital plan, also released Thursday, estimates that the school system actually needs 83,000 seats, a significant jump from previous plans.
The increase in the number of needed seats was expected after the de Blasio administration changed how it calculated school overcrowding in an annual report known as the Blue Book. Education officials modified their formula after years of criticism that the Blue Book overstated how many students could fit in a school.
The new Blue Book numbers, released in September, showed that close to 540,000 public school students — more than half the school population — attended overcrowded schools.