Mayor de Blasio Outlines Plan to Expand Pre-K to 3-Year-Olds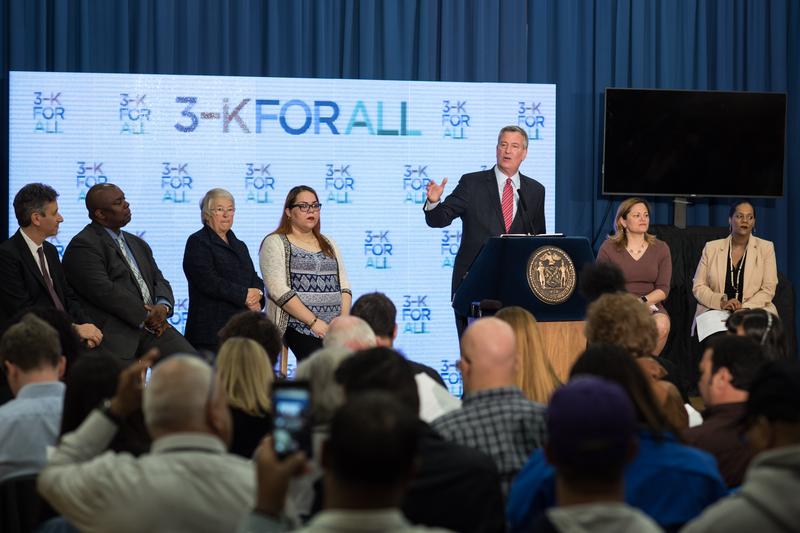 After accomplishing a major expansion of public pre-kindergarten classes for 4-year-olds, New York City is embarking on a plan to expand early childhood education, with the vision of ultimately providing a pre-school seat to any eligible 3-year-old child in the city. 
"This investment will be one of the smartest we've ever made in the history of this city," Mayor Bill de Blasio said on Monday. He made the announcement at P.S. 1 Courtlandt School in the Bronx. 
"Literally, early childhood education helps children go on the right path, helps them succeed," he added. "So that's where our money should be."
The city will implement its "3-K For All" plan at a relatively slower pace than its breakneck expansion of universal pre-k. The city's Department of Education would take over administration of the EarlyLearn program for 3-year-olds, serving about 11,000 children. The EarlyLearn program currently is run by the Administration for Children Services.
But the expansion of seats will begin in just two low-income school districts. Starting this fall, the city will add hundreds of seats in School District 7 in the South Bronx and School District 23 covering Brownsville, Brooklyn. The plan would create the seats in both community organizations and public schools.  
By 2018, the city said it would serve approximately 1,800 children in these two areas. And for each year following, the city would add another two school districts to its expansion.
As far as funding, New York officials said they had a plan in place to provide free, full-day pre-school in eight city school districts by 2021 at an additional cost of $177 million each year . 
Providing pre-school seats citywide would require substantially more money, said de Blasio, and therefore help from state and federal governments. The mayor estimates the city would need to spend another $700 million to expand the program to the remaining 24 out of 32 school districts. 
"To me this is a very important investment," said Pamela Morris, an early childhood expert and professor of applied psychology at NYU's Steindhardt School of Culture, Education and Human Development. "It's very consistent with where the scientific evidence is, that you should be investing in early childhood."
The challenge in expanding, Morris said, is ensuring high-quality programs.
Leonie Haimson, founder and executive director of the advocacy group Class Size Matters, did not question the city's desire to build up early childhood programs. But she raised concerns over how it was targeting resources — perhaps at the expense of older children in the school system.
"It seems like as a city and maybe even as a nation, we've forgotten about the needs of kindergarteners, first-graders, second-graders, third-graders," she said, noting that early childhood generally describes the developmental stage through the early grades of elementary school. 
"And in the rush to expand pre-k, I'm really very concerned that we have forgotten about the rest of the kids in the system who are sitting in overcrowded schools and in overcrowded classrooms."
Approximately half of city students, more than 500,000, attend overcrowded schools, according to the city.