Bratton's Replacement Is a Community Policing Veteran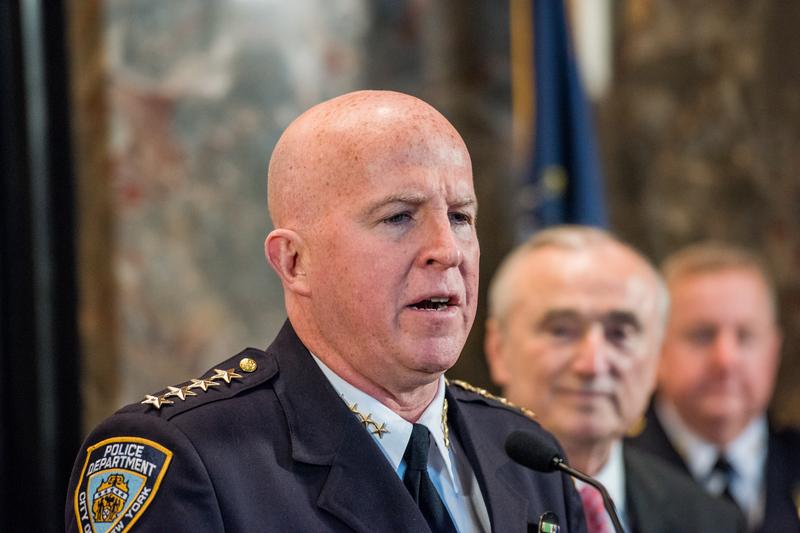 Long time New York City Police Department veteran James O'Neill, known as Jimmy, will be New York City's next police commissioner. He's expected to take over the position when Police Commissioner Bill Bratton officially steps down in September.
"Jimmy O'Neill burns with a passion to keep making things betters, to keep finding the next innovation," said Mayor Bill de Blasio at a press conference Tuesday.
O'Neill, 58, started out as a transit cop in 1983. He moved up the ranks in the department, from sergeant, to lieutenant, and eventually, chief of department.
In that role, his primary focus has been community relations and neighborhood policing. He says police officers should be kept in one neighborhood, with the goal of freeing them up to interact with the community instead of just answering calls and keeping officers at desks all day.
"The neighborhood policing program...would be better for the cops and far better for the community if they know who was actually out there protecting and serving them every day," said O'Neill.
The Brooklyn native's career rebounded dramatically after a fall from grace eight years ago.
The Wall Street Journal reported last month that O'Neill was transferred out of a department he had headed in 2008, after it was discovered his officers had handed out drugs to informants, instead of paying them in cash. After the incident, O'Neill reportedly went to Bratton and asked for advice. The commissioner told him to stay on. Then, in 2014, Bratton promoted O'Neill to become part of his executive staff.
The new commissioner is also expected to continue to follow the so called "broken windows" policing strategy Bratton has long championed. Its basic tenant is the belief that aggressively tackling low-level offenses will prevent more serious crime.
But many activist groups, like Campaign Zero, believe the policy has led to over-policing, and has contributed to a rise in police violence against individuals involved in minor offenses.
Protesters gathered Monday in City Hall Park, before the announcement, demanded Bratton's ouster and called for an end to police violence against city residents.
"We want to see an end to the policy of broken windows policing," said Nabil Hassein with Millions March NYC, who helped organize the City Hall Park protest. "There's absolutely no evidence that this policy does anything to keep any community safe." 
O'Neill will be expected to mend ties between the police and communities of color that have frayed in recent months, with the killing of Eric Garner and other outbreaks of violence. 
But the "broken windows" policy continues to have staunch defenders.
"Broken windows is [when you] do something about minor problems. It doesn't say arrest people and it has never advocated for arresting people," said George Kelling, a senior fellow at the Manhattan Institute, who is considered the architect of the broken windows theory.
When told that many anti-police activists abhor the strategy he devised, Kelling said it is misunderstood. He firmly believes that residents still perceive minor crimes, like prostitution and drug dealing, as ruining their quality of life, especially in big cities. 
"There would be an uproar if police were to abandon those neighborhoods, if they were de-policed and abandoned as they were before [Commissioner] Bill Bratton," said Kelling.
Carlos Gomez, the department's current Chief of Housing, will be the new Chief of Department.