SchoolBook
De Blasio Defends His Approach to Fixing NYC Schools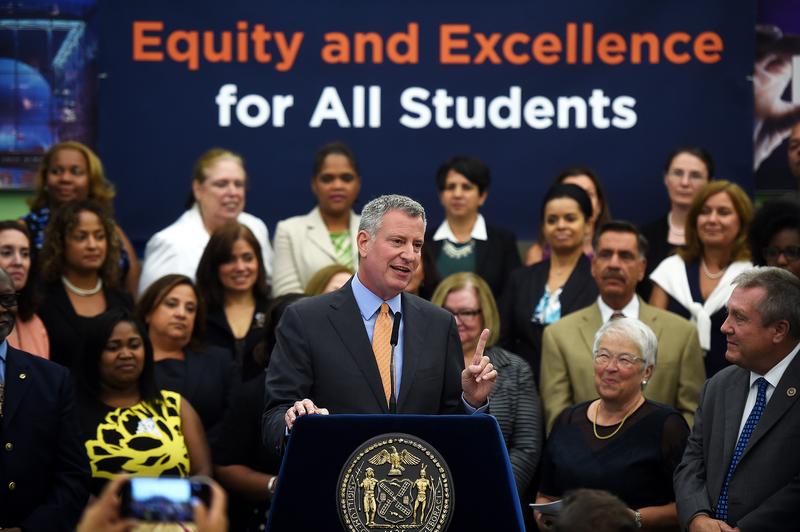 New York City Mayor Bill de Blasio this week revisited his philosophical differences with the charter school movement when discussing state test scores and his pride in in the city's progress, claiming his administration's approach would more effectively fix long-ignored problems in the school system than schools that intensely focus on test scores.
On Thursday, de Blasio told WNYC's Brian Lehrer his administration was doing things that should have been done decades ago, like expand early childhood education and raise expectations for students and teachers in schools across the city. 
"The future of New York City will be determined by our traditional public schools, I have said that many many times," he said.
When asked if the charter schools offered a strong option for families, he said charters comprised a small segment of the system, serving about 10 percent of the student body, and he preferred to focus on the other 90 percent. 
"We didn't do the things to help kids in our public schools succeed. We just didn't as a society... There was not early childhood education. One of the most fundamental things you could do if you want kids to succeed is give them a full day, high-quality pre-K. That didn't exist in New York City. You didn't have all the building blocks of professional development to consistently improve the quality of our teachers. We didn't have anywhere near the level we needed it. We didn't have things like computer science education for all kids, not just the chosen few," he said. "We accepted as a society, 30 percent of our kids reading on grade level by third grade. We thought that was somehow normal. I don't accept any of that."
The mayor noted there was diversity within the charter school sector and applauded the schools that were innovating and serving their students well. Still, his comments made clear the mayor views charter schools as more of a sideshow, an educational experiment that may provide some helpful lessons but that can't drive the lever of reform in a system of 1.1 million students.
His comments followed the recent release of state test scores, and the spin put on them by elected officials and advocates. The numbers showed that overall 38 percent of regular public school students in grades 3-8 were proficient on this year's English Language Arts tests, a gain of 7.6 points since 2015. In math, 36.4 percent were proficient compared to 35.2 percent in 2015 for a gain of 1.2 points.
Charter school kids showed much more progress: in 2015, 29.3 percent were proficient in English, but this year that figure was 43 percent, a gain of almost 14 points. Math proficiency rose from 44.2 percent to 48.7 percent in New York City charter schools.
The mayor and Schools Chancellor crowed over the progress in test scores. Later, though, de Blasio dismissed the charter school scores as evidence of too much test prep. He repeated that critique on WNYC:
"We believe in assessing our children as they are, not effectively trying to game the dynamic by doing a lot of test prep and then seeing the results because kids have been prepared to take the test," he explained. "Taking a test is not an indicator alone of your academic level or your capacity to succeed in the modern economy or a lot of other things. A test gives us one measure and it's helpful measure. But we have other measures we have to look at."
Charter school supporters and leaders lambasted the mayor for his mixed message.
"The mayor can't have it both ways. He can't hold up district test scores as evidence his administration is doing something right and charter test scores as evidence they are doing something wrong," said James Merriman, the CEO of the NYC Charter School Center. "This is not the kind of leadership families in New York City need or deserve as they continue to struggle to find a seat in a high quality public school."
It's no secret de Blasio has had his differences with members of the city's charter school sector. He took issue with Success Academies founder Eva Moskowitz's recent Daily News editorial arguing that charters should be allowed to proliferate because they're making more progress with black and Latino students. He referred to media reports, such as those in the New York Times, that some charters drill children too harshly and don't serve enough students with special needs and English-language learners.
"Some charters, sadly, have a long history of exclusion," he said. He also pointed to additional private funding some charters receive, "So there's not an apples to apples dynamic vis-à-vis our public school system."
When asked about his latest comments, a spokesman for Success Academies, Stefan Friedman, said the mayor was overlooking a key constituency: charter school parents.
"Many, many charter schools are being successful, but the mayor wants to distract from that truth by taking potshots at Success," he said. "The real story is that while the mayor doesn't want more charter schools, recent polls show that parents do."
He was referring to a recent Quinnipiac poll of New York City voters. It found that among respondents with school-aged children, 51 percent said they would prefer their children attend a charter school rather than a district school.