De Blasio Budget Promotes "Values," Leaves Questions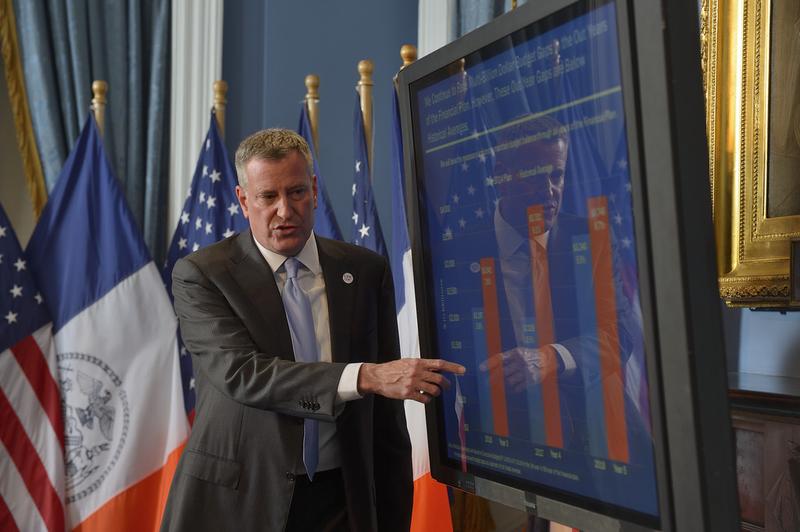 Mayor Bill de Blasio has released a nearly $74 billion executive budget, which he called "progressive," "responsible," and "honest", and said follows through on his key campaign promises, like funding for universal pre-k, affordable housing, and new labor contracts.
De Blasio says he'll pay for these, and a slew of other priorities, without a property tax increase or across the board spending cuts. But budget watchdogs say there are some significant costs being pushed into the future.
For example, the backpay for teachers who didn't have a deal under Mayor Bloomberg is being spread out until Fiscal Year 2021, which is beyond the length of their contract, beyond the scope of the budget, and extends after the end of de Blasio's first term. Plus, there are still questions about the health savings the city says will help pay for the deal, though officials say binding arbitration will guarantee those savings happen. Charles Brecher of the Citizens Budget Committee says that's not fair to future taxpayers. "The accounting notion that you pay for something when you get it is good and the more we deviate from that the less equity there is in the system," he said.
Then there's the issue of debt. Some of it will be created by the mayor's affordable housing plan, but some of it comes from the refinancing of old debt to cover this year's expenses. There's also the growing deficit. It will hit $2 billion in Fiscal Year 2016, and grow to $3.2 billion in Fiscal Year 2018. 
De Blasio assured New Yorkers that the deficit is less than the historical average, and promised to keep the budget in balance. "There are some, I've met them over the years, who have trouble equating fiscal responsibility with progressive values. I think the two go hand in hand," he said. "I think part of being a progressive is recognizing the world as it is."