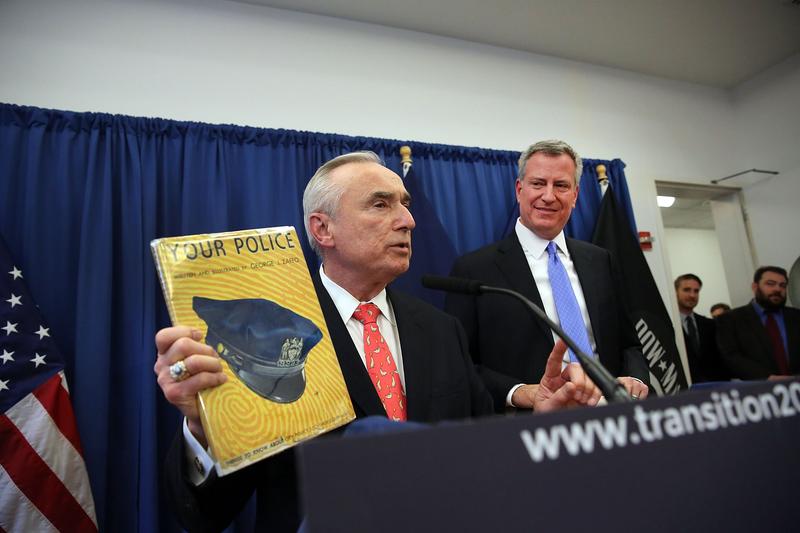 In his first working day in office, New York City Mayor Bill de Blasio said his administration would "focus a lot of energy" on reducing traffic fatalities, calling the issue "a huge public safety issue." His remarks came at the swearing in of his Police Commissioner, Bill Bratton.
In a long and rambling news conference that focused on, among other things, terrorism, stop-and-frisk, gang violence, and above all snow, New York City Mayor Bill de Blasio raised the issue of traffic safety after twenty five minutes, without a prompting question.
"I just wanted to add one point," Mayor de Blasio said, after a Bratton answer to a question about gang violence. "I really appreciate the fact that the commissioner is focused on some of the challenges we face when it comes to pedestrian fatalities and traffic fatalities. He's a big believer in the direction that we're going to take the city in, the Vision Zero concept," de Blasio said, referring to a plan he endorsed during the campaign to reduce traffic fatalities to zero.
"He gave a really fantastic speech just days before we made the final selection down at, I think it was NYU, on that very topic. And I had the honor of naming our new transportation  commissioner, Polly Trottenberg, a few days ago, and I can tell you that Commissioner Trottenberg and Commissioner Bratton are going to become fast friends as they focus on --"
"-- She already lassoed me to the ground last night," Bratton interjected. 
"See? She's a forceful leader," de Blasio resumed. "There's going to be a real focus on taking on that challenge. It's not crime, necessarily -- some are going to end up being criminal instances, others are not, but it is a huge public safety problem and an area where we're going to focus a lot of energy."
And, picking up the Alfonse and Gaston routine, Bratton elaborated on de Blasio's point: "Just look at the reports this morning, we've had in the beginning of the year, two homicides, and also two traffic fatalities. Last year I think the figures were pretty close. I haven't seen the end-of-year figures, but the number of people whose lives were lost in traffic-related incidents -- a life lost is a life lost. A family grieves. That intensive focus on traffic issues is one of the areas the mayor has asked us to prioritize."