How Mayor de Blasio Studies Up Before a Town Hall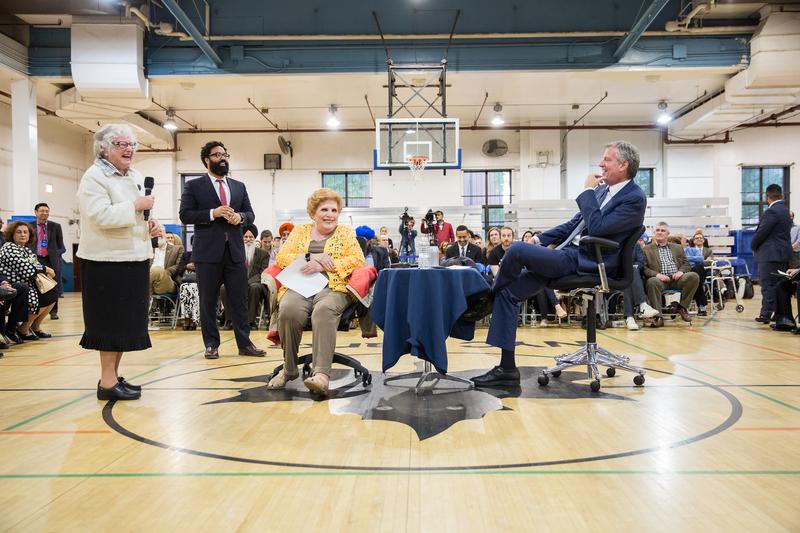 New York City Mayor Bill de Blasio will hold his 27th Town Hall meeting on Wednesday, hosted by City Council member Margaret Chin on the Lower East Side of Manhattan. To understand just what goes into preparing for hours of questions from the public, WNYC joined the mayor and his team at City Hall before his last Town Hall, in Karen Koslowtiz's City Council district in Queens.
Two days before the main event, a group of 35 agency leaders and uniformed personnel sat around a rectangle of tables in the blue room at City Hall, waiting for the mayor. Some of the assembled team traveled from their offices in Rego Park, Kew Gardens and Forest Hills for the occasion. Bill de Blasio arrived about 45 minutes late —his aides said he was dealing with a budget emergency.
The town hall setting requires the mayor be on his toes — pivoting from his views on the Trump administration to his understanding of local traffic patterns. The prep session is all about getting into the weeds — helping the mayor square facts and talking points before he's on the hot seat.
His team prepared a 47-page briefing book packed with data about the district (which everyone must return at the end of the meeting). School overcrowding is an ongoing issue, with a scarce number of high school seats. The local district's graduation rate is 89.4 percent, nearly 17 points above the city average. That prompted the mayor to ask a question.
"You are still comfortable with that bottom-line?" the mayor said to Deputy Schools Chancellor Elizabeth Rose. "You are still open to creating additional high school seats if we can find the right location?"
Rose said she was — "if the community would like to suggest locations. Our biggest challenge with high schools is that communities don't want them."
"Some don't," de Blasio said. "Some do."
"We're not aware of anywhere saying, 'yes, give us more high school seats'," Rose said.
"Yes, it's good to say to people, 'help us find the location,'" de Blasio said.
De Blasio doesn't hesitate to challenge his team in this setting, especially if he doesn't like their answers. The mayor asked Deputy Police Commissioner Robert Ramos of the 112th precinct whether he sends officers to an intersection left without a crossing guard after the woman who worked there died of cancer.
"Not consistently," Ramos said.
"Ok, I'd like to tighten that up," de Blasio replied. "We're only talking about two weeks, a little more, of school."
The team also preps the mayor for the district's hottest issues. In this section of Queens, there's an ongoing debate over the future of 3.5 miles of unused railroad track. Those that want to convert to a park call it the "Queensway." Others, who want it to be used as a commuter rail, call it the "Queensrail." The city and the MTA are both studying the options.
"So this one we are just being straight up," de Blasio confirmed with the team. "We're giving it serious consideration but we have to get all of the facts particularly costs and logistics before we can make a final decision."
As it turned out, the mayor was asked repeatedly about it at the Town Hall. Peter Beadle from Community Board 6 crafted his Queensway pitch by telling the mayor that a bike path through the park could help him meet the city's emission reduction goals. He even made a reference to the Paris climate agreement.
"Well-crafted question, sir," replied the mayor before giving an answer straight from his briefing book.
"I will come back publicly with an assessment of the different options, the costs, and then we will move to a decision," de Blasio said.
De Blasio didn't start doing town hall meetings until the fall of 2015. Since then, he's steadily picked up the pace, preparing himself for the local issues in each district — and some that people across the city want to ask.
Ravi Naidu, 27, a systems analyst from Kew Gardens, posed a more existential question about affordability in the city.
"What is the incentive for me to continue to stay here? It's my home. Why should I not move to Jersey but stay here and keep paying more and not get the services back?" asked Naidu.
The mayor's rebuttal summed up much of his re-election pitch. It's the safest big city in America, more roads are being repaved. There are great parks, culture, rising wages and more jobs than ever.
"It's harder to live here than a lot more places," said de Blasio, "but I believe you get a lot more back from it."
Speaking afterwards, Naidu called the mayor's response a "cop out." He didn't feel like the mayor really understood him, a risk the mayor faces every time he opens himself up to questions at a Town Hall — and one that can't be prepared for with a briefing book.  
But the mayor did come prepared with some good news to break. He announced that City Hall was adding the final money needed to expand the Rego Park public library.
It's not the stuff of front-page headlines. But it was a welcome dispatch for this self-selected group of local residents, and for the evening's host Council member Karen Koslowitz.
"I'm overwhelmed," said Koslowitz. "Like they say, I'm verklempt."