SchoolBook
Mayor de Blasio Reaches Out to Push Expanded Pre-K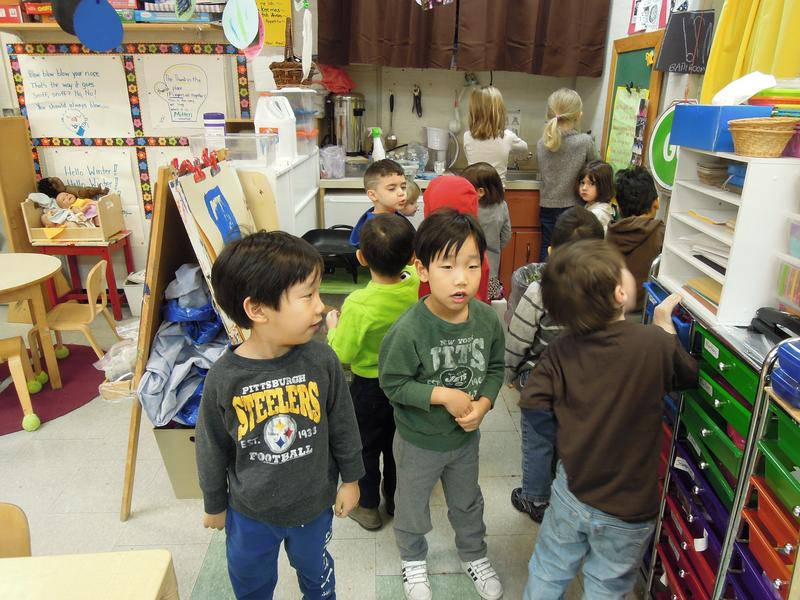 Mayor Bill de Blasio dropped by the Brooklyn Public Library at Grand Army Plaza on Sunday to continue his push to expand full-day pre-kindergarten in New York City.

Joined by his wife Chirlane McCray, de Blasio chatted with volunteers who were helping mothers and fathers sign up their three and four-year-olds for pre-k programs this fall. The deadline has been extended three weeks to April 23.

In a conference room on the library's second floor, Mayor de Blasio met with volunteers wearing "Free Pre-K" T-shirts. They were calling parents to tell them how to sign their children up for pre-k.

Mayor de Blasio took a phone and called a woman named Natasha. After hearing her concerns about the limited availability of full-day pre-k, he told her that's why he was working to expand it. "If we get the funding from Albany, we're going to go to about 53,000 seats this year by September," he said. "Then it's going to be 73,000 by the following year."

Governor Cuomo has pledged to expand pre-k state-wide without raising taxes on New York City residents making more than $500,000 as Mayor de Blasio wants. State Senate Republicans have also offered a funding plan that includes dedicated state funding for five years. But Assembly Speaker Sheldon Silver says he won't agree to it unless there are no strings attached.

De Blasio has repeatedly said a tax is the only way to fund pre-k for five years, and that the governor's budget doesn't include enough money to pay for an extra 33,000 full-day seats starting in September.