SchoolBook
De Blasio Says NYC Policies Support More Diverse Schools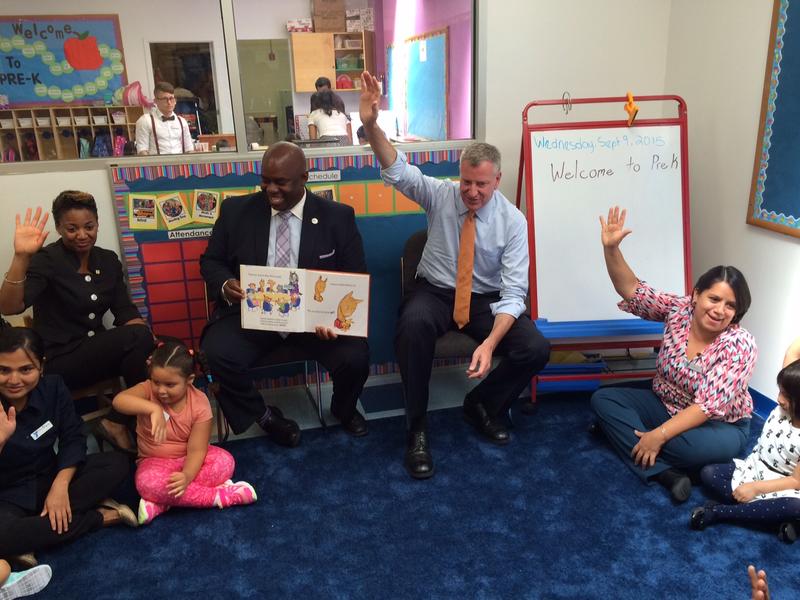 New York City Mayor Bill de Blasio said on Friday he would review options to improve diversity in the public schools but would not commit to one proposal over another at this time.
Appearing on WNYC's Brian Lehrer Show, he said his goal was to increase equity and opportunities for all children through his affordable housing plans, pre-k expansion and after-school programs. 
"I want a school system where we no longer implicitly say there's a good school versus there's a bad school," he said.
A 2014 UCLA study found New York City had some of the most segregated schools in the nation. When the mayor was asked if he supported setting aside a number of seats for certain groups of children, an approach called controlled choice, he said he hadn't committed.
"But we're going to explore our options," he said, adding that it was his desire to have children of different backgrounds learning side by side. "That has always been what's the strength of the city, and that's what our destiny is in my belief."
On the different but related topic of school overcrowding and gentrification, the mayor said he was a fan of opening new schools in residential buildings that are popping up all over the city. He said this could be an answer to one caller's concern about overcrowded schools.
"We are going to nine million people over the next couple of decades and we know some parts of the city need a lot more schools," he said. "A lot of the rezoning lately have included schools in residential buildings very, very effectively so you kind of get a two-for-one deal where you have affordable housing, and in many cases obviously market rate housing as well, but you put a school on the first few floors of the building. That's been a great model that we intend to use more often."
As for the new Quinnipiac University poll finding most voters believe the mayor's feud with Gov. Andrew Cuomo is hurting the state, de Blasio avoided criticism but also said he would continue pushing Albany for more money for the schools.
"Of course I want the governor to step up," he said.
De Blasio also gave a plug to the sometimes maligned Common Core learning standards.
"I'm a believer in high standards because the modern world and the modern economy require it so I want a New York City public school diploma to reflect high standards and college readiness," he said, adding that the implementation and training was wholly inadequate.
The mayor's stayed on the theme of preparing students for success in a fast-changing world when he touted his plans to offer computer science classes for all New York City public school students within the decade.

He said these skills will make students "much more able to be a part of the workforce of the future." When asked if this meant every student must take a computer science class, de Blasio said he wanted to integrate computer science across the board.

"It's not going to be separate, narrow computer science courses for the few. It's going to be computer science in all parts of the curriculum in all grades," he said.

The $81 million program will be funded in equal measures by the city and the private sector. The mayor said he was also cognizant of the need to step up support for arts, athletics, Advanced Placement classes and literacy experts.
His full $186 million a year program, presented in a speech on Wednesday, aimed to raise graduation rates and college readiness, with a focus on the neediest school populations.

When asked about his plans to partner with successful charter schools, he noted that some of these privately managed schools have "done a great job at raising the bar" for all pupils. He said he wanted to encourage them to share their strategies with the rest of the city's district schools instead of being viewed as competitors.