On the Firing of Preet Bharara, There's One New Yorker with No Comment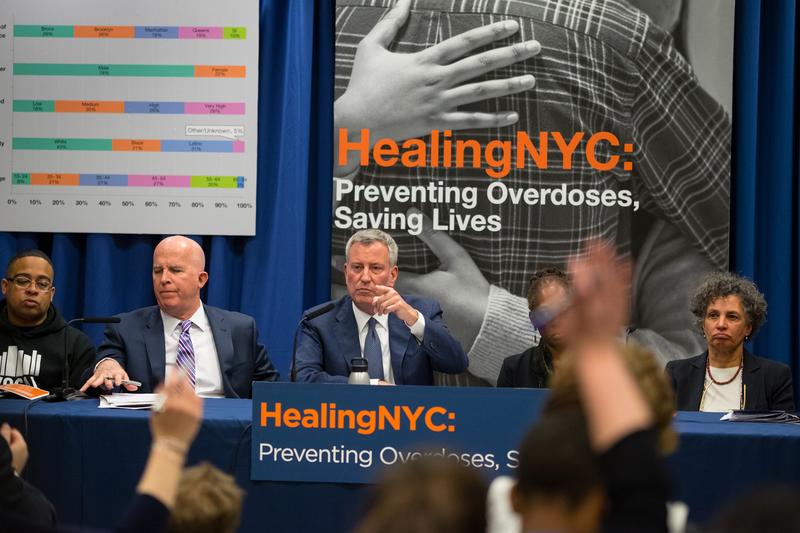 New York City Mayor Bill de Blasio and NYPD Commissioner James O'Neill joined forces on Monday to announce the city's new plan to combat the opioid epidemic. But the duo parted ways when it came to talking about Bharara's sudden departure from the Southern district. The mayor had little to say.
"I'm just not going to comment on it," said de Blasio. "Obviously there's an ongoing investigation so it's not appropriate to comment on it."
That response did not stop reporters from continuing to ask... and ask. De Blasio offered half a dozen different "no comments" related to the Southern District of New York, the office formerly led by Bharara.
The southern district of New York had been conducting a year-long investigation investigating into de Blasio's campaign fundraising. In recent weeks, the mayor was interviewed for four hours by prosecutors from the office. So far, no one has been charged with any wrong-doing.
Reaction from de Blasio's police commissioner James O'Neill struck a much different note.
"Preet and the NYPD, the Southern district, along with the FBI and a couple other federal agents have done tremendous work, a lot of local impact," said O'Neill citing their partnership on major gang takedowns in the Bronx and in East Harlem after the shooting death of an NYPD officer.
"Preet and his people did a tremendous job for this city," said the commissioner who also name-checked Joon H. Kim, the acting U-S attorney who has taken over in Bharara's absence.
But O'Neill was not the only one offering praise on Monday. Lawyers from the U.S. attorney's office gathered outside their building in lower Manhattan at the end of the day to applaud Bharara and offer a final salute to their departing boss.