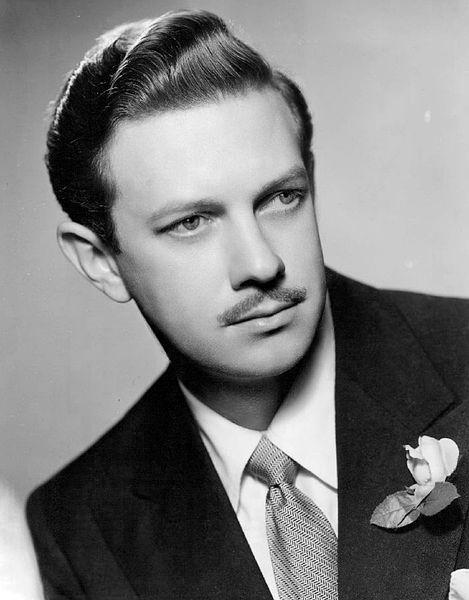 Summary
This episode is from the WNYC archives. It may contain language which is no longer politically or socially appropriate.
Civil defense, ceiling price, PAL.

Mayor had read Corporal Jack Zurofksy's essay on why he is fighting and Zurosky joins the mayor on the air.

Shoes for children and baby booties.

Kids and dogs. Mean rackets. War Department has a way of notifying the next of kin when a soldier dies. Family will know it before the public does. Mother of boy received a letter from a clipping service. Received a list of casualties for the week. Told them to stop this cruel service.

Opera soprano Dorothy Kirsten joins Mayor and is interviewed by him. Performing at City Center for New Moon. She sings Lover Come Back to Me. She is joined by baritone Earl Wrightson and they sing Wanting You. Stout Hearted Men is also performed by New Moon singers.
Audio courtesy of the NYC Municipal Archives WNYC Collection
WNYC archives id: 71133
Municipal archives id: LT4047
Transcript
The original text of the WNYC radio broadcasts are the property of the New York City Department of Records/Municipal Archives. This digital edition is made available for research purposes only. The text may not be duplicated or reproduced without the written permission of the New York City Department of Records/Municipal Archives 31 Chambers Street New York, NY 10007

FOR IMMEDIATE RELEASE SUNDAY, May 28, 1944

CITY OF NEW YORK OFFICE OF THE MAYOR

TEXT OF MAYOR F. H. LA GUARDIA'S SUNDAY BROADCAST TO THE PEOPLE OF NEW YORK FROM HIS OFFICE AT CITY HALL, MAY 28, 1944, BROADCAST OVER WNYC AT 1:00 P.M. FOLLOWS:


Patience and Fortitude.


WAR NEWS

Our troops have smashed through the Hitler Line in Italy and are on their way north. Nothing can stop them. General Eisenhower is waging a war of nerves, the like of which the dirty Nazis never contemplated. He has them guessing and jittery and soon they will be groggy.


I AM AN AMERICAN DAY

Well, I saw most of you last Sunday in Central Park. In fact, I think all of New York was there. It really was an impressive ceremony. There were some very splendid addresses by Bishop Manning, Senator Robert Wagner and U. S. Circuit Court Judge Learned Hand. They were most interesting and I am sure the million people there all enjoyed them.


VISIT OF CPL ZUROFSKY

I have a very pleasant surprise, today. Who do you suppose dropped in? Well, Jack J. Zurofsky. You remember, last week I read his essay on "Why I fight". I consider that a real classic and I am sure that school children will read it as long as they will read the history of this war.

Mayor: "Corporal Zufofsky, I am so glad to have you here. When did you come to town?

Zurofsky: "I came to town two weeks ago, Mr. Mayor."

Mayor: "Were you here last Sunday?"

Zurofsky: "Yes sir."

Mayor: "Well, why didn't you tell us so. I would have had you read it. I think you would have done much better than I. Tell me, how long do you expect to stay around here "" if that isn't a military secret."

Zurofsky: "I expect to stay for my nephew's marriage, two weeks from now."

Mayor: "That's fine. Say, Jack, I would like to have a long talk with you some day. Suppose you and I go to a ball game together some afternoon."

Zurofsky: "Well, that would be great, sir."

Mayor: "Tell me, what about that girl that you wrote about and I read about. If she is around I will ask Marie to come too, and we can have a nice party."

Zurofsky: "Well, can you get an emergency furlough from Texas, sir?"

Mayor: "Oh, is she down in Texas? I guess we could not do that by the time you want to get back. All right Jack, I will get in touch with you during the week and we will take an afternoon off and see a ball game. How about it?"

Zurofsky: "Yes, sir That is what we dream about over there, sir. Thanks."


BLACKOUT DRILL

We had a blackout drill last week and I am very happy to report that 60,291 wardens reported for duty. In all, 84,256 volunteers reported. That included, of course, City Patrol, Auxiliary Firemen, Medical, Welfare, Public Works Emergency, Gas Protection, Communications, W.E .R.S. and Emergency Supply. 5247 police officers who were off duty and 3,357 firemen who were off duty reported. That is very encouraging because there has been a sort of let down. I want to appeal to all the volunteer forces not to lose their interest. The war is not over yet, and we must be prepared. We can never tell what surprise may be in store for us. After all, surprise is a great element in warfare.


CALL FOR VOLUNTEERS

Again I want to express the thanks of the Mayor and of the people of the City of New York to these volunteer services - the men and women who have given so much of their time. Incidentally, we do need more men for the City Patrol Corps. I want to say to some of you middle-aged men and to some of you men who have been deferred and who are neither in any of the armed services nor in any of these volunteer services, that I think you will be very much ashamed when this is over, if you do not contribute some time and some effort to some service.


MEAT

I am not going to talk much about food today except to say that the meat situation is a little tight. We had a million pounds less of beef this week than we had the previous week, but two million pounds more than the corresponding week a year ago. Pork and lamb were one million pounds behind the previous week. Do your marketing accordingly and arrange your diets to meet the present market situation.


TERMINAL MARKETS SIX DAY WEEK

I think we have our six day week in the Terminal Markets going. A careful check of the Washington Produce Market indicated that most of the houses were open for business and approximately 50% of the employees were on hand. The union has promised cooperation and agreed on the program to stretch out their regular hours and overtime over six days instead of five, beginning this week. This should help materially in this connection. Of course, you all understand it is very important that the Terminal Markets operate six days a week. The food is coming in now. This is the season, and we want the consumers to get the benefit of the supply and low prices; I am advised by Commissioner J. M. Johnson, the Director of the Office of Defense Transportation, and a member of the Interstate Commerce Commission, that unless we have full and complete cooperation, he will recommend to the Commission she imposition of a $44 per day penalty demurrage charge after one free day, excluding Sundays. That would only add to the cost of the produce. I want to express my appreciation to the men, the employees, and to those firms who are cooperating, and I expect 100% cooperation from now on.


BABY SHOES

I talked to you last week about baby shoes and how scarce they were. I have been informed there is a supply of some of these baby shoes such as moccasin bootees and little bootees. But that does not answer what I am worried about. These shoes sell for $3.50 a pair. That is too much for the average family to pay for a little bootee. We are really in need of low priced booties and shoes for infants. I hope that this need will be met, and I have some encouraging preliminary information from Washington.


OPA ENFORCEMENT

Four hundred and thirteen price violation summonses were issued in the Magistrates' Courts last week. I want to call your attention to an interesting case. You remember, some weeks ago, I told you about M. Kraus & Brothers Inc. at Tenth Avenue. That is the firm that sold turkeys with tie-in sales. Well, they were reported to the U. S. Attorney for the Southern District of New York and the firm was fined $22,500.00 after a jury trial. But this is what I can not understand. They acquitted the individuals and found the corporation guilty. After all, a corporation is just a legal entity - they cannot do anything unless the individuals do it. It is just like trying to hold a corporation responsible for socking you in the eye. The corporation cannot sock you in the eye, but the President of the Corporation can, and that is what this President did. He socked the consumer, and he socked him hard. He could have gotten a jail sentence, but the jury acquitted the individuals and found the corporation guilty, and the corporation was fined. That lends up to what I believe is going to be a change in our law before long - that individuals cannot hide behind a corporate entity. As I say, a corporation is a piece of paper, it is a legal fiction, or a legal entity. It is the individuals who do the wrong. I think we are approaching a change very fast. In any event, $22,500 is a good fine.


U.S. ATTORNEY REQUIRED TO ASSIST VETERANS TO REGAIN JOBS

I want to call the attention of veterans to something. Discharged veterans coming home for their jobs have retained lawyers. That is not necessary. The law provides that the United States Attorney will act as lawyer for discharged veterans in getting their jobs back. That does not cost you anything. Some veterans have retained lawyers but when the United States Attorney got after them they all gave their money back. So the veterans were not out anything. Remember, it is not necessary to get a lawyer. Just go to the U.S. Attorney.


HEALTH PLAN

There was a letter in the Herald Tribune a few days ago concerning our proposed Health Insurance plan which sort of complained that no provision was made for individuals who are not employees and that the plan was based entirely upon an employer-employee relationship with participation in the cost. Well, that is not exactly correct. We must start, of course, by taking in groups, but any group is eligible, such as a bar association, an art institute, or a lodge. In fact, any sort of an association or organization can come in, and individuals who are not employees are eligible through these organizations. Later on, of course, we will provide for individual membership but that cannot be done until the plan is well established. Someone else remarked about indigents. Of course, indigents are provided for now. However, such suggestions are very helpful points which will be clarified as more details of the plan are announced.


1944-45 TAX ROLLS

According to our Tax Commissioner, the Tax Department of the City of New York, the tax rolls will show a total of about $15,845,000,000 for the year 1944-1945. This is a decrease of about $165,233,000 over the present fiscal year. And as I said last Sunday, I think it was, collections are good now.


LOFT RENT CONTROL

Talking about real estate, you remember, some time ago, I appointed an Arbitration Board on loft rentals to mediate on lease renewals. You see, the Rent Control Law does not cover lofts. They came in to see me the other day and told me there is a tendency to jump the rents of lofts. I hope that managers and owners of loft property will go easy on that. I have asked the committee to remain in session for another sixty days and we will watch the situation. This committee has settled about 500 controversies over increased rents. I would like to see continued cooperation because if these jumps continue and are unreasonably high, I will have to call the situation to the attention of Congress. Other cities are watching it too. I hope that it won't be necessary to have lofts included in rent control.

I spoke to Mr. Clarke Dailey the other day. He is chairman of a committee of the Real Estate Board which is giving attention to the same problem. I may have more to say about it next week.


BENJAMIN FRANKLIN H.S. PRESENTATION

By the way, I want to congratulate the pupils of the Benjamin Franklin High School on the very splendid presentation they made on the subject of "Youth and Recreation in East Harlem". That was very good.


JOIN THE PAL

Talking about children, I want to make an appeal. Join the PALS now - You know, the Police Athletic League. It is a city wide organization which provides recreation and welfare activities in all sections of the the city where such facilities are needed. He have centers in many parts of the city. I have already talked to you about the coordinated system that brings together churches, settlement houses and various organizations, all working together for the benefit of the children. It costs only a dollar, one buck, just one dollar. If you will write to the Police Athletic League, 240 Center Street, or write here and send me your dollar and your address, I will send you the membership card.


STUDENT AID

Parents will be looking forward to a brighter future in me to tell you what the men's and boys' clothing industry in New York is doing to help boys who are being graduated from Junior High Schools. Cooperating with The Board of Education to make greater education opportunities available to junior high school graduates, the Now York Clothing Manufacturers' Exchange has established fifty purses of $100 a year for three years for students entering the Central High School of Needle Trades.

To obtain one of these purses the pupil must be recommended by the principal. A test will be given at the high school in the trade skill so that those students who show signs of promise will be chosen. These purses will make an excellent education possible for many deserving students, who otherwise could not afford travel to a central school for instruction best suited to their interest and abilities. New York City gives all its children free education, grade, high and even college. This purse will provide carfare and lunch money so that those of our children who must travel for this special training will receive $2.50 each week for expense until they graduate. This is at the Needle Trades High School. For further particulars you may write to the principal, Dr. Mortimer C. Ritter, 225 West 24th Street. If you did not get the address, just write here at City Hall and we will send it on.


ATTENDANCE AT CITY BUILDING RINKS

Talking about children again, I am happy to receive a report that about 259,000 children and adults attended the ice and roller skating rinks at the City Building from October 2, 1943 until May 14, 1944. That is the old City Exhibit Building at the World's Fair. What we are trying to do now is to provide more recreation in every section of the city.


CAMP FUND

Just last week a group of Harlem citizens came in with a check CAMP FUND of $4,500 for the Harlem Children Camp Fund of which Mr. Frank Schiffman is chairman. I gave $5,500. from the Mayor's Welfare Fund - you know that is the fund I get every year from the proceeds of the Firemen and Policemen Baseball Game. So that makes $10,000. for the children who would not otherwise be provided for. We handle it this way. I make arrangements with Mr. William Matthews of the CSS. We wait until we have a list of the children who have not been assigned to camp and we take care of them out of this fund. This is interesting, too. The Police Officers of the 6th Division up in Harlem took a big part in this collection.


DOGS AND RABIES

Because some misunderstanding has resulted from the recent Board of Health ruling ordering the destruction of all unleashed dogs found at large in the Bronx, I would like to explain the need for this measure.

In the first place, according to law, and I am quoting, "no dog shall be permitted at any time to be on any street or any public park or place in the City of New York unless effectively restrained by chain or leash". That in the law. A new and serious situation has arisen, however, which has given added significance to this regulation. As you know, there has been an outbreak of rabies in many parts of the country, for instance in Washington, D. C. , some spots in New Jersey and in some of the midwest states - I am informed. Now the outbreak began last February, when a mad dog wandered into the city, presumably from Westchester Count. Before he was captured he had bitten several people and an undetermined number of dogs. Since that time rabies has developed in many other dogs that were bitten or were in contact with the rabid animal. These dogs were in turn responsible for the infection of an unknown number of other dogs which may develop rabies at any time during the next six months. There is now no way of telling how many infected animals are at large throughout the city. This is the reason that the Board of Health decided on the immediate destruction of all unleashed dogs found wandering in the city. Now, in the first place, there is no disease or illness that is as bad as rabies. And there is no cure. It can be prevented by the Pasteur treatment and the treatment is long and tedious and painful. It requires at least fifteen injections and they are not at all pleasant. Many times the patient must remain in bed. There is no way of telling, Dr. Stebbins, the Health Commissioner, says, whether or not the dog is infected for six months.

I understand provisions are being made so that those dogs who are caught unleashed may be quarantined for six months. Now the test is, has the dog been exposed to infection. The test is not whether the dog has a license or not. A licensed dog can be exposed to the infection and an unlicensed dog can be absolutely healthy. That is not the test. The answer is to keep your dog leashed. Now if the Board of Estimate is asked to approve an agreement between the City and the ASPCA, I am sure that it will provide that the unlicensed dog owner have a chance to go and identify his dog, and have it quarantined under the same terms and conditions as a licensed dog.

Eleven or twelve years ago, I had the idea that we shouldn't have dogs in the city at all. I think I said something about it, but I have been cured of all that. About eleven years ago my little boy was given a little bit of a puppy and I objected very strenuously to a dog in an apartment house.

My wife decided with the children and the dog and needless to say - the dog is still there. But, I certainly have learned how children become affectionate to their dogs and therefore, I have not said anything about it since. And, I am not going to say any more about it, except to say to little Johnnie on the side street who has a little mutt and loves that mutt just as much as a thoroughbred who may be licensed, that I am going to protect Johnnie and his mutt and I am sure that the Health Department wants to protect Johnnie, too. So, I hope that arrangements will be made to quarantine dogs and that all owners will have the same privileges.


NEWSPAPER CLIPPING SERVICE RACKET

From time to time I have to tell you about mean rackets, but I think is is one of the meanest ones that has come to my attention. You know the War Department and the Navy Department have established a system of notifying parents and relatives of men who are killed, and they have done that very well and as kindly as the circumstances permit. The family is always informed before the information is given to the public. The family, therefore, knows it before the public and as I say it is done fairly and kindly. I have before me something new. A mother of a boy received a letter from a newspaper clipping service asking her or telling her that her name appears in the paper and that for 25 cents the clipping will be sent. The mother had already been informed, as all parents are informed ahead of time. However, she sent the 25 cents and got in return a clipping of the newspaper containing the whole list of casualties for that week. That is pretty cruel. Now I am not going to mention any names today. I am going to ask this so-called newspaper clipping service to cut that out. If you do not, I am going to announce your name next Sunday. Do you get me?


NEW MOON

I have some more business here, but today I have quite a number of very beautiful girls here. They are very pretty and I also have Miss Dorothy Kirsten here. You know, Miss Dorothy Kirsten is quite an opera singer, but she is now singing at the City Center in 'New Moon' which is a delightful musical comedy. I call it an operetta, because it does reach high musical qualities.

Mayor: 'Miss Kirsten, do you like singing in musical comedy as well as in opera?'

Miss Kirsten: 'Yes, Mr. Mayor, very much. I enjoy operetta'

Mayor: 'You do get a kick and a thrill out of it, don't you?'

Miss Kirsten: 'Oh, yes, indeed.'

Mayor: 'Some people think that it requires greater ability to sing in opera than it does to do a good job in musical comedy. Do you agree with that?'

Miss Kirsten: 'Well, vocally, Mr. Mayor, I believe you must have a good voice to sing both. Of course you must study histrionics more for opera but operetta is much more fun to sing'.

Mayor: 'You must do a great deal of acting in musical comedies, too, you know.'

Miss Kirsten: 'Yes, indeed.'

Mayor: 'Well, how is the cast over at New Moon. They tell me it is pretty good.'

Miss Kirsten: 'Well, I think, sir, it certainly is.'

Mayor: 'Well I want to tell all you people that there is a matinee on today. This is all leading up to this matinee today at 2:30. You get in for 50 cents to $1.50 and it is a great show. Now look here, I am not going to talk about this. I am going to give you some samples. Miss Kirsten, will you sing one of your songs. How about 'Lover Come Back to Me.'

Miss Kirsten: "I should love to, Mr. Mayor.'

Mayor: 'That's what Corporal Zurofsky did.'

'LOVER COME BACK TO ME' Sung by Dorothy Kirsten

Mayor: 'Bravo, that is real good. Say, isn't that Earl Wrightson over there? Sure enough. Mr. Wrightson, how about you and Miss Kirsten singing 'Wanting you'. That is a very beautiful duet from New Moon.

'WANTING YOU" sung by Dorothy Kirsten & Earl Wrightson

Oh, that is fine, Maestro. Now this is all from 'New Moon'. You know, it is playing at the City Center on West 55th Street every night. There is a matinee today. Talking about 'New Moon' we want you to hear 'Stout Hearted Men' and plenty of pep now. Let 'er go, Maestro.

'STOUTHEARTED MEN' - Sung by Chorus.

That is fine. I will be there next week. I think Monday or Tuesday night. I will see you all there. Thank you very much.


PICTURE OF THE WEEK

My pick for the best picture of the week from the war front is in today's Sunday News. It may be in other papers, but I saw it in the Sunday News on page 28. It is entitled 'A bath For His Lady'. If you have not seen it, be sure and get it. It is my entry for the War Loan Poster. It is so typical of the American Soldier. He fights, yes, he kills the enemy, but he is always so kind to children. The little girl with her hand on his shoulder typifies what America means for all of the oppressed countries.


PATIENCE AND FORTITUDE.