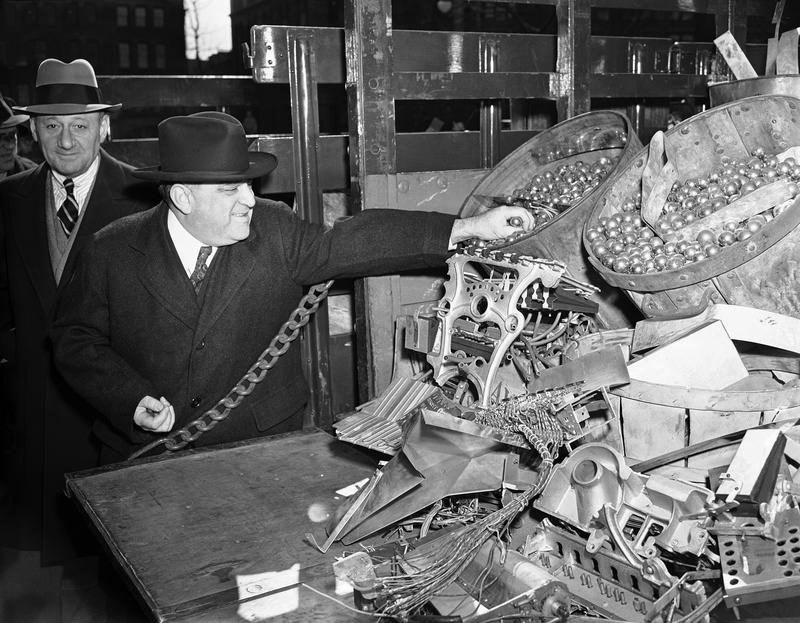 Summary
This episode is from the WNYC archives. It may contain language which is no longer politically or socially appropriate.
I Am An American Day gathering today in Central Park. We are at war. Dim-out regulations for buildings and signs and outdoor lighting. NYC is cooperating otherwise, just let me know.

It would be amusing if it wasn't so starling. The police cleaned up the pinball racket. Would you believe it, since that cleanup, a new crop of those machines have appeared on the scene. We will continue to pick them up. Sites specific machines they have performed autopsy's on. Steel, brass, and aluminum in the machines and not going to the war effort but in gambling machines. Only a few days ago, NYC was denied that ability to buy brass buttons for police uniforms. Almost unbelievable. They're trying to get kids to play the machines. Have a return of 90 cents an hour! Larceny. All citizens must cooperate in eliminating this gambling.

Mayor La Guardia then goes on to talk about helmets and machine guns firing at planes above the city. What goes up must come down. Air wardens and police must be protected with helmets. We were promised helmets by the Federal Government. We ordered 22,000. 3,000 have been delivered. But we can't get them. Order limits us to give them to the police only. Asks Feds to let him give helmets to air raid wardens. Cuts off. Incomplete.
Audio courtesy of the NYC Municipal Archives WNYC Collection
WNYC archives id: 71285
Municipal archives id: LT3987
Transcript
The original text of the WNYC radio broadcasts are the property of the New York City Department of Records/Municipal Archives. This digital edition is made available for research purposes only. The text may not be duplicated or reproduced without the written permission of the New York City Department of Records/Municipal Archives 31 Chambers Street New York, NY 10007

Full transcript. Some audio is missing. See notes in text.

For Release to Morning Newspapers Sunday, May 17,1942

CITY OF NEW YORK OFFICE OF THE MAYOR
TEXT OF THE MAYOR'S SUNDAY BROADCAST "TO THE PEOPLE OF THE CITY OF NEW YORK" FROM HIS OFFICE IN CITY HALL, MAY 17, 1942. BROADCAST OVER WNYC, 1:00 P.M. to 1:35 P.M.

[Audio not available beginning here

"PATIENCE AND FORTITUDE.'

I AM AN AMERICAN DAY

Today is I AM AN AMERICAN DAY and 130,000 people in the United States rejoice at that privilege. And it is indeed a privilege. We have so much more than the people of, perhaps, every other country in the world. And we are now fighting to defend the privileges that we have.

[AVAILABLE AUDIO BEGINS HERE:

New York City today, in keeping with President Roosevelt's proclamation, is celebrating I AM AN AMERICAN DAY. We are meeting at Central Park at 2:30 and the City will give evidence once more of its loyalty and appreciation of being American.

DIMOUT REGULATIONS FOR EXTERIOR LIGHTING

Now we must got back to the war, for we are in war. The Police of the City of New York, the Fire Department, the Chief of Staff of Operation, together with the officers of the Army and Navy, have been conducting reconnaissances out shore to note the effect of the dimout. These reconnaissances are being conducted in order to make sure that all of our shore lights are properly dimmed. Submarines are close to our shores and we must do nothing or leave nothing undone to afford the greatest protection to our shipping and do nothing that would give any aid or comfort to those enemy ships.

I have approved additional rules for dimouts presented to me by the Police Department after conference with Army and Naval officers.

(TEXT OF DIMOUT ORDERS ATTACHED TO LAST SHEET OF BROADCAST)

Now, I want to point out that Now York City is cooperating and I invite special attention to all reconnaissance parties that New York City wants to cooperate. If there is anything wrong, just let me know and the City Departments, and what is more, I say this -with a groat deal of pride, the people of the City of New York want to and will cooperate.
Here is something that would be amusing, if it were not so startling. It was not so many days ago that the Police Department announced with pardonable pride that it had cleaned up the pinball racket. Yes, sir, we cleaned it out. Thousands of those larcenous gambling machines were seized and destroyed and some, yet to be destroyed put in the custody of the Police.

Would you believe it, my friends, that since that clean-up, a new crop of those petty, mean, chiseling, machines have appeared on the scene, but the Police were quick to pick them up and we will continue to pick them up. There is one that is very interesting. It is called 'Kicker and Catcher'. It indicates a score. Why a score?

Why, because it is a gambling machine and in that way prizes or money can be given. This machine has been picked up, along with another called 'Pike's Peak.'

Not only is this flouting law enforcement in New York City; not only are these machines violating the Gambling Law, but this is interesting. In the 'Kicker and Catcher' machine, upon which we have performed an autopsy, we find 31 brass nails totaling 2 ounces, 3 brass levers, totaling 6 ounces, 1 brass lock, 3 ounces, a total of 11 ounces of brass; 2 steel knobs, 3 steel balls, totaling 17 ounces of steel; 1 aluminum casting, 2 pounds of aluminum; 2 more pounds and 10 ounces of other metals, a total weight of metal 6 pounds and 6 ounces.

Isn't that startling when brass and steel and aluminum are being conserved? When honest, decent, law-abiding citizens are giving up many necessaries of life to conserve those metals that have become precious, we find them in gambling machines.

Here is something that makes me say that this is startling. Only a few days ago New York City was denied priority to buy buttons for our Police Department. Our Police Department must be uniformed and they must have buttons, and brass buttons were denied One police brass button weighs 62 grains. There are 7 buttons in an ounce; there are 11 ounces of brass in one of these unlawful gambling machines. Enough brass to make 77 buttons which we need for the protection of our city. It is almost unbelievable.

Let me tell you something else about the racket in these machines, aside from their gambling features. Do you know how much it costs to play these machines, They used to charge a nickel a play and now it is just one penny. You see, they are catering to children. They are enticing the children to play these one-penny gambling machines. But one penny for 3 balls, which takes about 40 seconds to play. It is about 2 pennies for a minute and a half; 90 cents an hour. Talk about larceny.

Billiards and pool, one can enjoy himself for an hour for 40 to 50 cents and two or three or four play the game. Bowling, from 20 to 25 cents a game, three games in an hour. Practice golf, 25 cents for a pail of balls. Ping pong, 50 cents an hour. Swimming, 55 cents for a period of three or four hours - and these chiseling games get a return of 90 cents an hour.

Why, I want to explain the machine to you. The machine that I saw, this Kicker and Catcher - I would say it is a machine - it was designed by a moron, manufactured by a chiseler, distributed by a racketeer, operated by a dupe, and played by a sucker, but seized by the Police Department of the City of New York.

I ask all citizens to cooperate in eliminating this nuisance from public places and stores, clubs, and any other place where they might happen to be used.

HELMETS

I have been saying a lot about helmets. It is so important, my friends. I had a conference only the other day with Major General Sanford Jarman. Sanford Jarman is in command of our anti-aircraft forces defending our City and he was telling me about the great danger of fire from our own guns to people in the streets.

I told you the other day of a machine gun firing 500 rounds a minute of a 3" gun firing 50 to 60 rounds a minute. Now all of these shells and bullets that are shot at an enemy plane come right down, because what goes up must come down. As you all know, even though the planes are not above our city the anti-aircraft puts up a barrage long before the planes arrive and therefore it is necessary that the citizens get under cover and it is necessary that we protect our air wardens and our police with helmets so that if these shells do hit them they will be protected. That is why we need helmets now.

We were promised, as you know, these helmets by the Federal Govern-ment. In fact, I had arranged for that when I was Director of Civilian Defense. But in our anxiety to protect part of our air wardens, the City of New York ordered 22,000 helmets. 3,000 have been delivered. But the rest of the delivery has been stopped by the Federal Government. Now I was in hope that at least the 3,000 could be given to our air wardens to protect then until we did receive helmets from the Federal Government. But I can't do that.

Under order No. L-105 of April 29, 1943, the City would not be permitted to accept these helmets if we were to Issue them to our air wardens. We could accept them only under the conditions of this order L-105 of April 29, 1948, which limits us to the use of those helmets for the regular Police Department. So we will issue these helmets to the regular Police, which, of course, are on the streets. Again I publicly ask the Federal Government [AVAILABLE AUDIO ENDS HERE] to hasten the delivery of these helmets, so that our volunteer air wardens may at least have protection from our own gunfire.

AUXILIARY FIREMEN

Our auxiliary firemen are doing excellent work. These firemen are trained by our own Fire Department and have been trained on our own apparatus. We have not yet received any supplementary or auxiliary fire apparatus. We need that very badly. And again we cannot go out and buy it for priorities will not be issued. We must patiently wait until we get our quota from the Federal Government.

These auxiliary firemen have been doing so well. You know they respond to fires and they do work with the regular Fire Department, and excellent, intelli-gent, heroic work. As soon as I can get some protective clothing for them, I am going to authorize the riding with the regular firemen in response to calls. It is splendid training and experience. We cannot buy the protective clothing you know, that is, just rubber boots and rubber coats, because of priorities. Mr. James G. Blaine, the Chief of our Civilian Defense Volunteer Office, issued a call a few days ago, and I want to join in that. I want to ask all our
duck hunters if they won't loan us their rubber boots and rubber coats, and all our amateur fishermen, especially the trout fishermen, to please loan us their rubber boots and rubber coats for our auxiliary firemen. Your name will be labeled within the coat or boot, and after the war, or when we get our quota from the Federal Government, they will be returned to you in as good condition as wear and tear will permit.

I hope you will understand the urgency of this caII, when I tell you that these volunteer firemen who are training, get no pay for it, just do it in the protection of our city, of our homes and of our people, and are required to work in water, sometimes ankle deep, sometimes knee deep. They are drenched with water: it's natural in fighting fires. And I want to appeal again to the people of New York to loan to the New York City Fire Department for use of our auxiliary firemen, rubber boots and rubber coats.

GAS RATIONING

We have started on the rationing. Now, as I have said so many times, we must use all of our energies, all of our strength and all of our talents to fight the Fascists and the Nazis and the Japs. And we must cooperate with our Federal Government. I personally do not like the present plan, but we must cooperate.

I conferred with Mr. Harold Ickes, who has charge of rationing and I am hopeful that very soon the rationing will be extended all over the country in one way or another. I think that will help us here in the Fast.

You all know there is no shortage of gas. That is not why we are being rationed. In fact, we have enough gas and we must produce more gas in order to got the high octane gas needed by the air service, our air fighters, and we also must produce more gas in order to get the by-products to make synthetic rubber. It is a question of transportation. And I believe that when the entire country will be placed on a rationing basis, that that
will release some transportation that is now used within areas that are not rationed for distribution.

True, some areas have a source of supply, but every one does not go to the refinery to get his gas. Some transportation is used within that area, and if we are all rationed equally, there will be more transportation available for this section and other sections of the country that are under- rationed now. In the meantime, let's be fair and play the game, let's be patient. I am sure it will work out. The damage, the dislocation of employment, the hardship wrought upon our section of the country is very great. Washington does not want to inflict any unnecessary hardship on any of the people of the country. I am therefore hopeful that the situation will be bettered.

FIRE MARSHAL BROPHY

We get a great many complaints from time to time about some individual in the City Government who has done something wrong. But on the whole, New York City may well be proud of its great army of municipal employees. We have a great army of loyal and devoted City employees. Many of them specialists in their line. And today, I want to congratulate Fire Marshal Brophy on his thirty-fifth anniversary in City service.
Fire Marshal Brophy is known all over the country, Thomas Patrick Brophy. He is an outstanding authority on incendiarism, and has rendered great service to his city. I want to say, incidentally, it just came to me now. I met Fire Marshal Brophy, I think over twenty-five years ago. I was a young lawyer at the time and I was
defending two men who wore indicted for incendiarism. They had set fire to their store. Well, they had a perfect alibi. Yes, sir, all their family and relatives were ready to testify that they were at a party miles distant from the home.

The day came for the trial, and Fire Marshal Brophy called me aside and he said, 'Well, Mr. Counselor, I just want you to know "" I want to be fair "" what we have on your clients.'

And he told me, and was I shocked! I called my clients aside, and I called some of the witnesses and finally got the true story from them. And then I told them that they would either plead guilty or get another lawyer. They pleaded guilty.

This brings up something else. I think it was yesterday or Thursday "" it was Friday. Our morning papers had a long list of several thousand young men who had just been admitted to the Bar. I want to say to those young men that I never subscribed to this idea, that it was the duty of a lawyer to fight a criminal case, although he knew his client was guilty. It is the duty of the lawyer to see that his client gets justice. He should not be a part of any collusion or any shameful or false defense. Knowing and being convinced that his client is guilty, it is his duty to advise his client what to do.

Well, let's get back to Fire Marshal Brophy. Congratulations, Marshal Brophy, and many, many more useful years in the City service.

LETTER FROM A DEFENSE VOLUNTEER

This morning we read of the first commanding officer of the women's auxiliary corps being sworn in. Now women in war are nothing new. Perhaps some of the work and duties of women in modern war are more dramatic and spectacular than they used to be but women have always contributed and done their part in war, and in the defense, of their country. Here is an interesting letter from a veteran war worker. Mrs. J. Burn of the Barclay, 111 East 48th Street writes to me. 'Will you spare me a few minutes of your time? I want to consult you on a subject nearest to my heart. I am 87 years old and did a little bit in the Civil War and would like to do my bit in this war. I would appreciate an answer.'

Why, Mrs. Burn, I will come to see you and will try to do it Tuesday or Wednesday. I must go to Albany tomorrow. Mrs. Burn, you have set a fine example to the women of our country.

I AM AN AMERICAN DAY

I think that is all for today because I am going to Central Park. I am certain we are going to have a fine celebration.

Incidentally the last weather forecast promises a refreshing afternoon. We are going to hear some inspiring music and we are going to listen to some interesting addresses and, atmospheric conditions permitting, we are going to receive a special message from far away. So do come to Central Park and join in your city celebration and give public thanks to God Almighty that we are Americans."

# # #

FOR RELEASE TO MORNING NEWSPAPERS MONDAY, May 18, 1942

CITY OF NEW YORK OFFICE OF THE MAYOR

The following order was made public by Mayor F. La Guardia at his broadcast yesterday (SUN). In order to eliminate the glow in the sky over New York City, the Mayor has directed that the following regulations be complied with:

1. All interior window lighting where the light from within extends through the window and above the horizontal or towards the sky, must be extinguished or screened and modified in intensity, so that any light coming through is projected toward the ground. THIS IS APPLICABLE TO ALL BUILDINGS WITHIN THE CITY OF NEW YORK, WHETHER PRIVATE RESIDENCES, PUBLIC BUILDINGS OR COMMERCIAL ESTABLISHMENTS.

2. All exterior lighting used for advertising purposes, including neon, fluorescent, incandescent, flood and spotlighting must be extinguished.

3. All illuminated advertising signs employing light directed on the sign must be extinguished.

4. An exterior lighting in connection with theatres, moving picture houses, concert halls, etc., must be extinguished with the exception of lights within the lobby of the theatre and lights of modified intensity on the underside of the marquee.

5. Other outdoor lighting including that used in railroad yards, exteriors of manufacturing plans, shipbuilding yards, piers, docks/terminals, etc., must be shielded, screened or shaded to direct all light below the horizontal or toward the ground, and shielded from the sea.

6. All flood lighting of outdoor areas must be extinguished.

7. Areas used for outdoor boxing, concerts, dances, roller-skating, parking fields and similar outdoor areas may be permitted to use exterior lights which must be hooded and of a modified intensity with all light directed below the horizontal or toward the ground.

8. All lights in or affixed to buildings above the (15) fifteenth floor must be extinguished. In lieu of extinguishing interior lights, the windows of such rooms shall be screened in a manner to prevent direct rays of light being visible from the outside.

9. All lights or source of light directly visible from the sea shall be eliminated or obscured. (The term "visible from the sea" means one (1) mile from the shoreline.)

10. All street, bridge, park or other highway lighting must be reduced, shaded, or screened, so that no light extends above the horizontal and all light is directed toward the ground.

THIS ORDER WILL BE EFFECTIVE BEGINNING SUNSET MONDAY, MAY 18. 1942