Studio 360
Matthew McConaughey: "Scare the Hell out of Me"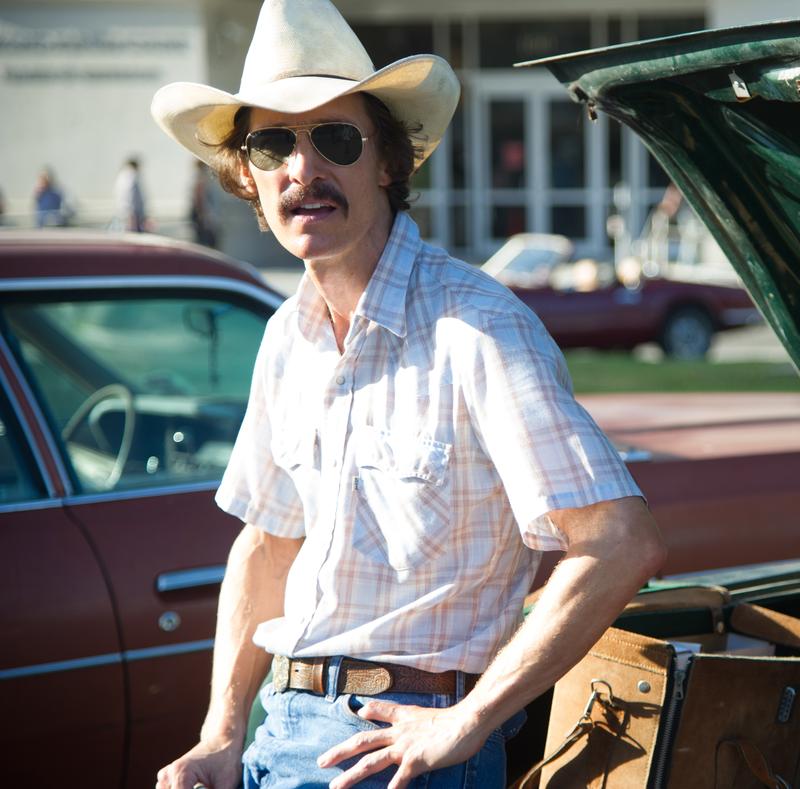 By now, it's impossible you haven't noticed Matthew McConaughey's career renaissance — some call it the "McConaissance." Over a two-year hiatus from Hollywood, he orchestrated his transformation from rom-com stud to dramatic lead. "I want to do something that scares the hell out of me," the actor told his agent.
Starting in 2011, McConaughey has played dark, complex characters in The Lincoln Lawyer, Bernie, Killer Joe, The Paperboy, Mud, and Magic Mike. Then, for Dallas Buyers Club, he shed nearly 50 pounds to play Ron Woodroof, a macho hell-raiser who was diagnosed with HIV/AIDS, and took to the black market to import unapproved drugs and supplements. "He was a guy looking for a line in life," McConaughey tells Kurt Andersen, having read the late Woodroof's diaries. "Ironically, he didn't find direction until he got HIV." The performance just earned the actor his first Golden Globe Award, and an Oscar nomination.
McConaughey is poised to continue his winning streak in 2014. After stealing a few scenes in Martin Scorsese's The Wolf of Wall Street, he'll be in Christopher Nolan's highly-anticipated Interstellar later this year and has reunited with fellow Texan Woody Harrelson in the HBO crime series True Detective. Despite spending so much time in the heads of troubled guys like Woodroof, he's kept his easygoing, Dave Wooderson disposition. "They're maybe not so mentally healthy, but I didn't look at any of these characters as unhealthy. I thought that they were all absolute geniuses, in their own way. I think they're great, human people," he tells Kurt. "If I can hang my hat on the humanity, I can find some genius and be honest." 
Bonus Track: Kurt Andersen's full interview with Matthew McConaughey
(The conversation includes some strong language.)
0:30 — The McConaughey Word Association Game: McConaughey has had such a productive career, there was no way we could cover all of his great roles. So we played a game instead: Kurt says the movie title, the actor reacts with a couple words, stream-of-consciousness-style. On offer: Interstellar, Dallas Buyers Club, Mud, Magic Mike, Tropic Thunder, EdTV, Lone Star and Dazed and Confused.
9:50 — Making Dallas Buyers Club: McConaughey discusses the difficulties of getting Dallas Buyers Club made — including showing up to the first day of shooting before several million dollars of the production budget was secured. He also talks about his much-discussed weight loss.
20:30 — Return to independent film: The actor, who started out in independent films like Dazed and Confused and Lone Star, discusses his triumphant return to the independent film world with Killer Joe, Bernie, Mud, and Magic Mike (which he says was successful thanks to his own strategizing and "fairy dust" luck). He also talks about how he chooses his roles.
27:10 — True Detective: McConaughey and his old friend from Texas, Woody Harrelson, star in the new HBO crime series, True Detective. He explains how he ended up playing the brooding Detective Cole and what he loves about playing a character who holds nothing back.
30:10 — McConaugheyisms: In addition to having some eccentric vocal exercises, McConaughey has a huge collection of aphorisms. He shares a few favorites and their applications with Kurt including, "When faced with the inevitable, get relative."
Music Playlist
Low Rider

Artist: War

Album: Best of

Label: Avenue Records/UMe

Why Can't We Be Friends

Artist: War

Album: Best Of

Label: Avenue Records/UMe

Did The Man In The Moon Come From Texas

Artist: Ole Rasmussen & His Cornhuskers

Album: Ultra Rare Western Swing