Twins Turn Math into Colorful Art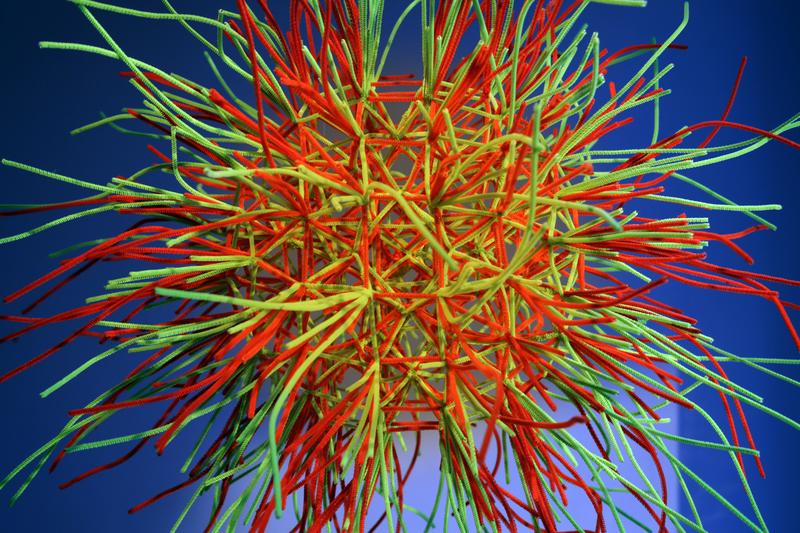 Fluorescent three-dimensional sculptures webbed out of pipe cleaners. A dome made out of 9,000 matchsticks. Drawing and paintings crafted on curved easels.
These are some of the pieces included in Compounding Visions, an exhibit by twin brothers Ryan and Trevor Oakes at the National Museum of Mathematics.
It features a total of 25 works, representing 12 years of their explorations with visual perception and algorithms. "An algorithm is simply a recipe of mechanical steps," Trevor said. "So when you bake muffins you are following the algorithm for making muffins."
Some of the pieces in the show were made on spherically-curved sheets of paper in the form of realistic drawings and paintings. The concept originates from recognizing that human vision is spherical. Visitors are encouraged to test their own scope of vision with experiments placed as an exercise on optical consciousness.
Time Passing Across Central Park (in progress) by the Oakes brothers (Courtesy of the Artists)
The spherical images come from a technique for drawing that the twins discovered and have explored for about 10 years. It includes the invention of a concave easel; a loony-looking device that serves as a tool to capture with pen or brushstrokes what the human eye really sees.
"It looks like a satellite dish with someone's head inserted into it," Ryan said. "It gets a lot of questions. Some people are able to deduce a drawing is being made, other people just don't come to that conclusion and ask wildly varying questions like 'are you communicating with Mars?'."
As a live component of this show the twins have framed a composition of the Flatiron Building that is very similar to Edward Steichen's photograph from 1904, when it was the tallest building in New York City. They are most likely in a different spot on the sidewalk than Steichen's camera was, but that is because the twins' curved paper covers a much wider angle. They said they compensate it by coming closer to the building.
The Oakes brothers will be drawing directly across from the tip of the Flatiron on 23rd Street and Broadway. They will be off-and-on with their concave easel throughout the exhibit that runs until July 21st at the National Museum of Mathematics on 11 East 26th Street in Manhattan.
Cardboard Sculpture by the Oakes brothers (Courtesy of the Artists)