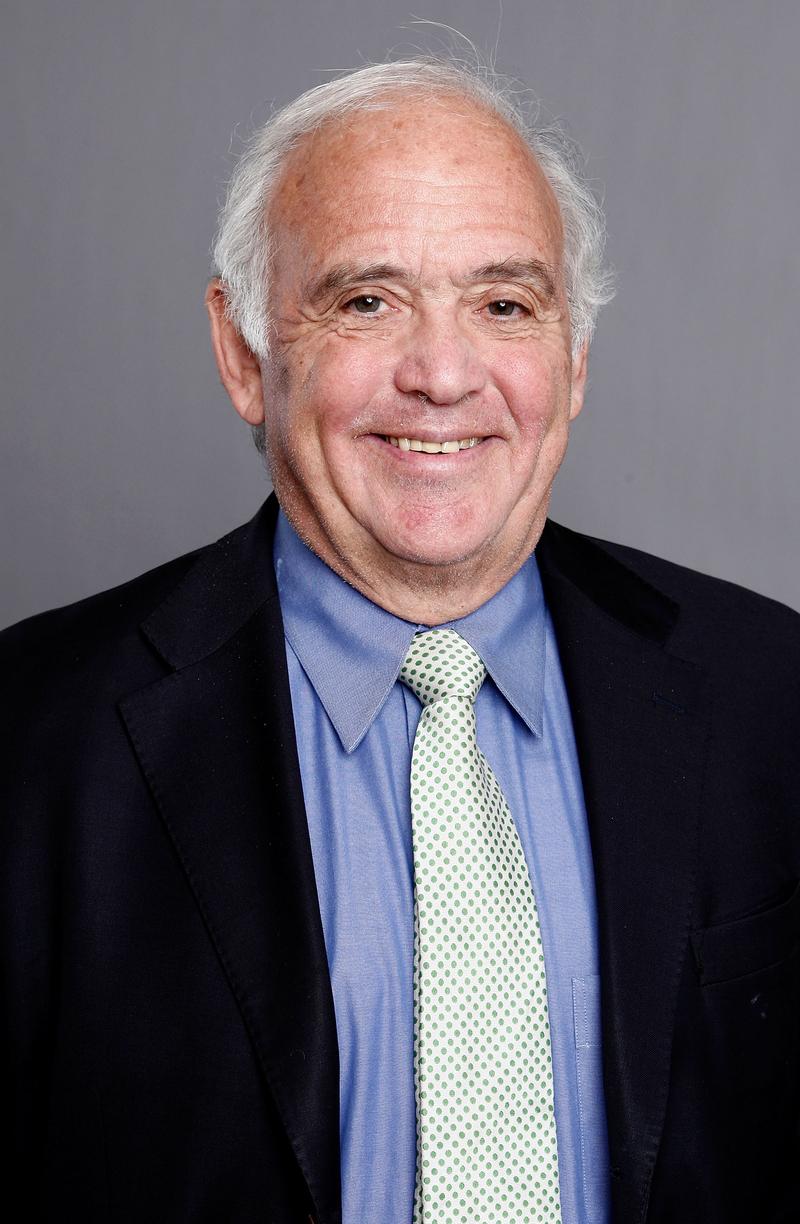 Summary
Patricia Marx interviews attorney Martin Garbus, Director Counsel of the Roger Baldwin Foundation of the ACLU. Mr. Garbus touches on a number of subjects ranging from the recent Supreme Court case of King v. Smith (1968), the difficulties in expanding integration in the southern states, Cesar Chavez, and future endeavors the Roger Baldwin Foundation could address.
WNYC archives id: 56194
Transcript
This is a machine-generated transcript. Text is unformatted and may contain errors.

Patricia Marx interview each week at this time your city station brings you an interview with a leading figure in the arts politics or the sciences and here now to introduce today's program is Patricia Marx they have been many battles fought for civil rights and civil liberties but the war itself is not being won last year a new organization was formed the Roger Baldwin Foundation to help bring a bill of rights for the disinherited I'm delighted to have as my guest today the director counsel of this foundation Martin Garbus Mr Garbuz is also associate director of the American Civil Liberties Union and recently argued the first case concerning the welfare system to come before the Supreme Court of the United States Mr Jarvis the right your ball when Foundation was formed last year as a tax deductible arm of the American Civil Liberties Union Now the A.C.L.U. has been operating for almost fifty years why was the Baldwin Foundation formed just last year the Baldwin Foundation was created to. Help make the Bill of Rights a reality for the disinherited people in this country the A.C.L.U. has always had limited funds has been forced to specialize has been forced to defend and not every case but only certain cases the cases that they thought needed their help the most with the aid of the Roger Baldwin Foundation were able to go into areas we've never before been able to go into We've been able to start massive affirmative test case litigation we've been able to create an entirely new concept in the law and namely using a lawyer as a focal point for organization and that's what we're doing with Cesar Chavez and that's what we're doing throughout the South in other words we're using lawyers to help local power groups establish a base of power so that they themselves can legislate lobby and form pressure to get a bill of rights for themselves is just the basic philosophy underlying the bowmen foundation I would say that it is an attempt to expand the work of the Union and that's an attempt to expand the meaning of the terms of the bill of rights to all of the people in this country traditionally the union has been thought of to defend only specialized areas in the Bill of Rights has been thought to be primarily although that that concept of it is been inaccurate it's been thought to be primarily specializing in the areas of free speech First Amendment rights with the additional funds that the boarding foundation can get the A.C.L.U. can now go into new areas it can start to legislate in welfare it can start to legislate in voting suits segregation housing all areas that it could never before get involved in it's an attempt if you will to blur the distinction that's made between civil liberties and civil rights why do you say that the difference some people think of civil liberties and civil rights as two different concepts people think of civil liberties as coming from certain constitutional amendments and civil rights coming from other is another word civil rights rights many people feel. I'm from the fourteenth Amendment civil liberties are traditionally First Amendment rights however the society has gone on everything is more complicated now when Negro down south wants to get elected you have a combination between a denial of civil rights and of the Nile of civil liberties and you no longer can talk about these things and separate terms a civil liberties organization such as the A.C.L.U. has today and is involved in civil rights the First Amendment. The First Amendment deals with the freedom of speech the fourteenth Amendment is traditionally thought of to be the equal protection of the laws Amendment and most of the racial litigation in this country has come under the fourteenth Amendment fourteenth Amendment requires that people be treated equally in brown against Board of Education the school segregation case said among other things that negro kids in school have to be given the same kind of education as white kids in school other words Negroes and whites have to be treated equally The mere fact that they have different colors doesn't mean they should be treated differently Mr Jarvis you mention that but when Foundation is trying to gain the Bill of Rights for the for the disinherited now recently you argue the case in front of the Supreme Court which was. Trying to invalidate the substitute father clause and I wonder if you tell tell us what the significance of this case is and why it's important the Smith case which is the case you're referring to is perhaps the most important piece of constitutional litigation in this country since Brown against board of education specifically as you stated it seeks to knock down substitute father clauses these are laws which the no I welfare aid to a woman merely because a man has patted her child's head or a man has had sexual relationships with her the A.B.C. program which is involved with a substitute for the clause provides that needy children should be given a substitute father clause is a limitation on. The giving of that age now we tried our case down in Alabama but you have similar regulations existing in from eighteen to thirty two states those regulations run counter to the purposes of Social Security Act those regulations should never have been approved by the federal government unfortunately H E W which is the agency in the federal government that's involved in this area can't act for political reasons even under John Gardner It was unable to stop the southern and northern states from having these kinds of rules now really what you're doing is you're punishing a child because the mother has been guilty of some kind of conduct it's the most horrible kind of legislation existing in this country it's an attempt to if you will break up homes even further than they are broken up now if one can agree or disagree with Mr Moore to hand about the problems that the broken home causes in the Negro in the situation in this country but these kinds of regulations as the president's Crime Commission found directly help to break up homes if we're concerned about the group the growth of Negro children if we're concerned about the fact that they should not become juvenile delinquents that there should not be a crime rate and we have to start addressing ourselves to some of the regulations in the welfare system this allegedly beneficent system which really causes many of the social problems that we're now finding out about when we have riots in the city what about the argument that many people make that something must be done just to stop the breeding of illegitimate children that there is some responsibility on the part of mothers who have dependent children not to have more of them and obviously this substitute father is an attempt to keep the number down and dependents that need welfare first of all if you take someone off welfare and they're on welfare and you make them poorer than they were before you would expect to find an increase in illegitimacy because illegitimacy is a prop a poverty. Related characteristic and wherever you have had these regulations work you find there's more legitimacy now if you walk in certain about the problem village in the city and most people are then there are other ways of doing it for example under the one nine hundred sixty seven amendments of the Social Security Act when somebody comes in for welfare benefits they're given if they want voluntary voluntarily information about how to stop having children birth control or they're told about the use of contraceptives there are also a host of other laws that are concerned with stopping him or immoral practice or cutting down illegitimacy rates you have laws criminal laws with respect to fornication with respect to adultery so there are other ways of doing it you should not try to stop it in a way that doesn't work and be a way that's going to cause more illegitimacy in C. That has nothing at all to do with the welfare program you have ten million people in this country living on welfare and if you have laws like this where you have to have a moral standard imposed on people against their will with the threat of money being cut off you're just going to cause more social problems than you had before well as I understand it this affects about four hundred thousand children throughout the nation is that is that H.W. indicated was some four hundred to four hundred fifty thousand however in Alabama when we struck down the regulation we were told it affected fifteen thousand and now we find that it affects twenty three thousand so if you were to look at the same statistics you would think that and program them you would feel that the number of children affected really probably closer to six hundred thousand if this is you say over half a million more people on welfare is there actually money available is this relevant concerns say the decision went down that these children should be supported is there money available for them to be supported this country pays less for its welfare programs than any other Western country it pays less than West Germany. Wonderful example of a capitalist society. It pays much less than Sweden which is an example if you will of a socialized society there's no reason for this country to pay as little as it does for its welfare people are talking about guaranteed minimum incomes and about negative income taxes now the present welfare system cost something like eight billion dollars it would cost another eleven billion dollars to have a guaranteed minimum income now by the time we're through I hope. Putting a bill of rights into the welfare system by the time we are through making sure that all people who are eligible for welfare should get welfare I think that the cost of the program will exceed the total amount of money that it cost for a guaranteed minimum income one can say that the kind of litigation we're involved in the kind of things we're involved in will help speed up the day when these other programs come into effect because under these other programs you're not paying the terribly high proportion of administrative costs that you would pay under the welfare program I think the figure is with respect to the eight billion dollars a disproportionate amount of that money is paid to caseworkers social workers just for the ministration course monies that should be going to the poor which is the function of the program this covers another area that the Baldwin Foundation is involved in. They call Operation Southern justice and so this is the aim is to integrate the entire structure of Southern justice what does this involve we're trying to make sure that when a Negro or a white person walks into a courtroom or has any dealings with the state down south he's dealing with an integrated system we have filed hundreds of lawsuit seeking to integrate juries throughout the south the problems are enormous the minute you strike. A jury restriction limitation in one particular county and of course for example in Alabama there are sixty one counties but let's say soon as you win a lawsuit in chambers can. Then the following day they pass a new regulation which seeks to do the same thing but seeks to do it differently. If you strike down statutes which say that you to be a juror ARE YOU HAVE TO BE A B. C. D. and E. you strike it down the next day chambers Cathy will pass a regulation saying you have to be an age and all the regulations on their face don't appear to be aimed at negroes that certainly the function of the of the regulations so we have throughout the South many many jury integration suits we have also filed suit seeking to integrate the civil service we have filed suit seeking to end integrate the prisons If one walks into prisons both down south and even up north you have black and white areas if you were to walk into a New York prison you would find there are black areas that's black turf and there's white turf and from what we know about the kinds of people who are correctional officers namely police officer rejects we're not surprised to find the state is the brutality that exists in prisons so we're trying to through the use of lawsuits stop those kinds of practices were so much greater for the black side down south you have all whites and you have blacks in the prisons so the brutality the sadism the disgusting practices if you will that go on. You know they just start to come to light nor can so Governor Rockefeller but we have been in the business if you will for a long time we've known about these things for a long time and one way to stop it is to put negroes in the position of being the if you will turn keys so. At least you'll stop some of the brutality at least they'll be somebody in the prison system who has some kind of feelings for the Negro prisoners. What about the problem of Negroes getting representation in the south can they find lawyers Well we now have a lawsuit I don't I should say we have a lawsuit I should say the state of Louisiana has a lawsuit against one of our lawyers in an attempt to stop him from practicing law in Louisiana one of the problems down south is we have been unable thus far to build up a permanent group of lawyers who are members of the respective bars you don't have Louisiana Alabama Mississippi lawyers by and large are willing to practice in this area it would mean they would be ostracized in a society would mean they could not make a living you just can't get white lawyers you can't get white you really can't get Negro lawyers down there they just are not there are no local lawyers who will practice stand there so what we have been doing for the last three years is supporting offices in Louisiana Mississippi Alabama and Georgia and as soon as we open offices the various states start to arrest their lawyers on the grounds that they're not admitted to the practice there and of course they want to admit him to the bar and that we're guilty of the an authorized practice of law one of our lawyers the head of the Louisiana Office is presently under indictment for. Failing for representing somebody without having been admitted in Louisiana given that there is no legal such as legal aid that we have no such thing as a legal way and an interesting thing about this not so long ago the United States Supreme Court came down with the decision in the cold case which provided that children should have aid in juvenile courts because a child of eighteen years old who picks a pocket in a juvenile court to get ten to fifteen years the mere fact you call him a juvenile doesn't mean he shouldn't be given a lawyer now throughout the South they have never been lawyers assigned to juveniles and the court came down and said OK you have to assign juveniles and then the Mississippi legislature appropriated X. amount of dollars so that there would be money for the law. As but the Mississippi judges won't assign lawyers to defend the good juveniles this points up if you will the weakness of trying to affect social change by litigation you can win Supreme Court cases all of the all day long which you have to do something about making them effective so you find that very often the southern bar say we represent negroes but they somehow have never found the case over the last ten years where they would represent And so it is an incredible situation one hears about all the gains that one makes through litigation and one gets terribly frustrated when you say you haven't changed things at them in the south and the federal government is in large part responsible for the well I'm going to ask what is necessary obviously. To do it all what is the ideal What is the long term. Make the situation better well the Roger born Foundation can't do it all because of its limitation of the federal government has more phones the federal government can do much more the federal government could establish legal offices throughout the southern communities that could do this however our experience with the federal government indicates that that's not about to happen the federal government is afraid of local power groups the federal government had an office out in Delano partly out in the fall in California which is right next to Delano right next to Cesar Chavez but as a condition of the federal government being allowed in there Governor Reagan required that they not represent Chavez so you had a government office right near Chavez right near the place where they were needed the most but because of the deal if you will maybe to Governor Reagan and the federal government they were of no help to Chavez So what they did the federal office was they did standard legal aid stuff in McFarland and the federal government said yes look we're making a contribution we're putting lawyers out in the migrant area but they couldn't help the people who needed it most and the people who are most affected the federal government before it moves into a particular area has to work out its piece if you will with the power groups they have to work out that piece with the growers in the new in California with the local bar in the south and once they work out their piece rendered ineffective. You mention Cesar Chavez and as I understand it the bowman Foundation has just been responsible for a thirty five thousand dollar grant towards his efforts to organize the California migrant grape pickers where you describe what the battle is that he's finding Chavez is the first man in this country who has made any dented all with respect to organizing migrant workers migrant the economic condition of the migrants for the last fifty years back we saw in Grapes of Wrath. Has been terrible no one has ever succeeded in establishing any power base because they've been a trance group because they've been so poor because the growers have been so powerful Chavez went out to California ten or twelve years ago and at this point has succeeded in organizing some seventeen thousand out of the three hundred thousand migrants. As a result of this organization he has established a power base the group is able to make them and they have succeeded in getting a higher minimum wage they have formed consumer cooperatives they have formed consumer education partly educational cooperatives. They are they are starting to put together funds so that they can afford legal service even beyond that which we give them and as they organize they will get become better off economically. They will perhaps someday be instrumental in changing the Taft Hartly act so that it will give them the same kind of coverage that industrial workers are given in this country and hopefully the situation the plight of the migrants will be helped it's apparent that no one other than the migrants are going to help the migrants the federal government is not going to do it this national tragedy has existed for some fifty years the federal government's never done a damn thing about it they've held hearings for the last fifteen years about the terrible economic condition of the migrants something that everybody knows about. Also the Roger Baldwin Foundation for all its resources is not going to make that much of a dent ultimately it's going to be Chavez and the people who work with him and the migrants throughout the country are going to help themselves well two things that are puzzling first why aren't the migrant workers represent the National Labor Relations. Well because they form a lobby has always been too powerful the stated reason was that the migrants didn't need coverage because you had family farms and that distinguish that somehow from industrial labor. The people on the family farms would be good to the migrants because they knew the migrants and it was in a trance in nature in a way of industrial work in the nation of industrial work but the real reason has been that the form lobby is too powerful now we give enormous subsidies to forms in this country not to plant this and not. A plant that but the federal government doesn't give one damn dime if you will to the migrant workers the whole situation with the farm subsidy program in this country is again another horror that we hope to look into more carefully and more closely not that we don't know all that there is but the question is how do you do something about it how do you get Congress to move how do you get Congress to stop investigating and holding hearings there's not one person in Congress who doesn't know about the plight of the migrant farm workers as I understand it in that there are seven hundred thousand migrant workers that are organized and under Chavez's efforts and yet there are hundreds of thousands of migrant workers now what is keeping the other migrant workers from joining this attempted organization well. One of the things that if you came to join the Chavez organization you're immediately laid off and you lose your job most migrants are poor very poor they can't afford to lose their job also Chavez has never had the money to tell people if you lose your job we'll be able to take care of you somehow the way the industrial unions were up is they started to get money because they were being paid decent salaries but Chavez's people until this year were being paid sixty cents and seventy cents an hour sometimes less that they were never able to build up a strike zone one of the things that Chavez always talked about is you have to organize before you can have a strike and by organize he means pulling together power pulling together monies his accomplishment has been enormous people have been trying to organize migrants since the one nine hundred thirty S. and people have always failed what he did is he went into this community he and his wife and many children and he went out and pick grapes for many many years until he got to know the migrants he was dealing with until they got to trust him and he now has this power base his wife still works in the fields and they still live I would think he and his wife and many children on less than sixty or seventy dollars a week so you're not going to have middle class whites or union organizers or the F.L. C.I.A.O. go out there and make a difference also migrants are in large part trancing and I would think that the permanent migrant population is not terribly more than the seventeen thousand that he's organized also the actual growers make it more difficult because they import labor from Mexico you know the growers the Delano Valley is not that far from Mexico they were always import. Cheap Mexican help they work in the farm and then they're sent back over the border now this is in violation of federal law the federal government knows about it the federal government doesn't do anything about it if the federal government were to stop the. Tayshaun of Mexican workers want to stop the utilization of green card as green cards or Mexicans who are in this country or let's say in Delano who are not citizens of the federal government to stop those groups from working they use the scabs then Chavez would move ahead much more quickly Chavez has other problems it's very difficult to strike people like table great growers you can strike a Ford plant you can tell people throughout the country to stop buying Fords but how do you identify grapes in a supermarket that are grown by one grower rather than another one thing that Chavez is trying to do at the moment and we're trying to help him if we can are to stop buying any kind of California grapes in the hope that putting this pressure on the California grape growers in general will force the non struck forms to put pressure on the struck forms what can. Individuals do to help his cause at this point you can stop any California made grapes this is a matter of practicality what goes into a supermarket and she's great now how do you find out about the Californian or not you have to ask but you can ask her you have to ask and you can find that moving on to a much broader What are some of the areas that the woman Foundation has not yet been able to get into but that you hope to in the future the question of federal subsidies to the poor is something that we'd like to get into with your file several lawsuits down south with respect to the Food Stamp plan. And other subsidies that were supposed to be given to the poor people in this country what's happened throughout the country is that again the local power groups have gotten control of the subsidy programs and they're using these programs for their own ends of someone gets involved in civil rights or someone is in black or someone is black they don't get the food stamps they don't get their cartons of food it's turned out that this again what allegedly wonderful federal program has become a lever that the power groups throughout the country are using against the very people that the programs are supposed to benefit I would say that's perhaps the most important area of a final question you have been dealing for many years with these problems and it seems in the last ten or fifteen years that there's much greater concern and much greater awareness of the injustices in the country has there been real progress in terms of making these problems better well it would seem that there's been a great deal more exposure of the problems I think that the fact that the House and Senate in the end of one thousand nine hundred sixty seven could have passed a Social Security amendments bill of one nine hundred sixty seven which is the most repressive piece of welfare legislation ever passed in this country is indicative of the fact that the concern is not reaching the people in the House and in the Senate and the governing body sure there are people who are committed people like John Gardner As a result of his commitment he's left the government people like will become only new head of H. E W He's committed also but ultimately you have to deal with the Senator Byrd's you have to deal with the with with the people who control the power in the federal government and all that one can say when one does get optimistic is look at what's happening we're becoming more aware of the need for federal housing the amount of monies that are being appropriate if the federal housing are becoming less now than. Ever well before for the first time we're talking about taking an enormous amount of the pain and kids off welfare and that's what the one nine hundred sixty seven amendments did for the first time we're talking about really reducing the people on welfare to service now at the same time that we become aware of the fact that one third of the America's poverty stricken we're also doing things they're going to make them more poverty stricken and more dependent there's a curious contradiction going on in the country sure some people are getting more concerned but some people are getting more rigid there's an enormous amount to be done and one sometimes get so desperate about whether or not the people who run the country are ever going to do something about it one can only get depressed. When one sees the kind of legislation that comes from Congress the fact that we're starting to have legislation by assassination as I suppose a commentary on this country Mr Garbuz I want to thank you for this interview my guest has been Martin Garbus director counsel of the Roger Baldwin Foundation and associate director of the American Civil Liberties Union thank you and goodbye for now you have been listening to Patricia Marx interviews join us again next Friday at five when once again we bring you the Tricia Marx interview.