Marshmallows and Colombian Workers as Art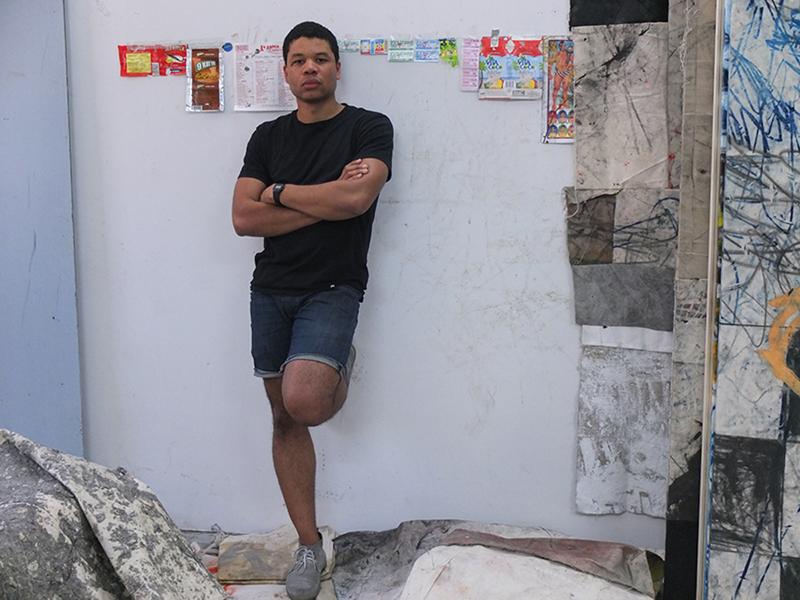 A gallery in Chelsea is about to become a marshmallow factory.
Oscar Murillo, a London-based emerging artist originally from Colombia, is turning David Zwirner on West 19th Street into a candy-making facility.
His piece, entitled "A Mercantile Novel," opens on Thursday April 24th and is done in collaboration with Colombina, a food company from Colombia based on Murillo's hometown of La Paila. Several of his family members have worked there, including his mother.
 The artist's mother (center) working at Colombina, La Paila, Colombia, 1988 (Photo: Collection of Oscar Murillo)
Thirteen workers will come from Colombia to work at the gallery, and they will produce 7 thousand of marshmallows covered with chocolate a day. The workers will be placed in apartments in Crown Heights, Brooklyn, and work at the gallery every day, in two shifts.
Wearing sneakers and a baseball cap in the first day of the installation in mid-April, Murillo explained the piece is a symbolic way of starting a conversation about what it means to move around the world. ""To migrate, to work in different parts of the world. It's also a group of people that have not been to New York ever, a lot of them have not left Colombia, so it's kind of an interesting experiment," he said.
The marshmallows will be wrapped in a shiny package with a yellow smiling face designed by Murillo. He said the fist time he came to New York, a couple of years ago, he remembers seeing the mostly Hispanic delivery men driving around their bicycles in the city, carrying plastic bags with the smiling face.
He said he wanted to pay homage to that. "The idea of, you know, you give goods in a bag and whatever they may be, and this idea of have a nice day."
This will be Murillo's first show with David Zwirner since joining the gallery late last year. For the past few years, he has been grabbing the attention of collectors and dealers, and one of his pieces, "Untitled (burrito)" sold for $322,870 at Christie's in February, well above the high estimate of $49,000. 
When Murillo moved to London he was 10, and didn't speak English. He says art became almost a therapeutic thing. "I would more or less disclose all my anxieties, a place where I can only be myself, and not judged," he said.
Murillo lives in London with his wife and daughter, and his parents live close by. He doesn't like questions about his sudden success. "When I started working as an artist, I never really accounted for this," he said. "Yes, the success is coming through, but you know, I am not going to sit to look at it all and have a sense of accomplishment."
"A Mercantile Novel" will be on view until June 14th.