Marking Time: Exhibit Shows Prison-Made Art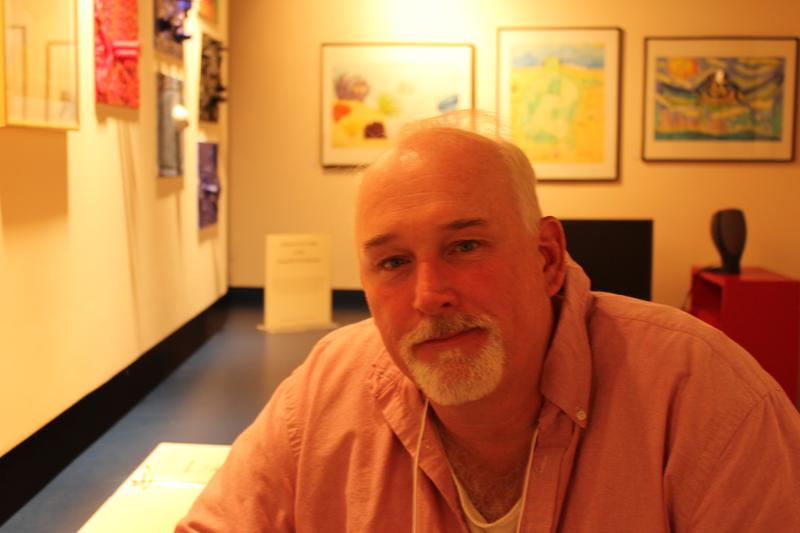 When Dean Gillispie was in prison, he had a network of inmates enlisted to provide him with all the contraband he needed.
Gillispie, who spent 20 years in prison before he was freed by the Ohio Innocence Project, passed time making intricate models of the places and things with materials scavenged from throughout the facility by an army of covert suppliers.
"I had people that worked in every department of the prison," he says, including the dental lab, which had clay he used to create the bricks of a classic movie theater, complete with a marquee. He built a lunch truck from soda cans and rivets made from stick pins from the quartermaster's supplies.
Gillispie's art is now featured in the show, Marking Time, on the Rutgers University campus and at the public library in New Brunswick. He says art in prison offered an escape and a way to connect with other inmates who also became the audience for his work.  
"They loved the thought of being a part of the process of when this was done, you know, I got him these and I got those and oh no kidding that's what you done with that stuff," he said. "And they would get really excited to me that was cool," Gillispie said.
Jesse Krimes created similarly painstaking projects from prison materials. But he is unusual among prison artists in that he trained in the arts before he was incarcerated for almost six years on felony drug charges. 
"It's like a really bad residency when I was in prison – an artists residency," Krimes says ruefully.
He created his first project, Purgatory, during a year he spent in isolation. It's made up of eerie stacks of playing cards with the faces of criminal defendants he'd transfer from the newspaper onto pieces of prison soap. He carved the holes for the faces in the decks of cards with a sharpened wire out of a battery he smashed under his bed.
"When a guard comes on the block everybody sends the signal," he explains, usually "some sort of siren sound like 'Whoo-whoop."
When he heard it, he would put everything away.
Sometimes, the creative work is an actual job assigned by a facility, such as prison photographers. Rutgers University Professor Nicole Fleetwood, who organized the exhibition got interested in this art while growing up in a small Ohio town with a high incarceration rate. She received a collection of hundreds of photos of her relatives aging in prison, taken by inmate photographers in front of prisoner-painted backdrops.
"You see these really detailed, meditative works like Jesse Krimes and just it's who has that kind of time," she asks.
It turns out some prison artists voice the same complaint as artists outside, that making a living leaves little time for their creative work. Gilberto Rivero and Jared Scott Owens both painted portraits for people to send to their loved ones outside and joke about how good business was.
"I tell you this. A barber and an artist never will go hungry," Rivero says. "In prison," Owens reminds him, and they both laugh.
"I didn't even enjoy doing portraits. They were like doing Sudoku puzzles to me," Owens recalls today. He took commissions strictly to pay the bills for commissary items but became more interested over time in abstract painting. It didn't have rules - while prison had lots of them.
At first he just wanted to investigate what made the work so special, what made a painting he read about in the paper so expensive, by "somebody that was a first generation abstract expressionist."
"The painting was like $10 million and I was like, "for this?' I was like 'hold up.'"
He studied the artists, took notes. He traded portraits to other inmates for lessons on painting technique. Now struggling to get work with his criminal record, he hopes someday to make a living from painting.
But that's not so for Dean Gillispie. He keeps his creations stacked in his mother's garage and has refused to sell any of them.  
"I look at my friends. They've got their families their homes their livelihoods," he explains. "My 20 years of life is this artwork and it's like my kids and I just don't want to get rid of it. I just can't - The money will be OK but the loss of that piece of work for me would just be too much."
Gillispie isn't making any more either, he says. There are too many things in life he wants to get caught up on.
"That's all I have to show what I was doing for 20 years of being in prison for something I didn't do."