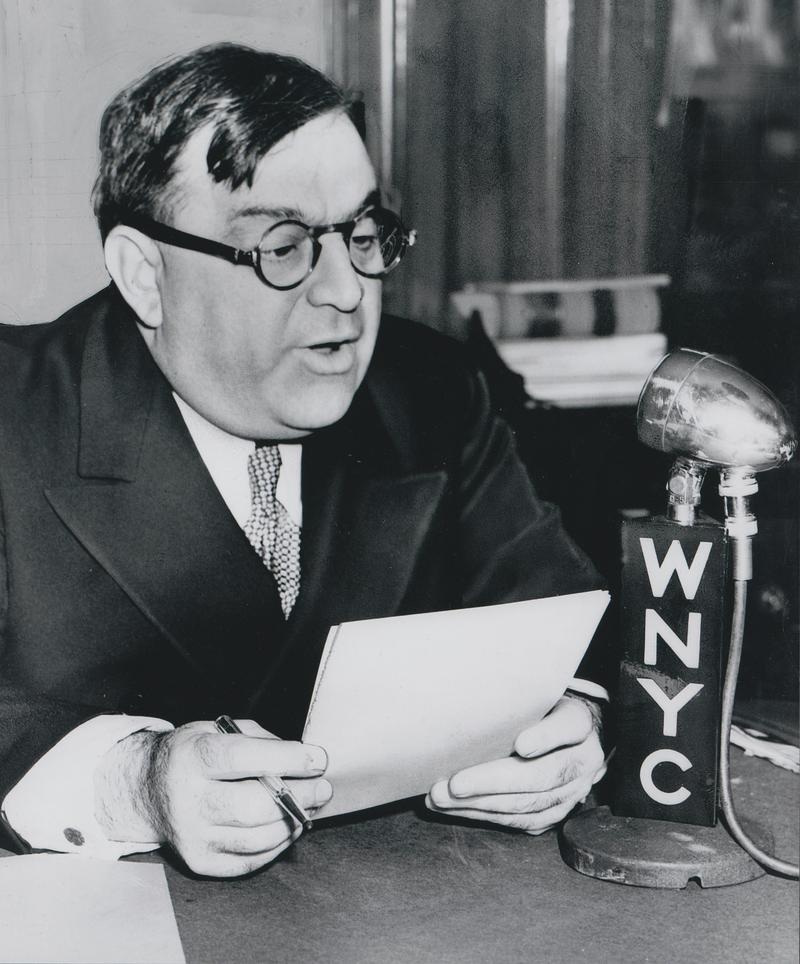 Summary
This episode is from the WNYC archives. It may contain language which is no longer politically or socially appropriate.
Civil defense, marketing in NYC, increase in subway fare.
Audio courtesy of the NYC Municipal Archives WNYC Collection
WNYC archives id: 53564
Municipal archives id: LT4035
Transcript
The original text of the WNYC radio broadcasts are the property of the New York City Department of Records/Municipal Archives. This digital edition is made available for research purposes only. The text may not be duplicated or reproduced without the written permission of the New York City Department of Records/Municipal Archives 31 Chambers Street New York, NY 10007

FOR IMMEDIATE RELEASE SUNDAY, MARCH 5, 1944.

CITY OF NEW YORK

OFFICE OF THE MAYOR

TEXT OF MAYOR F. H. LA GUARDIA'S SUNDAY BROADCAST TO THE PEOPLE OF NEW YORK FROM HIS OFFICE AT CITY HALL, MARCH 5, 1944, BROADCAST OVER WNYC AT 1:00 P. M. FOLLOWS:


Patience and Fortitude.

Berlin and Tokyo.


ALLIED NATIONS MILITARY UNITY

Unity among the armed forces of the United Nations is certainly remarkable, which accounts for the success against our enemies every day. I am not quite so sure that there is so much unity among the United Nations along the political front. I hope that nothing serious will happen.


BLACKOUT DRILL

Last week we had a blackout drill which was ordered by the State in keeping with the new rules of the Army. 99,922 men and women of our Protective Forces turned out. This new plan, as you know, calls for a drill every three months. I think the Army should state, frankly, what aid is necessary to keep the Protective Forces. I think that they do, and if that is true, then the Army should know that no protective force, or no organization can keep efficient with only one drill every three months. It should be decided one way or the other.


FISH

I'll have to talk about food again. I fear that the fish industry is taking advantage of the Lenten season and charging some pretty high prices for fish not under price control. I will give you the ceiling prices of the fish that are under control: Cod is 28 cents a pound at the market, Cod Steak, 39 cents a pound; Flounder round, 30 cents a pound, Flounder fillet, 55 cents a pound: Yellowtail, 26 cents a pound, and Shrimps 56 cents a pound. Those are the top ceiling prices. The average price should be: Sod, market, 28; Cod Steak, 39; Flounder, 30; Flounder Fillet, 55; Yellowtail, 25 cents, and Shrimps 50 cents a pound. Please do not pay more, and refuse to pay more.

The following fish, Bass, Sea Bass, Striped Bass, Fluke, Mackerel and Porgies, and Carp, Whitefish, Clams and Lobsters, are not under price control. The prices are very high on this kind of fish and I would advise a blank, b - l - a - n - k, market on the fish not under price control for the next week. I think that will be enough. There is not much storage space and if consumers refuse to be gypped and refuse to pay the exorbitant prices for the fish not under price control, I think it will bring the price down. We ought to try that the coming week, and not pay more than ceiling prices for the fish that are under price control.


LARD AND PORK PRODUCTS

You know how long I have been asking the OPA to relieve the glut in pork products, by removing the points. Well, finally, the OPA has removed the point coupons on lard. Commencing March 3d, lard will not require any points. That is very helpful and will relieve the situation quite a bit in other fats so that more points will be available for meat.


RAISINS AND PRUNES

I am also happy to announce that the OPA has taken all points off raisins and prunes. That is good news. Maybe the children won't like to hear that, but prunes are very good for children and mothers should take advantage now that prunes and raisins are available without points, because, as I say, these are very good for the children.

I just want to go back to fish a moment to point out ( I just found another memorandum here) that there has been profiteering and exorbitant prices on Mackerel, Sea Bass, Fluke and Butter Fish. So if you watch the prices, and they are high, just don't buy.


POULTRY PRICES

I just want to remind of the price of poultry. Some of the girls in my office the other day, when the report of the Department of Markets came in on Poultry, said, "Yah, try and get it." I told them to go home and tell their parents that they should not pay more than ceiling prices. Now, let me repeat, dressed ceiling prices (that is dressed poultry) broilers and roasters, capons, light, are 46 cents a pound and fowl, 41 cents and soup or fricassee chickens 36 cents a pound. About the same prices are for kosher killed: 46, 46, 46, 49, 41 and 35. The drawn ceiling prices, eviscerated chickens (now remember, when you pay these prices the poultry must be cleaned and all the insides taken out) are 39 cents a pound for broilers and fryers, roasters 56, for capons 59 and fowl 51. Fricassee chicken is 44. Now be sure that they are all clean, the innards all taken out, and the cleaned heart, liver and gizzard replaced before they are weighed. Otherwise, just pay the price of 46 cents.

Markets inform me that OPA has established prices for parts of chicken. Well, that's very handy for working girls or very small families, to buy a part of a chicken. But I want to announce that backs and necks are available at 19 cents a pound. You take the backs and necks of chicken and a soup bone, which will cost very little, and they will make very good soup for the children, especially if vegetables are added. It is very nutritious and very tasty and backs and necks add a great deal of flavor, and will provide nourishment, especially if you get a soup bone to go with it.


MEAT

Meat will be rather plentiful, but the quality will not be good. The amount of the feeder beef will be less so do not be too choosey and be willing to put your teeth to work and, of course, do not pay more than ceiling prices for meat.


ONIONS

Onions, three pounds for 25 cents, they're rather scarce now. As I told you, I have been able to obtain some for our institutions and 25,000 pounds a week for our markets. We have two or three hard weeks ahead and I think around April the supply ought to be more plentiful. Our good friend, United States Attorney James B. M. McNally got after some of our onion people and he has fourteen cases in which informations were filed against fourteen farmers who violated ceiling prices in the selling of onions prior to December. Well, they are behaving much better now. Look here, farmers, don't you see, it doesn't pay. Don't try to chisel on this thing. We all were very happy when you came down and supplied us with 40,000 pounds a week at ceiling prices. Keep up the good work, or McNally will get you if you don't look out!


PAPER SALVAGE & TIN CAN COLLECTION

I received a telegram from Donald H. Nelson, Chairman of the War Production Board, that says, "Thanks for your wire giving results of first week's participation by city trucks in paper salvage campaign. Fine. Keep up the good work". We will. Last Wednesday was the first collection of waste paper by our Department of Sanitation, and we collected 1,416,000 pounds, or 708 tons. That is very good, considering that the same day we collected 665 tons of tin cans. I want to advise that on Wednesday we will collect tin cans and waste paper. I express my thanks for the cooperation of the people of the City of New York. Now you can do that and even better. See that your waste paper is bundled properly. Press it into tight bundles wherever you can. We want to increase our present 700 tons collection.

I have an announcement here to make which Commissioner Carey just sent over and I'll tell you, I just hate to make this announcement, because I know that the boys in Room 9 are going to give me a terrible ribbing after this broadcast is over. It says, 'Last Wednesday's collection of waste paper was exceedingly gratifying. The press did a magnificent job. Radio, in some instances was helpful, but not to any great extent. I hope that until the citizens are thoroughly acquainted with these Wednesday's collections, the radio will get behind our efforts more wholeheartedly.' All right, radio, now see what you can do. The press, continue your good work.


COAL DISTRIBUTION

James Gallo, a hack driver, I received your complaint and suggestions concerning the salvage of paper. I will get the facts and will write you. We now have in operation coal emergency stations, which Have, to date, distributed more than 2,500 tons of coal, indicating more than 50,000 individual deliveries or 10,000 additional over the past week during which time we had a reasonable spell of warm weather. The new system established in the Health Department to deal with the accumulated complaints and the assistance given to the Fuel Merchants' Association of Brooklyn, has reduced the Health Department's backlog of unanswered complaints from 4,500 cases to just a few hundred within two weeks time. The additional supplies available to the coal dealers has made it possible to quickly take care of practically all real emergency cases. That is a little better. Let us all continue to pray for nice warm weather.

Did I get a scare last night when I got the weather report! It said, snow during the night, and snow to 12 o'clock. Let us hope that old Deputy Commissioner Weather will help us out.


THEATRE TICKET CHISELERS

I think we have the chiselers on transportation tickets pretty well controlled, but we have a setback by the courts in the enforcement of law in our attempts to protect theatre-goers in the sale of theatre tickets. Of course, we try our best, but if the courts will issue injunctions preventing the Commissioner of Licenses from doing his duty in protecting the consumers, we will continue to do the best we can. Hear, Mr. Ticket Chiseler - our good friend, U.S. Attorney McNally is on the job and he just calls your attention to the United States Code, Title 26 Section 1702 and 3.

This provision makes it a crime for the seller of admission tickets to sell such tickets at an advance over the price printed on the face of the ticket and who fails to stamp on the back of the ticket, the name of the seller and the amount of the excess charges made. It is a misdemeanor and a $100 fine. Paul Moss, oh Paul Moss isn't here today. He is here every Sunday. Well, I guess he's listening in. Listen, Paul, when you got a tough case like that and you think we will be kicked around in our own courts, just take it to Jim McNally. Take it right there. He will be only too glad to help and so we will get them either in the Federal court or our own State Court.


5 CENT FARE

I see the 5-cent fare is being kicked around again. The day before yesterday I received from the Committee of Fifteen a copy of their report as well as the draft of the bill introduced in the Legislature, "for discussion purposes" I read in the papers, and it was introduced by Assemblyman Stephens of Putnam County. I want to express my thanks to the Committee of Fifteen for their belated courtesy in providing the Mayor with a copy of their report. There are many inaccuracies. I really do not know why. The situation is bad enough without the need of resorting to inaccuracies or overstatement. The Committee is composed of very splendid and competent gentlemen, every one of whom, I know, knows the facts of politics.

Talking about legislation - a bill is not enacted until the political party in control is in agreement; not until then will there be any legislation or change in the situation. Let's be frank about it. The Republicans control the Legislature in Albany. The Democrats control the City Council.

The proposed bill is not a frank legislative expression of what the Committee has in mind or the objective it desires to reach. It creates an Authority which is really not an Authority in the true sense of the word. Care is taken to give no power to this so-called "Authority" to issue bonds or securities. A change in the present organization might be desirable. Whether it is called a "Commission", a "Board", or an "Authority", the sole responsibility for the operation and management of the system should be vested in one person, preferably the Chairman. This is true of every railroad in the country, and our Rapid Transit System is the largest passenger-carrying railroad in the whole world. It carries in one day more than the majority of our railroads in this country carry in a year.

I would gladly endorse a reorganization bill carrying out such a purpose. That is not what the Committee seeks to do, though. It seeks to find a way to increase the fare and yet does not specifically repeal existing provisions of the law, especially the method by which the 5-cent fare may be changed. It must not be forgotten that two years ago, it was two years ago, wasn't it, that a Republican Legislature passed, and the Democratic Governor approved, a bill which is now the law, providing in substance, that if the City Council does not approve of an increased fare within 30 days, the question automatically goes to the voters on a referendum vote. Therefore, assuming that the bills sponsored by the Committee of Fifteen should pass, it would be construed that it simply supplements existing law, and that if the newly created Authority should increase the fare, it will still be subject to the approval of the Board of Estimate and the City Council, and subject to a referendum if the City Council should act within 30 days, as provided by existing law. Even though some may take a contrary view, it would only mean litigation until that point is decided. Therefore, the sponsors of the plan should courageously ask for the repeal of all existing law pertaining to the fixing of fares and providing the new method set forth in the proposed bill. Then, let us see if the present legislature will pass it.

First I want to say that the suggestion that an increased fare is necessary because of the condition, the physical condition, of our Rapid Transit System is not accurate. Of course, the Board of Transportation has been unable to maintain normal decorative and aesthetic maintenance of rolling stock or stations. That is true of every railroad in the country. In fact, our maintenance has been far better than many of the large railroads in the country. We are short of manpower, short of material. I have explained all of that on two or three occasions on these broadcasts. I repeat, the case may be discussed on its merits without attempts to becloud or confuse the issue. The Committee's figures on the financial situation pertaining to our Rapid Transit System are correct. I will ignore the statements made about the Post-War Public Works Program and the City's Post-War Private Industries Program. I have discussed these programs - one of them only last week - and, therefore, misstatements of this subject have no bearing. I am surprised that the "Sage of Crabapple Street'' resorted to such tactics. He knows better.

Now, let us talk about the 5 cent fare. If existing law continues, it is my considered judgment that a referendum would disapprove an increased fare by a three-to-one vote, at least. Let's stop beating around the bush. Who is sponsoring an increased fare? One having the best of intentions, goodwill, and sincerity can shout from the top of the tallest skyscraper until he is blue in the face and he will not bring about a change until the politicians are willing to give the nod.

I note a very interesting editorial in the Daily News of March 3rd. It suggests a commission of outstanding and distinguished citizens to investigate the entire transit fare question. Investigate what? No investigation is necessary. The facts are known. Here they are: There is a deficit of $35,000,000 in the current fiscal year, which must be provided by taxation and I will have to provide for a $40,000,000 deficit in the coming budget, The question is, should the City of New York continue on a 5-cent fare which has developed it to the greatest City in the world, or should it increase the fare? The gentlemen suggested in the editorial could not give the final answer. The Committee of Fifteen could not give the men who control the two major political parties can give the answer, the final answer. Let me suggest to the Committee of Fifteen to get an expression, a public expression, from Ed Flynn of the Bronx, and Frank Kelly of Brooklyn. Find out how Johnnie Crows of Brooklyn and Timmy Curran of Manhattan feel on the subject. Let these four men speak out. When those men state that they are for the increased fare, the Legislature will pass the law, the City Council will approve, and the increased fare will go into effect. Let's stop kidding about this thing. I say that at this time a referendum would go three-to-one against an increased fare. I might add that at this time the majority of the Board of Estimate would vote against an increased fare.

Now, here are the figures: Assuming the fare to be 10 cents instead of 5 cents, a check survey which I have made would indicate that the average family in the Bronx, Queens Mid Brooklyn, living in a one or two family house, has at least two persons using rapid transit every day.

That makes an increase of 20 cents a day to that family or $1. a week or $52. a year. This same family, living in a $10,000-assessed home, would pay $8.75 tax on a $30,000,000 deficit, $21.87 on a $35,000,000 deficit, and $25. on a $40,000,000 deficit. Considering the extra trips of additional members of the family, which will add a few dollars more it will readily be seen that as between the present cost of the subway and an increased fare, it will choose the present system. What I mean to say is that between the present 5-cent fare or an increased fare of 10 cents these people will take the 5-cent fare, although they are taxpayers. The rentpayers know that an increased fare will not reflect decreased rents, and, hence, they will, to a man, vote against the increased fare.

We must also take into consideration existing valuations in Queens, Bronx and Brooklyn, which would naturally be affected by an increased fare and a "Drang nach Manhattan" sought in the increased-fare plan. I approve of the idea that more people should live closer to their work and that there are many fine sections of Manhattan that should and will be developed. That does not mean, though, that other boroughs should be sacrificed for the sake of one borough. I have always said that I am and will continue to be the Mayor of all five boroughs as long as I am in office.

Here are some more figures: The outstanding bonded indebtedness of our railroad, that is, our subway properties, is $1,146,782,000. The sinking fund reserve amounts to $177,123,000. leaving a net unamortized debt of $969,658,000.

That is the debt which we must meet every year in the budget in addition to what surplus operating expense is turned over to the City treasury. Our present total gross earnings are $122,000,000. Our operating expense is $109,420,000. Our net income over operating costs is $16,740,000. of which we must deduct $1,000,000. as a working reserve, leaving $15,740,000. available for debt service. The next budget, therefore, will have to provide the difference between the amount of $57,070,000. of debt service charges on the net unamortized debt, and the net income, which amounts to $41,330,000. - even $1,300,000. more than estimated by the Committee of Fifteen.

Without boring you with many more figures, let me put the loss in another way: In 1943, every passenger carried on our combined transportation system operated by the Board of Transportation cost the City a loss of 1 and l/3 cents. Get that. There's a loss of 1 1/3 cents on every passenger paying a 5-cent fare during 1943. In 1944 it is estimated that every passenger carried will be at a loss of 1.67 cents, that is, a little over a cent and a half we Lose on every 5-cent passenger. In 1945 the loss on every passenger is estimated to be 1.7 cents or reaching almost 2 cents loss.

If the Legislature takes it upon itself to pass an increased fare, it will be carried out. In fact, we will have no choice in the matter but to carry out the mandate of the Legislature.

Those are the facts.


STATE AID FOR EDUCATION

Last week I spoke about the reduction in State Aid for Education amounting to $4,300,000. Pursuant to the Friedsam Formula, the State is required to provide $1,500 per teacher for each unit of 27 pupils in average daily attendance in elementary grades, and $1,900 per teacher for each unit of 22 pupils in average daily attendance in secondary grades (high schools). That means that there are to be just so many teachers less. It is not a matter of choice. It is a matter of simple arithmetic.


SWEAT SHOP ILLITERACY PLAN

The Sweat Shop Illiteracy Plan I talked about last week I think is pretty dead as far as the Legislature is concerned. I am quite sure that not many votes could be mustered for any such regressive and outrageous plan in our State Legislature. Perhaps the plan, the Sweat Shop Illiteracy Plan, is best explained in a jingle in the New York Times Magazine of today, which is quite in contradiction to a belabored editorial in the same paper and, of course, the jingle makes more sense.

Here is the jingle:

"Little Jayson Vanderbool Didn't care to go to school.
Teachers weary said ''Okay", Change the school-age law for Jay".
The Juvenile Aid Bureau has completed the organization of 81 precinct


JUVENILE AID BUREAU COUNCILS

Coordinating Councils throughout the City. These Councils have been organized specifically for the purpose of neighborhood cooporation in a broad program directed toward the prevention of delinquency and waywardness, and the promotion of the moral, physical welfare of the youth of the community. But again I want to stress the necessity of proper parental supervision, that is the home, and greater cooperation between the school and the home. Again I will say that there is something besides reading, writing, and arithmetic that is the responsibility of our schools. Good manners and behavior, politeness, the use of good language are all part of the curriculum of primary, grade and high schools. Both the schools and the home should cooperate with the church, thus completing the guidance and the protection, the education and the spirituality of our children.


TRUANCY COURT

There has been an increase in truancy which suggests a more scientific treatment of this problem. When the Justices of the Family Court certified to the need of an additional Judge, because of the increased work in the Family Court, it occurred to me that here was the opportunity to create something new in the treatment of truant and school cases. The procedure and its many ramifications in Court sometimes are involved ancl lengthy. I have suggested a School Part of the Children's Court to be held one day each week in each Borough, not in a courtroom, but in a school building. The atmosphere will be not that of a court, but rather one of the home and school in consultation - a sort of clinic to study and diagnose cases, the causes, the remedies and the better coordination of the existing facilities of the schools in cooperation with the court. The Superintendent of Schools, Dr. Wade, has approved the plan. Much preliminary work has already been completed in the Department of Education. Bureaus of the Department of Education will be coordinated in this clinic. The Justices of the Family Court have approved the holding of these courts in school buildings and have submitted a plan. I expect to appoint a judge to take care of this work - one who, I believe, understands children, one who can get the confidence of the parents. The test is to keep the home intact, to rehabilitate the family, to restore happiness, to establish proper relations between pupil and teacher. I think it can be done, I expect to announce the appointment of the judge within a few days, perhaps a week. It might be one who has never seen the inside of a courtroom. I am also planning to assign a special assistant Corporation Counsel on full time, whose duties it will be to cooperate with all City agencies and invoke aid and assistance for treatment as each case may require. I sometimes think we've gotten too far away from Ben Lindsay. We want to get back.

PATIENCE AND FORTITUDE.