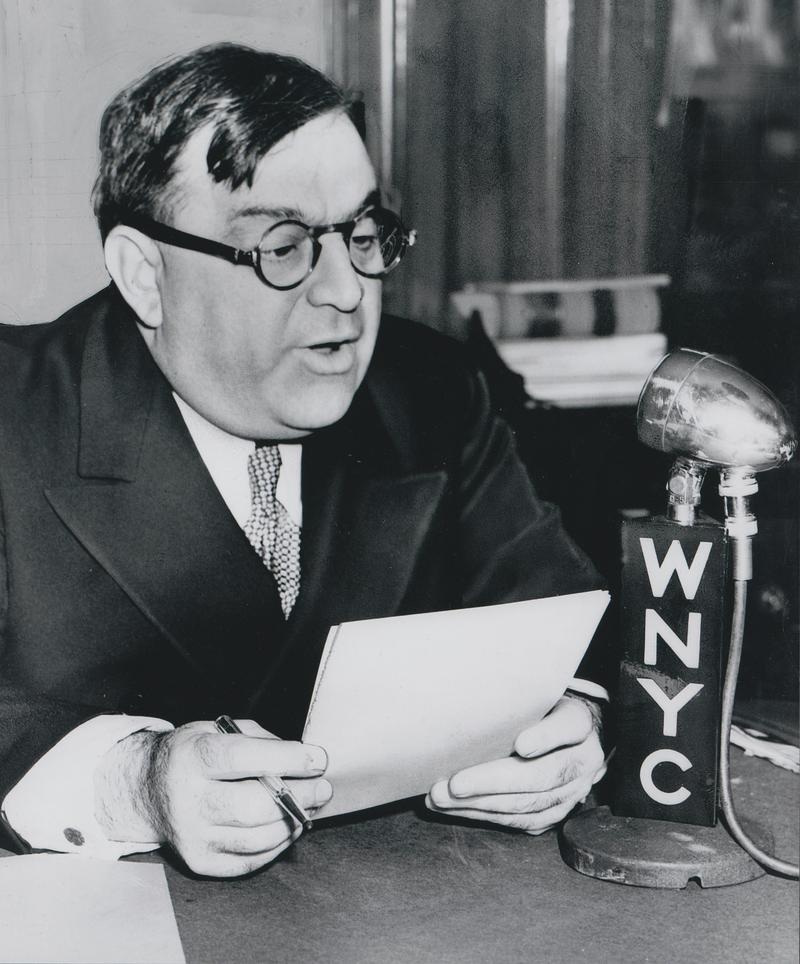 Summary
This episode is from the WNYC archives. It may contain language which is no longer politically or socially appropriate.
War in Europe. Investigation of meat shortage. Red Cross fund drive and P.A.L. fun drive. Report by the Commissioner of Investigation. New York City Committee for Latin American scholarships (3rd annual awards). Governor Dewey's Commission on Municipal Revenue and reduction of real estate taxes. NYC's transit problems. Mayor's invitation to attend the ceremonies in connection with the liberation of Paris.

LaGuardia also discusses racketeering (Joe Adonis), basketball betting, city finances, referendum on five cent subway fare increase to ten cents, and the future of NYC.
Audio courtesy of the NYC Municipal Archives WNYC Collection
WNYC archives id: 55051
Municipal archives id: LT2517
Transcript
The original text of the WNYC radio broadcasts are the property of the New York City Department of Records/Municipal Archives. This digital edition is made available for research purposes only. The text may not be duplicated or reproduced without the written permission of the New York City Department of Records/Municipal Archives 31 Chambers Street New York, NY 10007

FOR IMMEDIATE RELEASE SUNDAY, MARCH 25, 1945.


CITY OF NEW YORK OFFICE OF THE MAYOR

TEXT OF MAYOR F. H. LA GUARDIA'S SUNDAY BROADCAST TO THE PEOPLE OF NEW YORK FROM HIS OFFICE AT CITY HALL, MARCH 25, 1945, BROADCAST OVER WNYC AT 1:00 P.M. FOLLOWS:

PATIENCE AND FORTITUDE.


WAR NEWS

Wasn't the news thrilling this week,"" through the Siegfried Line and over the Rhine. It looks now as if we are really pushing hard. No news from the Eastern front, but that does not mean that they are resting or sleeping. I have a feeling that they are advancing too. And just think of the blasting we are giving the Nazis from the air - thirty or forty thousand paratroopers landing behind the linos. If only Billy Mitchell were alive today "" ten thousand plans in the attack the other night. I was just handed the latest bulletin: "The Thirtieth Division of the American Ninth Army now has driven eight miles beyond the Rhine in Marshall Montgomery's new bridgehead. A front dispatch says infantrymen hopped on tanks for smashing new gains today." Isn't that fine! The war news is so thrilling. Incidentally the coverage was simply splendid; the exciting details contained in the news indicate that the boys are on the job.


MEAT SHORTAGE INVESTIGATION

I have read in the newspapers that $565,000. has been appropriated for an investigation to ascertain the meat shortage. I do not think it is necessary to spend $565,000. I will undertake to do it for $6.50. The thing is so simple. Everybody knew that was going to happen""the OPA know; the WFA knew. Let us start right over again. Let us start anew to determine the retail price. Having determined the retail price, determine, the wholesale price; having determined the wholesale price, determine the price from the packers; having determined that, the price of cattle on the hoof. That is all there is to it. The trouble is, like many other orders from Washington, it is not enforceable. In food, as long as we have food rationing, we must have price control, and as long as we have price control, the prices must be such and the regulations must be such as permit every person in the chain of distribution to be able to deal without a loss. If regulations are unenforceable because they are impossible of enforcement or unreasonable, if prices at each level are not so arranged as to permit dealing in the commodity without a loss, they cannot be enforced!

Therefore, if the committee will just start from that point, so that the cattle raisers will know where they stand, so that the feeders will know where they stand, and the packers, the independent slaughter house, the wholesaler and the retailers, then the consumer will know.


RED CROSS

As you just heard the announcer say, it is the last week of the Red Cross Drive, so do not forgot to kick in.


P.A.L.

It is also the beginning of our Drive for funds for P.A.L. - the Police Athletic League, or what I call the People's Athletic League. The P.A.L. is going to extend its activities to every part of the city by providing all kinds of opportunities for boys and girls - baseball, basketball, boxing, arts and crafts, dances and other recreational activities. By the way, thousands of boys and girls will got boat rides and trips to many interesting places. I believe we are going to get seats for baseball games during the season. Here is Inspector Nolan, who says "I don't want talk, I want your dollar." Here is my dollar for membership. Thank you, Inspector, for my membership card. That means that for $1. you become a member of the P.A.L. So go to any Precinct House or any of the P.A.L. stations and you will get your membership card. You can also send your dollar here. If you like my broadcasts it will be one dollar for your membership, and if you do not like them, send me two dollars and you will get the same kind of a membership.


WITNESSES WANTED BY DEPT. OF INVESTIGATION

I have before me a report of the Commissioner of Investigation, Edgar Bromberger, which states that a number of known racketeers and gamblers - I call them bums and tinhorns - whose testimony is required in various matters now under investigation by that Department, are either avoiding service of subpoenas or have fled the jurisdiction in order to avoid being interrogated. You are familiar with some of these bums, you start off with Frank Erickson, the so-called big shot and his brother, Leonard Erickson. Then there is one who is supposed to be his nephew, Frank Strader, alias E. Barry. We do not know whether that is a fictitious name that Erickson uses, whether it is a real person or whether it is his nephew. There is also Steve Mauro. Then again there is the other big bum, Joe Adonis, who has many friends around the City. There are also some new names. Here is one, James Rutkin, alias "Niggy" Rutkin, and "Nig" Rutkin. Here is another, Rudolph Brown, alias Alonzo Brown, another big bum who hangs around in Harlem.

Erickson and some of his crowd are wanted as witnesses by the Department of Investigation in connection with several pending inquiries, including basketball. The basketball forms, similar to racing forms, were sent out regularly by Strader with his card and telephone number attached to them. A telephone call to his number, Cliffside 6 - 4004, procured quotation of odds and the placing of a $10 bet on the St. John's Basketball game on February 17th last. Service for the two telephones at that number was discontinued by order of the Attorney General of New Jersey. This was the second time Strader's telephone service was discontinued - the first time, last November, at Cliffside 6 - 7275 and Cliffside 6 - 6382. At that time Frank Erickson, the so-called big shot, big bum and tinhorn, tried unsuccessfully to get the telephone service restored.

Just as an indication of the financial operations of this ring, according to Edgar Bromberger, the Commissioner of Investigations, Leonard Erickson had transferred his account from the National City Bank of New York to the National Bank of West New York, New Jersey in December 31, 1940. Frank Strader had two accounts in that bank in New Jersey. On June 3, 1943, Leonard Erickson's balance in that bank was transferred to Frank Strader's account there.

Talking about big money, the Erickson crowd was handling Leonard Erickson's account in that Jersey bank from December 31, 1940 to June 3, 1943, and had approximately $2,900,000 passing through it; Strader's regular account from October, 1942 to November, 1943 in that same Jersey bank served as a channel for aggregate deposits of $1,365,587. That is not all. Frank Strader's special account in that same Jersey bank, from August, 1943 to March, 1945, had aggregate deposits of $2,454,106. These three accounts, undoubtedly controlled by Erickson, had total deposits going through them of $6,683,362. That report will be made public tomorrow.

You know Joe Adonis, whose real name is Joseph Dotto, is wanted as a witness in some of the Department's investigations. So in James Rutkin, alias "Niggy" Rutkin, who is wanted as a witness in connection with an inquiry into his relations with some of our city licensees, a night club incidentally. Rudolph Brown, an ex-convict, is wanted in the investigation of the Katz policy ring. That is the ring that the Department of Investigation broke up in Harlem - they are now over on the island. Incidentally, we discovered that a Manufacturing firm was putting their checks through this Katz cash checking Corporation. That is being looked into. We think it was done to avoid taxes, State, Federal and Municipal. Incidentally the whole cash checking system, that is the licensed cash checking companies, ought to be investigated by the Banking Department. I believe that a mistake was made when they were licensed. They do require a thorough investigation because we run into then very often in the courses of our investigations.

If any of you know where these bums are, will you please inform us. If they are out of town, our police are doing good work, and it is a good mark. If they are in town, then it is a bad mark for the police, and I will look into it. Thanks to the office of the Attorney General of Now Jersey for its splendid cooperation.


WINNERS OF LATIN-AMERICAN SCHOLARSHIPS

Tomorrow the New York City Committee for Latin-American scholarships will announce the twenty-one
winners of the Third Annual Scholarship. This is a scholarship which we started here in New York City by bringing students from all Central and South American countries to take post graduate courses in our City. The choice of these students was based first on their qualifications, and second on the special facilities that New York City schools, colleges, City departments and private industrial concerns have to offer them to meet their particular needs, and thirdly on the need for such training in their own countries. The names and the countries will be announced tomorrow.

I want to express thanks to the Moore-McCormack Lines, W.R. Grace & Co., Tropical Oil Co., United Fruit Co., Alcoa Steamship Co., Inc. Atlantic Gulf and West Indies Steamship Co., Bristol-Myers, Coca-Cola Export Sales Co., International Business Machines Corp., International Telephone and Telegraph Corporation, Pan American Airways System, South American Development Company, Sydney Ross Co., U. S. Steel Export Co., Waldorf-Astoria Hotel, American Exporter, Anderson, Clayton and Fleming, R. H. Macy & Co., Inc., Pan-American-Grace Airways, Inc., and the Texas Company that made these scholarships possible. The Committee is now studying the possibility of reversing these scholarships next year. Instead of having students from Central and South American up here for P.G. courses, it may decide to send American students down into the South and Central American Countries for study.


STATE AND MUNICIPAL REVENUES

I want to say that I am sure every city in this State is grateful and appreciative to Governor Dewey for having for the first time in nearly 30 years approached the subject of the fiscal relations between the municipalities and the State in a exhaustive manner. You will recall that the Governor appointed a Commission on Municipal Revenues and Reduction of Real Estate Taxes. They have been studying the financial conditions of the cities in our State and the relationships between the cities and the state insofar as the division of taxes, which is a very live question as you all know, is concerned. It made a very constructive report to the Governor. The Governor in turn has adopted some of the preliminary suggestions and has announced that he would call a Special Session of the Legislature to consider this entire subject in the late spring or early summer. I hope that New York City will come out of this study with some real aids. I do not like to call it State Aid since, after all, it is the cities that make up the States. Most of the funds come from the cities so that it is just a sort of a division of the monies which are paid into the State by the residents of cities. But again, thanks to Governor Dewey for this very constructive and helpful approach to a very difficult problem - it is difficult for our City and it is even more difficult for many of the upstate cities. However, even though we get additional revenue, do not get the idea that we are just going along nicely and smoothly and easily because we are not. Our problems, our financial problems are by no means over.


TRANSIT PROBLEMS

I thought I would talk over with you today our transit problems. A great deal of publicity has been given efforts to establish a Transit Authority. The Bill was not well prepared and calling it an "Authority" was rather a misnomer. An Authority, as we understand it today in this State, is an independent agency of the City or State having certain governmental powers, particularly that of issuing bonds and financing its undertaking with private funds without pledging the credit of the City. I do not believe that the so-called Authority Bill attempted to give any such power to the contemplated Authority.

As to the ten cent fare, I made a careful survey and I am convinced that such a referendum would lose in this City by a five to one vote. A smaller increase of fare today would lose by a three to one vote. That does not mean that the facts and figures stated by the proponents of this bill are not correct.

We have a definite transit problem on our hands. No one can deny that. Our deficit during the present year is $41,000,000. Now get this. The deficit in the coming year, in the budget I am now working on, is $47,900,000. It will not be long, two years or possibly three years, and the deficit will be $50,000,000; and you have heard me say that over and over again.

The overwhelming majority of the people of this City at this time is for a five cent fare. Under the law, for all practical purposes, the fare cannot be increased without a referendum. I say for all practical purposes, for the simple reason that the law vests in the Board of Estimate the power to increase subway fares, but it is not an outright power, for the Board must transmit a proposed increased fare to the City Council. "Whenever the board of estimate [and this is the law] shall act to increase the rate of fare, the city council within thirty days thereafter, shall have power to suspend such action and to submit to the qualified voters of such city the question 'shall the increase in the rate of rapid transit fare in the city of New York as fixed by the board of estimate be approved?'"

Now returning to the practical situation, at this time the Board of Estimate would not authorize a proposal, therefore the proposition would not get to first base. Even if the Board of Estimate were to authorize an increased fare, and I repeat that it would not, the City Council would refer it to a referendum. So even though we got by second base, the referendum would be voted down and the proposal would be out at third base. If I have misquoted the views of any of my colleagues on the Board of Estimate, I will gladly correct it on the statement of any member of the Board.

The State legislature has refused to consider the proposed Transit Authority Ten Cent Fare Bill, taking the attitude that it is purely a City matter and that the machinery for referendum is now in the law. The Legislature is right. I am telling you this just to refresh your memory because of statements recently made which might create the impression that there is no provision for referendum in existing law. So it becomes necessary for me to struggle along and meet the problem, difficult as it may be. In this case again I must be realistic - wilful wishing and pretending will not solve the problem, not even slogans or happy epigrams.

You will recall that just about a year ago I suggested a transportation tax to meet the deficit. The tax that I proposed did not find favor with my colleagues on the Board of Estimate. You see, I had to tax several sources of revenue, and therefore attracted disapproval from many sources, each objecting to the tax which he would pay and approving the tax others would pay. That created quite a formidable coalition of opposition. I also discussed the proposed transportation tax with the Governor's Committee on the Fiscal Relations of States and Municipalities I have just told about, and frankly my plan did not meet with much approval there.

That does not mean that the problem is in any way solved. It is still a headache. Additional revenues are necessary and the additional money just must be found, if not today, surely tomorrow.

You see, we must not only talk democracy. We must practice it - we must live it. As Mayor I must necessarily follow every requirement and mandate of the law. I cannot do it alone. I
can make suggestions but I cannot legislate it, and properly so. Because a situation is unpopular and troublesome a good official must not shirk it - or ignore it. He cannot conscientiously take the easy way. He must face it and try to solve it.

That is not the only problem in connection with rapid transit and transportation in this City, I am greatly concerned over the condition of our transportation plant, rolling stock and equipment. None of the many, many troublesome problems I have gives me more anxiety. Every railroad in this country has the same problem and is under the same stress of anxiety. If any of you have traveled on our railroads recently, I am sure you must have noticed the run-down condition of equipment and particularly the run-down condition of the rolling stock. This all leads to discomfort, delays in schedules, over-crowding, and impairs the safety of operation. We are doing all that is humanly possible with available personnel and material to keep our equipment and rolling stock in operational condition. The railroads of the country are doing likewise.

Only yesterday I conferred with Commissioner John Delaney, Chairman of the Board of Transportation. He is constantly applying for priorities and we are getting our proportionate share of available materials and spare parts. No one will contend that we are getting all that we need in order to keep up service as we would like to have it. It is my desire to start all deferred maintenance, renovation, rehabilitation, and acquisition of new equipment and rolling stock at the earliest possible moment following the war. The estimated cost will be about $100,000,000.

Now I want to tell you my plan and I know very well that it will be misrepresented, misconstrued and even deliberate lies will be told about it. However, responsibility must not be shirked because of local political conditions and the present trend to resort to distortions as the only available means of criticism and opposition. I would like to finance this rehabilitation on a pay-as-you-go basis. Yes, that is a lot of money. The job could be completed within three years. Mark you, this does not mean any new lines, except the extensions already planned, as well as enlargement of key stations, rehabilitation of power plant, deferred maintenance, and new equipment.

I am going to submit to the Governor and to the Legislature for consideration at the Special Session a request for an Enabling Act to raise this money in order to meet the expense currently. For the sake of discussion and study and subject always to a better plan following a study and consideration, let me put on a separate one-cent sales tax to be earmarked for this definite purpose.

If we have no inflation and if conditions after the war are fairly normal it would be about enough. In that way, we would not add to the debt service of our transit system and would not increase the deficit.

I know this is not popular. The man has not been born who can invent a popular tax. At least, let us discuss the matters. If anyone can suggest a better tax, I certainly would be happy to accept it. In fact, I would prefer it.

The advantage of paying currently for this unavoidable expenditure is that it would remove $100,000,000 from the debt limit or in other words it would add $100,000,000 to the borrowing capacity of the City for our gigantic postwar public improvement program. I would mean just that much more employment and that many more public works getting in construction immediately following the end of the war.

The budget for the year 1947 to 1950 could not stand the strain of the additional cost of operation and also the carrying charges for the rehabilitation of the new system now necessary because of war conditions. Let me say that this condition is in no way due to unification. Quite the contrary. If it had not been for unification, we would have had a complete breakdown of transportation, chaos and costly bankruptcy.

I would also ask the Legislature for reorganization of the Board. From my experience, I believe that better control and a greater efficiency could be obtained by a reorganization of the Board, and streamlining of its administration. I tell you that it requires a great deal of training and experience to undertake the big job of operating the largest passenger-carrying railroad in the entire world. No experienced railroad man, and I talked to a great many, would join us unless he was assured of sufficient funds to modernize the System and to carry out the plan of rehabilitation to which I have just referred.

I know that it is not popular or even politically wise to talk about the need for more revenue and more taxes, but to me political considerations do not mean anything. Our transportation problem is not a theory. It is not one where there can be a difference of opinion. It is simply a mathematical question. It is as simple as five and ten makes fifteen, or rather, let me put it this way, - ten minus fifteen equals minus five. The revenue is so much, carrying charges and operations are so much. The revenue is $47,900,000 loss than the cost of operation and debt service, and that is all there is to it.

Now let me make it clear that the present deficit up to now is to most interest and amortization of the cost of our subway system. Therefore, this money is not within the constitutional tax rate from which the expense budget is financed. But in three years, or perhaps 2 years, we will cut into operation deficit and then it will come out of the constitutional tax rate, at least that amount that is a deficit of operation, and I am telling you now that it just cannot be done. Morris, make a permanent record of that sentence. It cannot be done. It cannot come out of the constitutional tax rate and still leave enough to run this city as it should be administered. What I want to point out is that we can rehabilitate our entire transportation system without adding to the present deficit and then we must find funds to meet the deficit in order to be able to carry the cost of rebuilding our City. It can be done - but it requires honest thinking and courageous action. It cannot be done with talk. The lazy, unscientific, destructive way is to let it ride until the crisis comes. I do not have to do that.

I want to build. I don't want to destroy. I do not want to impair our great post-war program. Though I know it is costly, it is so necessary, and we are going to rebuild this City, we are going to make it a magnificent city, the Town of Wonders, a City where people will live happily, where people will be healthy, where everything that science has produced will be invoked for the enjoyment of all of our people. Yes, it will be "The Wonder City of the World".


INVITATION TO PARIS LIBERATION CEREMONIES

Talking about cities. I have just received a very interesting and delightful telegram from the Hon. Joseph C, Grow. Acting Secretary of State. It reads: "American Ambassador at Paris reports that on April 2nd, the City of Paris will be decorated by General De Gaulle with the Cross of Liberation. The President of the City Council of Paris, M. Le Troquer, informed the Ambassador that he would be happy if the ceremony could be honored by your presence, and that on this occasion you would be the guest of the City. I shall be glad to convey through our Embassy any reply which you may wish to send." Well, thank you, Secretary Grow. I think the conveying of the message would be easy but how about conveying me. Of course, I know that this is a compliment to our City and I know that I express the appreciation and thanks of all of the people of the City of New York to General DeGaulle and to the people of the City of Paris.

Unfortunately and seriously though I was just joking before - it has gotten so now that I cannot even joke without saying I am joking, because of the terrible misleading headlines of our so-called newspapers. But to get back to this invitation, I do not see how I can get away. I am still working on the budget and I will have to work Monday, Tuesday, Wednesday, Thursday, and Friday so that would not give me very much time to get to Paris, would it? So I hope General DeGaulle, that you will give me a raincheck - you know, that means I cannot come this time, but ask me again. In the meantime, thanks to the General and to the people of the City of Paris.


PATIENCE AND FORTITUDE.