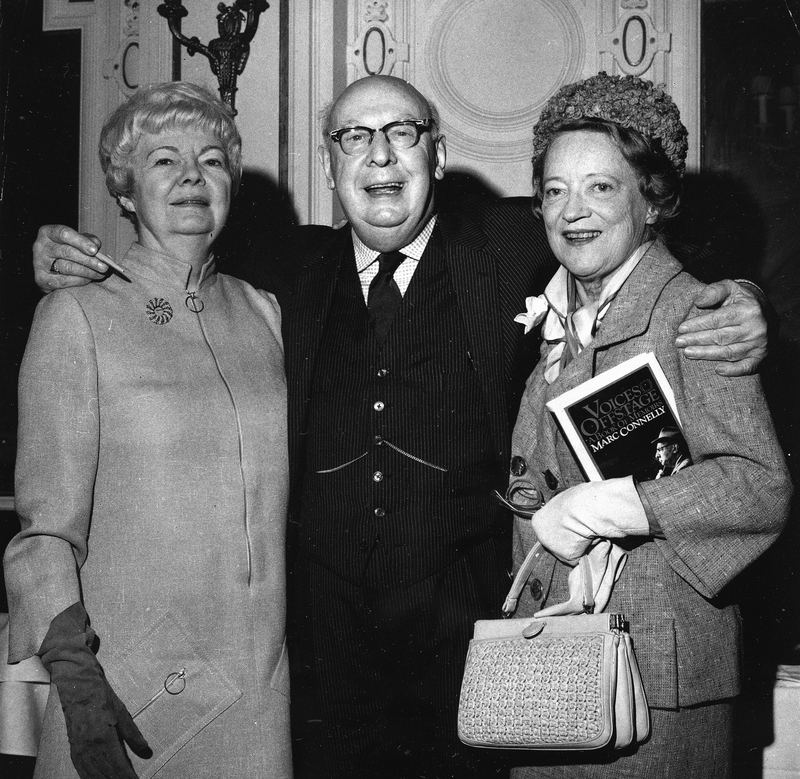 "Memory is given to us so we can have roses in December," the playwright and author slightly misquotes J.M. Barrie at this 1968 Books and Authors Luncheon. Connelly, a noted wit of the Algonquin Round Table, is speaking of his memoir, Voices Offstage. Defiantly emphasizing just how out of step he is with the times, he devotes the entirety of his talk to anecdotes concerning the minor film actor Charles Butterworth, whose only lingering claim to fame is having served as vocal inspiration for the commercial cartoon character Cap'n Crunch. The Brown Derby crowd of Hollywood in the Thirties is evoked. Robert Benchley and Oscar Hammerstein are mentioned. Connelly reproduces the patter of  Hammerstein's "pep song" for a non-existent Butterfield Athletic Club the circle invented. A well-connected but slender talent, the seventy-eight-year-old Connelly is recorded here still blithely singing for his supper. It is jarring to hear him refer to his fellow authors on the dais, newscaster Chet Huntley and Supreme Court Justice Abe Fortas. He seems from an altogether other age.
Marc Connelly (1890-1980) was a playwright, producer, lyricist, and occasional actor. His life was lived in the American theater and film communities, where he seemed to know and socialize with practically everyone of importance. His most famous association, as mentioned above, was with the Algonquin wits of the Twenties. His description of the group, as quoted in Spartacus, still rings true:
We all lived rather excitedly and passionately. In those days, everything was of vast importance or only worthy of quick dismissal. We accepted each other - the whole crowd of us. I suppose there was a corps of about twenty or so who were intimate. We all ate our meals together, and lived in a very happy microcosm....We all shared one another's love for bright talk, contempt for banality, and the dedication to the use of whatever talents we had to their best employment.
Connelly co-wrote several plays with George Kaufman, the most successful of which was Dulcy (1921.) But his most famous and successful work was The Green Pastures (1930), which featured an all-black cast telling updated stories from the Bible set in the rural South. Although the "simple" characters portrayed now seem primitive stereotypes if not downright offensive, at the time the play was considered a dramatic breakthrough, winning the Pulitzer Prize for Drama. The website Bookrags describes how:
…The Green Pastures follows stories of the Bible, such as Adam and Eve, Noah and the flood, Moses and the exodus from Egypt, and the crucifixion of Christ, but places them in a rural black southern setting. Thus, one of the opening scenes takes place at a "fish fry" in "pre-Creation Heaven," during which God spontaneously decides to create Earth and man. God eats boiled pudding, smokes cigars, and runs Heaven out of a shabby "private office" assisted by Gabriel. The settings are roughly contemporary to the time period in which the play was first written and performed, so that, for instance, the city of Babylon is represented as a New Orleans jazz nightclub. The costumes are also contemporary: God wears a white suit and white tie, Adam is dressed in a farmer's clothes, Eve wears the gingham dress of a country girl, and so on. The play ends with God's decision, while back at the fish fry in Heaven, to send Jesus Christ down to Earth.
Connelly's work never again reached such heights. His natural genre was the drawing room comedy, which seemed increasingly irrelevant in the politically-obsessed Thirties and the subsequent psycho-dramas of post-War Broadway. Yet he remained a fixture in the world of theater for many years. He seems to have displayed a modesty rare in such an ego-driven milieu. Nowhere is this more evident than in a quiet self-assessment, quoted in his New York Times obituary:
Seventy years have passed since the theater first filled me with wonder and delight. During that time I have enjoyed its blessings and given what I had to give in its service. I cannot claim to have adorned it with anything as lasting as the embellishments of the medieval sculptors on the cathedral's face, but I have occasionally tried to brighten its altar with flowers from my garden.
Audio courtesy of the NYC Municipal Archives WNYC Collection.
WNYC archives id: 72185
Municipal archives id: T4853 and T4854