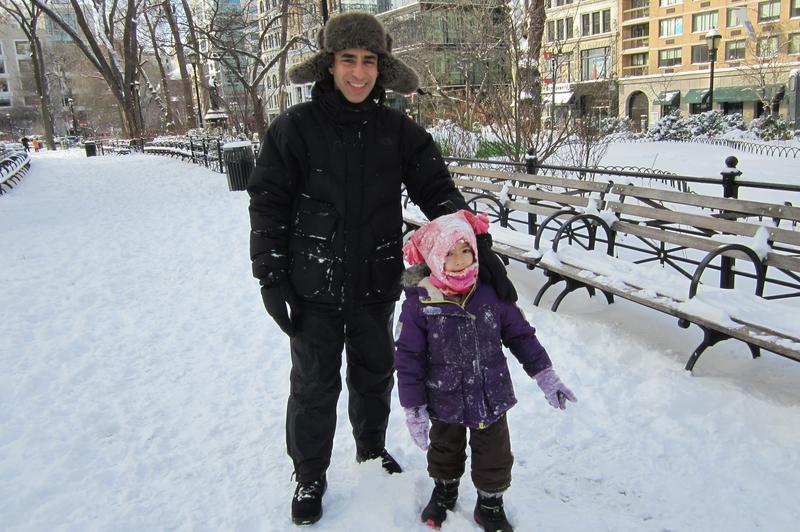 By the time 9 a.m. rolled around, Harry Fuqua, 11, and his sister Evie, 8, had already been sledding on Monument Hill in Prospect Park for more than an hour. One problem: as some of the first sledders of the morning, they could not go as fast as they wanted.
"It's super soft," Harry assessed, while Evie said: "My sled is not good with high snow. It should be, like, just packed."
On another hill near the Picnic House -- the one deemed the best hill in Prospect Park by many of the young sledders out Friday -- Conor Boyle, 12, said speed was improving as the morning wore on. By late morning, dozens of children were out with their parents in a constant cycle of sliding down the hill and trudging back up. 
Conor, who attends M.S. 51 William Alexander, said he would go back to his block in Park Slope for snow ball fights, and to stay close to home in order to keep warm. He said he had no problem having a day off from school; he and his friends had been dreaming of a snow day "for a while." 
Mayor Bill de Blasio didn't declare the snow day until 4:50 a.m. Some parents and teachers gave him a beating on Twitter Thursday night over delaying the decision when it seemed nearly inevitable, recalling a 2009 storm when former Mayor Michael Bloomberg caught a lot of flack for not calling a snow day until after 5:30 a.m. But other parents said de Blasio was right to wait.
"Sometimes things change, like it doesn't snow as much overnight or they get the streets cleaned in time so I was okay with this morning," said Memy Hwang, whose twin daughters are in kindergarten at Manhattan's P.S. 77 Lower Lab School.
"I think it's way smarter to wait until morning," agreed Alden Gewirtz, whose daughter is a first grader at P.S. 11. "I know that's not what everyone wants to hear. But better to be right about the situation than to do a prediction that turns out to be false."
Gewirtz took six year-old Julia to Union Square Park to play in the snow. She threw snow - and a few snowballs - at her father, and even tried a few somersaults.
"I was excited because I wanted to have no school so I could play in the snow," she exclaimed. Both father and daughter were bundled in several layers of clothing.
The weather stayed brutally cold Friday, with temperatures in the teens and wind chill values below zero. 
Molly Bernardo, 7, and her sister, Lucy, 5, both students at Brooklyn's P.S. 107 John W. Kimball, were bundled head to toe in matching pink snow suits. Only their eyes and the tips of their noses were exposed. 
Molly said it was not too cold for a full day of activities: making snow angels, sledding, drinking hot chocolate and shoveling snow.
The bundled-up Bernardo family took a stroll in Windsor Terrace.
But Maribeth Dono, whose children attend P.S. 10 Magnet School of Math, Science and Design Technology and M.S. 447 The Math & Science Exploratory School, said in an email that she would keep her kids close to home to play in the yard and stay warm indoors. She said she would try an experiment with her children that she found on Wired.com, where you toss boiling water from a mug in the air to see if the water freezes before it hits the ground.