Anti-Trump Protestors Clog Fifth Avenue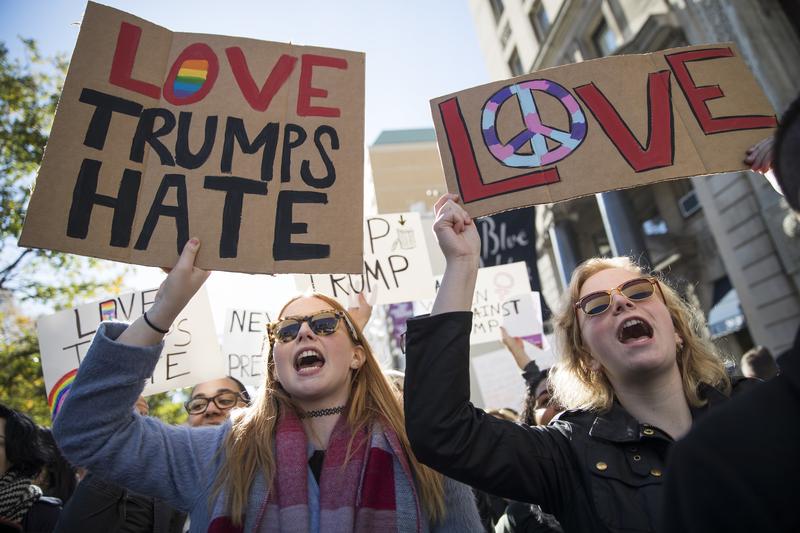 Thousands of protesters marched along Fifth Avenue in Manhattan Saturday afternoon shouting "not my president" and other slogans for a fourth straight day.
The protesters rallied at New York's Union Square on Saturday before picking up steam and taking their cause into the street and to Trump Tower.
Police sources told WNYC that at least 10,000 protesters were out on the streets. Fifth Avenue was crowded with protesters for blocks. Police lined both sides, following along on foot and on motorcycle, but the group remained peaceful.
Elizabeth Gutierrez, a 27-year-old school teacher from Queens, was in Union Square. She says she cried in front of her students on the day after the election.
"Myself as an adult and the adults of America kind of let them down," she says. "Especially me teaching in a high school that's full of minorities, and myself being a Hispanic. I felt like we didn't do what we should have done to protect them."
The crowd in front of Trump Tower was blocked by a heavy police presence. 
Nadia Saghei an 18-year-old student at SUNY New Paltz was one of the protesters chanting outside Trump Tower. She was holding a sign that said the word "love" in Farsi.
"As a woman and as a person of color, I'm very afraid for my own safety," she says. "Because even as of recently, on my own college campus, there have been racial slurs written on bathroom doors, and on stalls."