Part III: A Canadian Dynasty Buys the American Dream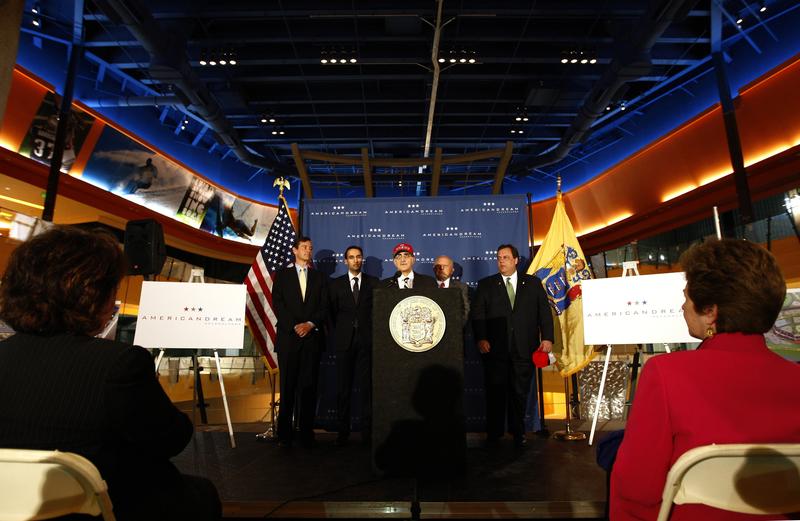 This story was written by John Reitmeyer of NJ Spotlight, with additional reporting by Ilya Marritz of WNYC and Susan Berfield of Bloomberg Businessweek.
When Gov. Chris Christie decided he was going to try to salvage the long-planned and half-built megamall in the Meadowlands that for years was called Xanadu, he turned to a family from Canada with Iranian roots to get the job done.
Best known for its sprawling Mall of America in Minnesota, the Canadian Ghermezian family and its company Triple Five are also the owners of the successful West Edmonton Mall in Canada.
Christie announced New Jersey's partnership with the Ghermezians — which included a pledge to provide a significant government sales-tax incentive — with much fanfare back in 2011, touting their accomplishments in retail and real estate. He predicted the New Jersey mall, renamed American Dream Meadowlands, would open by early 2014.
"You just look at their track record at Mall of America, at the West Edmonton Mall," Christie said at the time.
"These gentlemen are very good negotiators and they will get deals done to get people in here and to get this place operational," Christie said of the Ghermezians.
But the megamall in the Meadowlands has still not opened, and missing from Christie's public introduction of Triple Five and the Ghermezian family was a more complete description of the developer's background and business history, including some of Triple Five's thwarted mall-development efforts in places like Las Vegas, New York, and Maryland. An official who worked on one of these projects says that he was never contacted by New Jersey to discuss what went wrong, raising questions about whether New Jersey truly did its due diligence.
And while some now suggest the Christie administration should have been focused more on Triple Five's losses than its wins, others staunchly defend the Ghermezian family, Triple Five, and its megamall vision. Triple Five President Don Ghermezian also says he has "no fear" that American Dream will ultimately prove to be a success — even as many New Jersey remain skeptical.
The Ghermezian family's roots go back to Iran, but Jacob Ghermezian, who is Don Ghermezian's grandfather, brought his wife and four sons to North America in the 1950s. Triple Five, a private corporation, was founded in 1972.    
Nearly 10 years later, the company opened the West Edmonton Mall in Alberta. Spanning more than 5 million square feet, the mall, according to Triple Five, draws more than 30 million annual visitors, attracted not only by its stores, but also an indoor wave pool and amusement park, some of the same features the developer is hoping to eventually open at the American Dream site in New Jersey. 
Triple Five's other flagship site is Mall of America, which opened in 1992 in Bloomington, Minnesota, just outside Minneapolis. With anchor tenants like Macy's and Nordstrom, the 4.2-million-square-foot complex, which also has an indoor amusement park, restaurants, and other entertainment features, draws 40 million visitors each year, according Triple Five. 
Although those two malls have continued to operate successfully for decades, Triple Five itself hasn't been able to replicate its winning formula by opening a new megamall anywhere else in North America — though not for a lack of trying. 
Click here to continue reading.
Music Credits:
"I Knew a Guy" by Kevin MacLeod
"Faster Does It" by Kevin MacLeod