Part I: Unfinished American Dream Looms Over New Jersey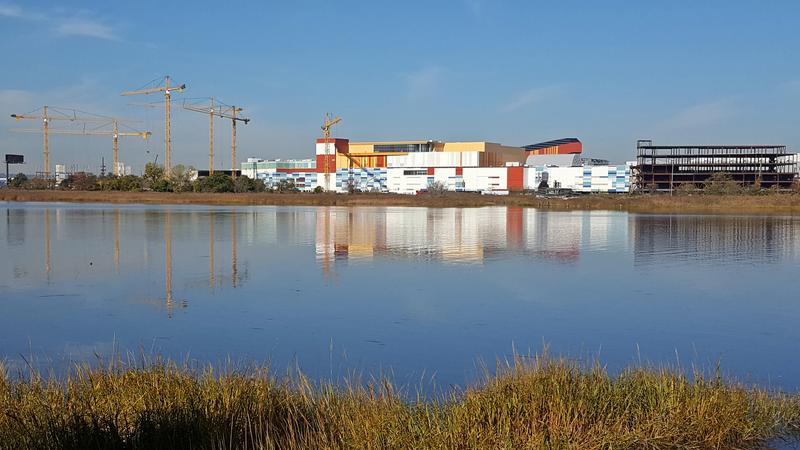 This story is by John Reitmeyer of NJ Spotlight, with additional reporting by Ilya Marritz of WNYC and Susan Berfield of Bloomberg Businessweek.
"It makes me angry every time I drive by it," said Matt Reagan, expressing a sentiment likely shared by many New Jerseyans about the multicolored behemoth of a building in the Meadowlands now known as American Dream.
Reagan, a Rutgers Law student who was flipping hamburgers while tailgating at nearby MetLife Stadium before a Bruce Springsteen concert this summer, sees the huge, empty structure as a symbol of New Jersey's waste and failure — and the inability of the government to get anything done.
"They've already had more than enough money to build what they wanted to build, and they haven't done it," he said.
Construction on the project that drew his strong criticism began in 2003, and two separate developers have tried and failed to finish a mixed retail and entertainment center once called Xanadu. They hoped it would revitalize a Meadowlands sports complex that had suffered through the decline of horseracing and its once-popular sports arena. Now, a third developer, Canada-based Triple Five, has taken over the project. The company is trying to emulate what's made its Mall of America a big success in Minnesota, intending to transform the sprawling complex into more than just a mall, but a destination that will attract international tourists as well as millions of visitors from New York and New Jersey.
But even as Triple Five says it's moving ahead with an ambitious $2.65 billion finance plan to pay for the major construction that's still needed to bring the developer's vision to life, questions remain about whether a megamall that was first dreamed up more than 13 years ago remains relevant in a new era in which online shopping is becoming a dominant force. To bring Triple Five onto the project, Gov. Chris Christie also had to pledge government tax incentives to the private developer, and the size of the incentive package has now grown to over $1 billion, although none of those tax breaks can be redeemed unless the project eventually opens its doors and turns a profit.
Even if all does go right and the project becomes a success, public records indicate the annual net benefit for New Jersey will be an estimated $36 million. Most of the permanent jobs that will be created by American Dream will also pay less than $20,000 a year, according to the public records, a small sum for East Rutherford, the town in which the project is located, where median household income runs close to $80,000.
Meanwhile, public records also indicate that as the project has moved forward over the past several years, there is one group that has made money on it — those with political ties to Christie. Campaign contributions have also flowed back to the governor over the same period.  
Click here to continue reading.
Music Credits:
"Simple Hop" by Broke for Free
"Backed Vibes Clean" by Kevin MacLeod
"Xanadu" by Olivia Newton-John and Electric Light Orchestra
"I Knew a Guy" by Kevin MacLeod
"Faster Does It" by Kevin MacLeod