Making Comedy Out of Slavery and Prison Life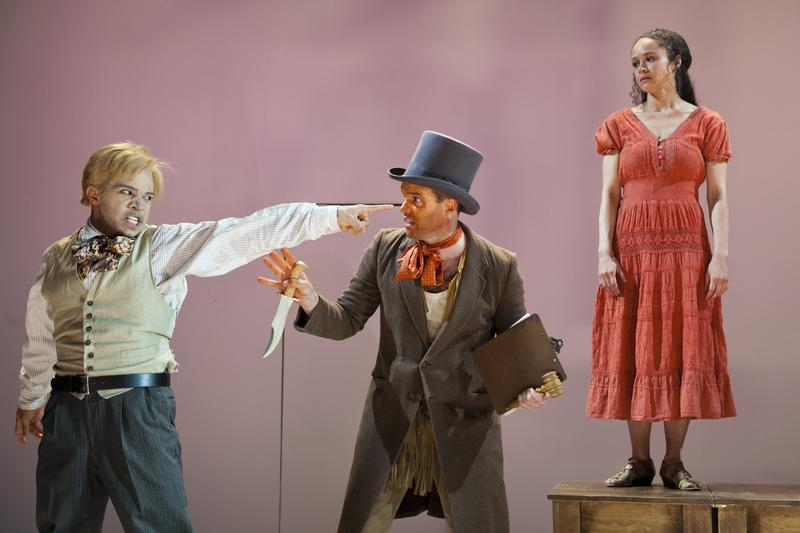 Slavery. Prison life. Stop and frisk.
These are some of the heavy topics that two young African-American playwrights turn into comedy with their new works.
Marcus Gardley wrote The Box: A Black Comedy, which recently closed at the Irondale Center in Brooklyn and is about a father and son who both end up in prison. And Branden Jacobs-Jenkins's play An Octoroon — which is about slavery, land dispute and a racially conflicted country — is currently playing at Soho Rep in Tribeca.
For Gardley, comedy came as a surprise. He said when he first invited the audience to see an early version of The Box, people found it too heavy. "The first thing I realized was, 'I need to make this a comedy, it needs to be a satire,'" he said. "We cry and laugh with the same muscle, so I think comedy, if you really warm that muscle up, you can really use it to give people a cathartic experience."
Jacobs-Jenkins said he chose a tough topic to try to make people laugh about, but it seemed natural to him."I think a lot about slavery, as a descendant of slaves," he said. For him, pieces like Toni Morrison's Beloved and the movie 12 Years a Slave are iconic pieces of work, but he says there are also many stories about slavery we don't know. "Because the actual system itself was about erasing entire subjects from history," he said.
Both plays address African-American issues, but they also draw from classics. Jacobs-Jenkins takes on Dion Boucicault's play The Octoroon, which opened in New York in 1859. (Octoroon refers to someone who is one-eighth black.) And Gardley uses the Greek myth of Icarus. "I usually use a myth to lure people in so they think, ah, this is going to be an adaptation of the myth, and then I bust the myth open," Gardely said.
Scene from the play The Box: A Black Comedy, by Marcus Gardley (photo by Pavel Antonov)
Gardley and Jacobs-Jenkins are exceptions in a mostly-white art form. There are no numbers available for Off-Broadway, but according to the Broadway League, the audience last year for Broadway plays was just 3.5 percent African American.
Jacobs-Jenkins opens his play with a question about his own identity: "I am a black playwright. I don't know exactly what that means." These are the words delivered by actor Chris Myers. The playwright said he feels part of a lineage of artists of color, including the Black Arts movement, but that he is not necessarily trying to define black, as they were. "Now all of a sudden there is the question of options, you know, and I think that is interesting," he said.
Gardley agrees. "August Wilson was declaring, this is black work, these are black voices, these are black stories, which was great for its time," he said. "I think these new generation of writers who are African American are asking different questions, and are writing plays in a different aesthetic."