The Takeaway
Mayors Step Up in Fight to Protect the Environment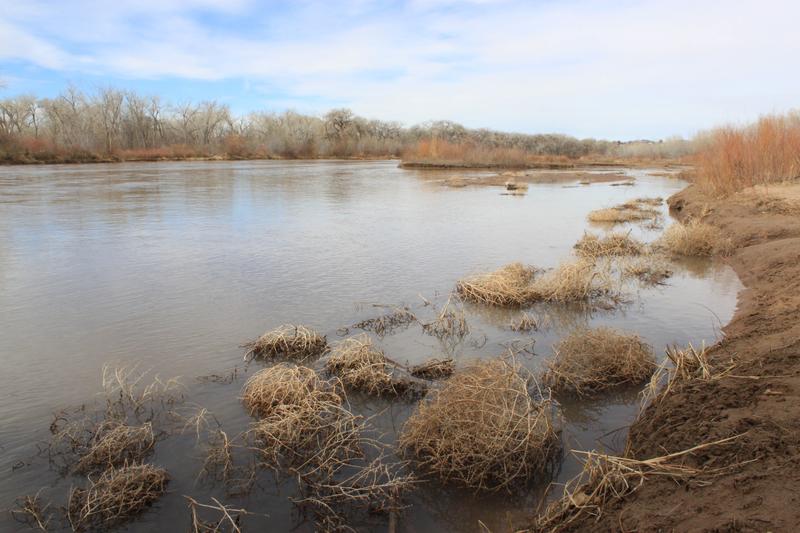 Click on the 'Listen' button above to hear this segment.
This week is the eighth annual Climate Week in New York City, and more than 20 governments formally signed on to the Paris climate accord at the U.N. General Assembly.
But while prime ministers and ambassadors at the U.N. consider the international impacts of climate change, across town, a group of mayors is attempting to refocus the issue on the immediate, already present consequences impacting individuals in their communities.
Santa Fe Mayor Javier Gonzales, a Democrat who's been in office since 2014, is one of the local leaders focused on this issue.
"In Santa Fe, a community that is in the Mountain West, rich with tradition and culture, is feeling the direct impacts of climate change," he says. "Our temperatures are rising, year over year. Our drought cycles are longer than what they have been. And our snows aren't falling as frequently. So what that means is that our forests are highly at risk for catastrophic wild landfires. So when that happens, that presents a direct threat to the people living in our community.
Gonzales was on a panel on Wednesday with Baltimore Mayor Stephanie Rawlings-Blake, and Elizabeth, New Jersey Mayor Chris Bollwage. The panel, organized by the U.S. Conference of Mayors and the Center for Climate and Energy Solutions, launched the "Alliance for a Sustainable Future," an initiative to highlight and connect the local issues of climate change. Mayor Chris Bollwage and Mayor Gonzales spoke with The Takeaway following the panel. 
"In the state of New Jersey, we've had some severe drought issues, not as severe as the West Coast, but clearly the lack of rain over the last two months is going to cause us problems going into the winter months," Bollwage says. "July and part of August were the hottest months on record in our city. And when you're the mayor of an urban community, the lack of trees, the lack of ability to deal with these heat issues, is part of climate change. Hurricane Sandy was an issue four years ago, where lots of places got flooded. We have 75 different areas that overflow and raw sewage can seep into neighborhoods. "
Elizabeth and Santa Fe are two cities that in many ways couldn't be further apart. One in the vast Southwest, set among the Rockies and facing major water shortages. The other a former manufacturing center adjacent to New York City on the Hudson River, whose waters are on the rise, prompting some novel solutions from the mayor's office.
"So what Elizabeth is doing, we've created one million gallon tanks in certain neighborhoods in order to store water and release it over time. It's part of green energy," says Bollwage.
Santa Fe is in many ways facing a more direct threat than Elizabeth, and the city has been proactive, having reduced water consumption from 160 gallons per person per day in 2007, down below 90 today. Mayor Gonzales has also pledged for the city to be carbon neutral by 2040.
Rather than working on these climate issues in isolation, Gonzales sees them closely related to inequality: 
"The data is conclusive that people that are living in poverty, if something is not done, will bear the disproportionate share on their shoulders of the costs of climate change. So in Santa Fe, we created the Verde Fund. The Verde Fund is a fund that is specifically focused on not only mitigating the effects of climate change on people living in poverty, but working to help people out of poverty. So think of retrofit of homes or solar rooftop distributive generation on homes where lower income individuals live. That just means there's more money, if we can get some of these programs in place, we know that the energy savings that will take place will go directly into their pockets."
He continues: "That's money they can use to buy fresher food, it's money they can use to provide some means for their kids. And I think you'll see that in cities across the country. As we approach the issue of inequality and developing policy, it is about making sure that there are strong educational pathways that exist for our kids, and that we have economies where wages grow, but that we're also putting into place resilience policy to ensure that people who are living in poverty, who are working their way out of it, don't have to bear a disproportionate share of costs of what climate change would mean to them."
The Verde Fund was approved by the Santa Fe City Council in May, linking poverty and climate change by allowing low-income residents to install rooftop solar panels, creating carbon-neutral affordable housing, as well as creating new jobs in green energy.
Gonzales is also currently looking to secure a long-term revenue source for the fund, but it's representative of just one way in which cities are laboratories in the fight against climate change.
"In our cities across our country, there exists these laboratories of great innovation and democracy — 91 percent of the GDP of our country is produced by metro economies, by cities," he says. "Cities are where things happen. People run for mayor because they want to solve problems that they see happening in their communities. And today's mayor is very different from when my father was the mayor of Santa Fe in the late 60s."
He continues: "Today, in addition to worrying about police and fire and making sure that we're properly staffed and have good parks and recreation opportunities, now we're thinking about climate change, and what is the impact on our citizenry, and how does that affect the overall quality of life. And so I think that what you're seeing are a lot of very talented people running for the office of mayor, looking at putting in integrated strategies that not only address the economic and social fabric of a community, but also the environmental, as well, as one package."
It's all in the hope that cities like Santa Fe will still actually be around in a hundred years, rather than just ruins in the growing Southwestern desert.
"I think Santa Fe, if we can meet our goals of being carbon neutral by 2040, will be a community that's worthy of future generations and feel proud of," Gonzales continues. "If we don't act now, though, I fear that our community could suffer from catastrophic wildfires, or that if we don't address the issue of income inequality, it'll only become a community for the extremely wealthy. And that really isn't community when you think about it at the end of the day."