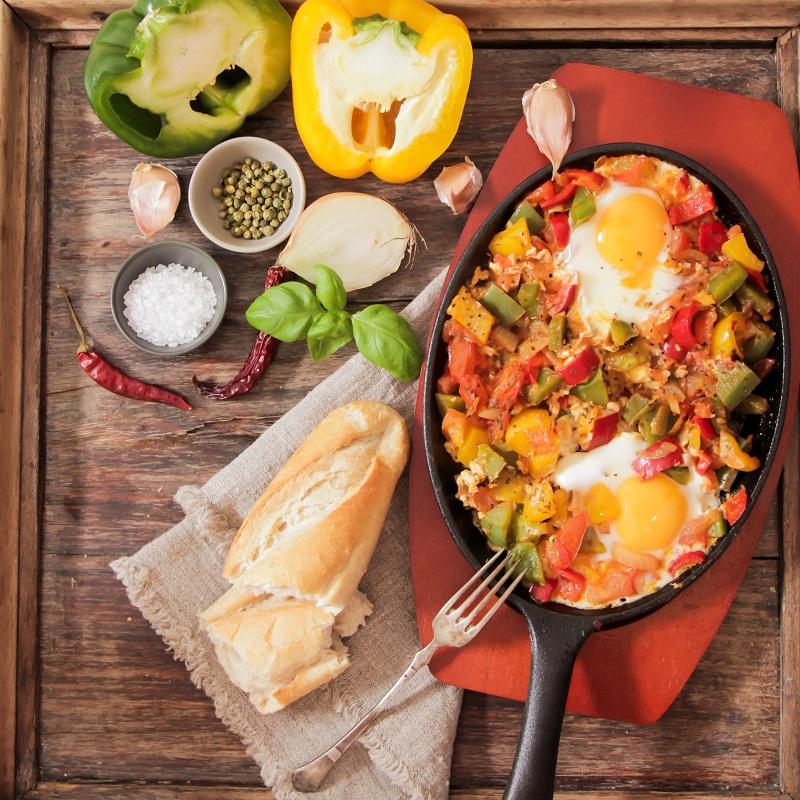 Breakfast can be a treat to make on the weekend, or a chore during the week, when you're juggling a gazillion things and trying to get out of the house. New York Times award-winning food columnist Melissa Clark returns for our Food Friday's breakfast series with tips and suggestions for both options! 
Recipes
Weekday Breakfast
Spinach Egg Crostini
The key here is to boil your eggs on the weekend and eat them during the week. You can store them unpeeled in the fridge for up to a week. If you want to peel them ahead, store them covered with water for up to 5 days. Just make sure to change the water daily.
Time: 10 minutes
Yield: 1 serving
1 slice country bread, toasted
1/2 tablespoon softened butter
1 hardboiled egg, peeled and sliced
1/3 cup chopped baby spinach leaves
Olive oil, for drizzling
Balsamic or sherry vinegar, for drizzling
Flaky sea salt
Spread the toast with butter, then lay the egg slices on top. Cover with the baby spinach, then drizzle with oil, vinegar, and sprinkled with salt. 
Weekend Breakfast
Spinach and Leek Baked Eggs with Feta
I think of this as a green, tomato-less version of shakshuka. Serve it with flatbread, pita or a crusty country loaf.  
Time: 25 minutes
Yield: 4 servings
3 tablespoons unsalted butter
2 leeks, thinly sliced
2 jalapenos, seeded and chopped
2 garlic cloves, finely chopped
10 ounces (2 quarts) baby spinach
2 cups cilantro, coarsely chopped, more as needed
1/4 teaspoon salt, more as needed
4 ounces feta cheese, crumbled
6 large eggs
Hot sauce, as needed
Aleppo pepper, as needed, optional
1. Heat oven to 375° F.
2. Melt butter in a large (9- to 10-inch) skillet over medium-high heat. Add leeks, jalapeno, and garlic. Cook, stirring, until softened, about 5 minutes. Stir in spinach, a handful at a time, and cook until almost wilted. Toss in cilantro and season with 1/4 teaspoon salt. Once greens are wilted, stir in 1/4 cup water and 3 ounces feta. Stir until almost melted.
3. Carefully crack eggs over surface of greens and season with salt. Transfer skillet to oven and bake until eggs are just opaque but still jiggly, 7 to 10 minutes.
4. Remove skillet from oven. Top with remaining feta and additional chopped cilantro. Sprinkle with hot sauce and Aleppo pepper, if using.