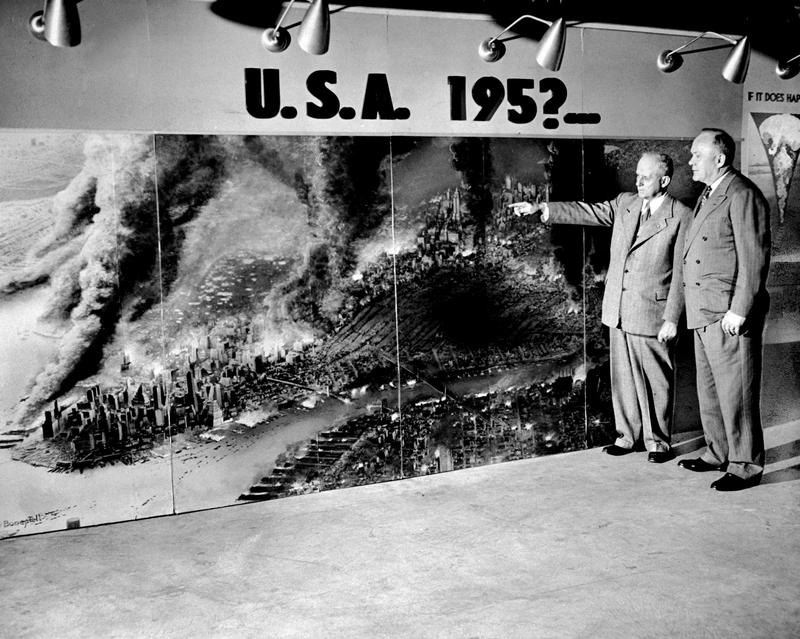 Summary
This episode is from the WNYC archives. It may contain language which is no longer politically or socially appropriate.
Jay Nelson Tuck moderates.
Guest is Lt. General Clarence R. Huebner, New York State Director of Defense. He discusses civil defense in New York state.
Panelists include Jack Parker, Raymond M. Tierney Jr., and Barbara Benmolche.
Questions:
New York would only survive an attack if there was adequate preparation and civil defense planning. Civil defense is defense without the military, organized by the government. Shelter is key to civil defense. Advises that all you need to avoid radiation is the equivalent of 3 feet of earth.
While Huebner does not hope for war, he want to be prepared in case of war.
Audio courtesy of the NYC Municipal Archives WNYC Collection
WNYC archives id: 72084
Municipal archives id: LT8893
Transcript
This is a machine-generated transcript. Text is unformatted and may contain errors.
Can New York City survive an atomic attack can a city be evacuated should New York State residents before sending ground by legislation Well the answers to these and other questions let's now to campus press conference every Sunday at this time editors of college newspaper is question a newsworthy personality moderator on campus press conferences the noted newspaper men and editor Jay Nelson talk now to introduce the panel and today's guests there is Mr Tuck Good evening every now and then all around New York sirens and scream cars stop in the streets people are herded into the nearest buildings where they sometimes stand and look out the windows in City Hall Park a few members of the Catholic Worker Movement are arrested for refusing to take cover that is about all that most New Yorkers see or know about civil defense yet it may be a matter of life or death for many of us people are hotly divided about civil defense two Some see it as a foolish waste of time and effort others believe that it is the only way to save hundreds of thousands of lives I guess tonight on campus press conference is the director of The New York State Civil Defense Commission He is Lieutenant General Clarence are healed next gen have now had a long and distinguished career in the United States Army he enlisted as a private in one nine hundred ten and was commissioned in one thousand nine hundred sixteen he served in France in World War One and rose rapidly in rank to become a lieutenant colonel. During World War two He commanded the famous First Division in Italy France and Germany and then was promoted to head the fifth Army Corps after the war he became commander in chief of the European Command and he retired from the Army in one thousand nine hundred fifty has been state director of civil defense since one thousand nine hundred fifty one. Here tonight the question General here Bert are jack barakat and Raymond M. Turney Jr both of the Fordham student bar association and Bob Reuben most of the Hunter College arrow Jack when you lead off general he would never in the event of an atomic tack attack on New York City is there any chance for survival for the population Oh yeah says very much chance of survival not only improper preparations have been taken now there is very little chance of survival things if we take them as they are now on what type of preparations are you speaking of general well in order to understand civil defense and what it means to our people you must understand the civil defense is government less than military and law now for our people the same as our armies our navies our air force must be prepared for war and those things that have to be done by people and governments should be done do you mean merely by seeking shelter as is done now when a mock air raid attack is pulled at present time oh no there's much more into civil defense and stare raid shelters in fact the matter is shelter is the key to civil defense but there's much more to be done we've spent billions of dollars to set up a detection system in America to to second to none in the world generally it's good to go ahead re part of a general you say we have spent billions of dollars by that I presume that you mean the national government. That's right and the detection system that is used by several of the fans or civil government if you care to call it that is the responsibility of the Continental Air Defense Command. Our Air Farce and conjunction with the Canadian af ice and is known as NORAD Well then I take it that the various state programs are integrated somehow into the national plan that actually correct them there is a national plan for civil defense and has been promoted gaited and that plan was signed by the press that this plan is the basic plan of the whole country and it is operated by the director of the office a civil defense and mobilization in Washington and of course the defensive side of the program is operated by Mr Neil Michael Rice secretary of defense Well General let leads to the next question as I said my introduction all most people see is the take cover aspect of civil defense what would happen under your plan after that let's was I think it's a safe assumption that we'll have only barely enough warning of a missile attack let's say to take cover if that what happens after that. Well notable I don't think at this time that that's entirely a correct statement at this time the missiles have not been developed to the point where there are plenty of missiles we would have to contend with and there's no question about that but the attacks this way now and probably for the next five or six years to come we'll have to contend with will be their bomb attacks and will probably be generated in Russia itself and come down over the pole now no doubt as time goes on this will be supplemented by attacks from submarines with missiles and finally they enter comment on that ballistic missile which we hear so much about now but what would happen after the most or has struck where the bombs fall no matter what So Al And then there are extent planets contemplate sightings The first is the detection system now in setting up the detection system you have to have a very rapid communication system to go with it so that the mikes alone time is available for eventually backs now with a plan several hours will be available and even with the other comment about the stick muscle whose flight time between Russia and the United States is twenty five minutes if we utilize over time of Boston and it's in detection and communication and then we've reduced our evasive action time to fifteen minutes now you say you know here and they are good people run and take cover we put New York to bed in the way that we have in other words we ordered them off the street in less than ten minutes and I had there been good shelter for the people to go on into all. Day no doubt where the bulk of them would have survived an attack. BARBOUR Well most people want to grieve are the best several defenses to prevent an attack so in view of this point of view which are mine assume that you would agree with are you in favor of our stopping nuclear weapons or testing our drugs of course and then seven anybody who is in his right mind and isn't in the favor of an admin is right mind I'd rather not be in favor of events in the world is there is. IMO no mom that I've had for was I'm still alive for sure somebody didn't shoot straight now. But. The. Nations have been destroyed all through history are all students in you know that. And we have to parent peace time to protect ourselves and must we have is so valuable it must be protected when are you speaking of protecting ourselves vary the view that. The Catholic Workers have that if we if we protect ourselves you know as you call it during peacetime this is really putting us in a frame of mind for war Well we'll be ready to fight and two weeks we accept this warlike frame of mind would you say to that I think man I can answer that in two ways I'm nineteen sixteen I remember an election in which a president was elected because he kept us out of war and this was in November and by the next day April we were into the biggest war with ever harm and will not very well prepared for now and even in your time you member this is the house is on fire while on your home to put out the fire and lend lease came along we certainly had no intention of getting into World War two. And still we were fortunate in December the seventh and in the marl days all of us we were in line we didn't walk off we all are ready for law but we were in it and we had to fight it we had to win it and I've typed take same philosophy for the next one we don't want one God knows we don't want that if we have to have it we certainly want to win it right General you mentioned a few minutes ago that at the present time the greatest threat of attack is an airborne attack that missiles have not been developed to be to the point of launching a full scale attack there is some thought concerning civil defense in this country that too much money is spent on it what do you think is the possible possibility of success of a large scale airborne attack when all I can say that the that is a response to Ben Miller the commanding general of the Continental Air Defense Command in conjunction with these Canadians and I'm not know them all personally and I've never heard one of them say that he could stop all of the enemy planes but it has been said General that although you couldn't stop all of them the fact that you could stop the largest percentage of them would it would in itself act as a deterrent to any large scale airborne attack not necessarily not necessarily in all viewing all young enough to remember the cam accusing attacks. The last one as long as one out of ten gets through is still going to be true in this memories and that an objective of war is to win it. And there are people who will do those things that are necessary to win the well are and say do are not conquered in their efforts. Jack you were speaking before General about the shelters that the New York City residents might have to. Go into in order to protect themselves governor Rockefeller's has recently had a committee who has recommended that compulsory bomb shelters be built in New York state and is this a feasible program general well known Yashin A were a real quote There is just a little bit off this governor has recommended that we have fallout shelters there's a difference between fallout shelters and blast selfies now the governor bases his recommendation on a very simple argument that seventy five percent of all casualties from any given bomb will occur. In the radius and feel that blast he and other things will count for the other twenty five percent now the only thing that you must have to protect yourself from radiation is an equivalent minus of three feet of water that's all attacks another word three feet of earth will shield you from radiation Well I was wondering if this is this is the case where you're going to get the air that you're going to breathe three feet under the ground and how long you know even if you have an air supply going to last very long and then even to be exposed again to really as a matter of fact the basement of a hall properly arranged with eight inches of concrete with and doors left open will give a family of five and nothing there so they can live and finitely now where we get in trouble and myself are. As if we do she on ourselves from the effects of radiation radiation decay so slowly that we will may have to live in Nashville here for a couple of weeks and far we must have the food there and we must have the batting because we must sleep and we must have the comforts of life and because moment is in heaven did we must know an awful lot about first aid. But I still don't understand where the air is going to come from it's the natural air in the basement of the House now where we have larger shelters then we will have to put artificial air in the place and that there will have to be filters what the air will be contaminated with radiation that comes from corals indoors Akash say and now no ready radiation is brought about my When the bomb explodes and hits the ground and then everything becomes a vapor and available matter that there is in the bomb itself cools off at the same time this earthy material cools off and become solid and then as it comes back to the ground is rather heavily the average fall out. Particle will weigh about ten microns. And it doesn't blow around like your. Face policy when it smashed and things like that is rather soft and you don't have the same problem as you do with the dust on and things of life. There will be some cost but not enough to bomb. Right general under a full scale atomic attack that would be launched at our centers of population for instance New York City Washington Chicago etc. What percentage of a city such as new you up properly educated could be saved against such an attack and you mentioned a few minutes ago that only twenty five percent of casualties are due to blast and heat the rest to fall out what percentage of New York City on a given day could be saved against such an attack Well F. New York City center of a large environment I spend even a large bomb and not kill em and money in the yards in a less opposed and hit Times Square last minute alone as most of the houses around is handstands. Now in the far west as fashions on ice is fine lines and spice out as the lives of that benefit paper were in their shelf years they probably are the bulk of them would lead now the crater in soft ground versus not over about a mile wide and you can't you even hear or can protect but then it becomes horrible expansion because you have to go so deep and back that it's not at all improbable and waited say that about eighty percent of our people in the center with proper arrangement however from fall out you are not contending with a blast the bomb has come down someplace else and the fallout some you might even be a hundred a hundred fifty miles away it's more the bomb came down and still be completely saturated with fallout on the ark cities when the safest places in the world for follow up are heavy buildings and this room right here that we're in now in the almost perfect. Jack regarding the cost of a program such as this general I understand that the individual shelters for private homes would be borne by the owners of the homes how about the cost of. Shelters in the midtown area where there are no private homes would this be undertaken by the federal government or the state or the city Well I don't know exactly what our legislation is going to require pipple them but I would imagine that he would come into an ownership prop of this and around I feel a livelihood in one way or another with your building and you then the owner would be required to put in Surrey shelter and stock it regarding shelters too certainly it would take quite a while to build the necessary shelters to cover adequately a city of New York how about the would there be any type of priority set up as to who should enter these shelters first or would it be come first come first served with the resulting chaos Well the modern facts here and I are right now we surveyed the city as well marked with the best type of filter. This outer would protect you from the effects of heat and also. Radiation in most cases the last if you were to close enough now if we do this. Then New York City will have to dig deep and it will take a long long time and we will gradually move. From what we now call refuse to adequate shelter it's OK but. What I was trying to put across general is is there going to be any schedule as to who should have priority first in various shelters or will it be first come first served and the first come first serve when