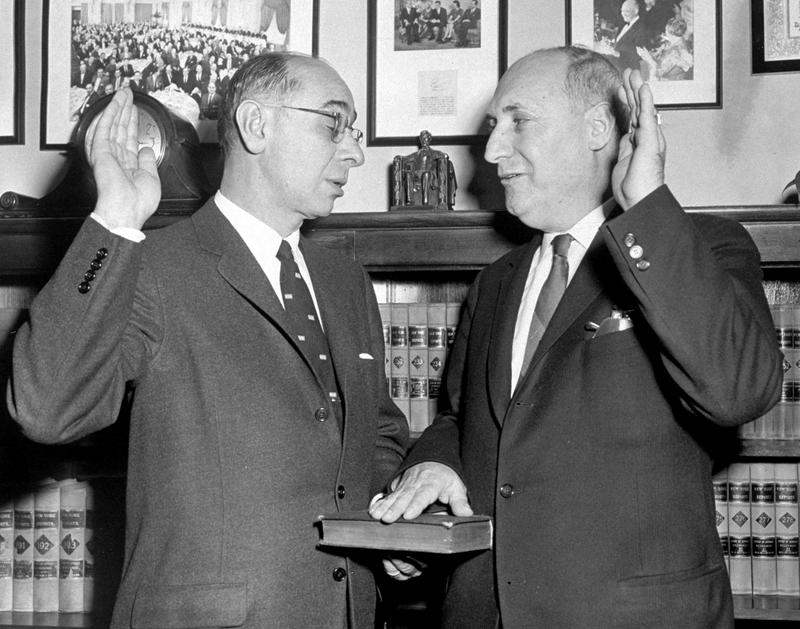 Summary
This episode is from the WNYC archives. It may contain language which is no longer politically or socially appropriate.
Lefkowitz, Attorney General of New York, answers questions about New York state political issues.
Marvin Sleeper hosts.
Panelists: Michael Spielman, Ruth Corsnick, Ronald Deutsch, Reardon Roate, and Jim Farrell.
Questions:
Stock fraud manipulators are on the upgrade. Example of stock fraud: people are offered stocks falsely, no assets exist. Investigation in to migrant labor camps. Exploitation of Puerto Ricans in labor. Delinquency commission to reduce the problem. The problem may be more pronounced in New York City than in the rest of the state. Money earmarked for youth board workers. The community can aid in the work of the family by enforcing parental responsibility. Police department. Comments on Democratic Party's accusation that he usurped the banking department by setting up a consumers division to look in to the problem of credit. Constitutional Convention. There is a need for re-organization of the courts. Favors jury trials for personal injury cases. Names some candidates for the GOP nomination. Responds to criticism that the Republicans only come out when there is a mayoral election. Speculation about Nelson Rockefeller.
Audio courtesy of the NYC Municipal Archives WNYC Collection
WNYC archives id: 72048
Municipal archives id: LT7768
Transcript
This is a machine-generated transcript. Text is unformatted and may contain errors.
Have you found stucco manipulators on the upgrade is New York state doing anything about decreasing juvenile delinquency How serious is fraudulent advertising and Lauren Consumers are you pleased or disappointed that New York State voters did not call for a constitutional convention. For the answer to these and other questions listen now to the station's capice press conference and there's transcribed discussion the editors of college newspapers question a prominent personality in the News Marvin the sleeper award winning reporter and columnist for The New York Journal American as the moderator of this series now to introduce the panel and tonight's guest here is Mr Slipper Good evening and welcome to another edition of campus press conference our guest tonight is the honorable Louis Jay Lefkowitz attorney general of the state of New York. The state's chief legal beagle he's always trying to sniff out tax frauds price rigging and any other financial some shenanigans that may be taking a bite out of Johnny Q Public So let's find out where the center is these days here's a question Mr leftwards our campus press conference report is Michael spilling of the C.C.N.Y. campus. And Ronald Deutsch of the Columbia Graduate School of Journalism at. Columbia College and Jim Farrell of the Fordham lexigram And how about the first question of. When to if you found recently that stock chronically those are on the upgrade Yes we have read in my office reports that the complaints have increased especially after we made our visit to camera about two or three weeks ago and the press reported the fact that we went in an effort to get the cooperation of Canadian authorities have resulted in or at least one hundred to one hundred letters from people who complain the bot fraud practiced on them but there's constantly a stream of complaints coming in that doesn't mean that every one of them has to broadly examine them we follow them up and if it warrants action we take it but the question is yes there are well on the basis of these two hundred complaints or so are there any prosecutions in the field you have to play while the prosecution will result when the investigations are really gone into an otherwise when the men get a complaint they send for the complainant there's an exam that certainly they send for the books of the broker the deal or whatever is involved but I'd say now that these prosecutions are going full steam ahead and whether any specifically at. Result that as of this moment in prosecutions I don't know but I know the men are working there the men the lawyers as well as the accountants all of these two hundred complaints that you have how many will you say are. Pretty worthwhile to go further in your investigation I'd be guessing Marvin and I don't think I'd even want I'd like to guest on those I don't know specifically the men came in and gave me a report I then sit back and wait until it's through with the investigation I haven't yet has received a specific rundown of which of those they found want the prosecutions and which did not but there are so many other pending cases other than the two hundred they might be spending their time on the cases that were pending pride for the receipt of these two hundred complaints just generally you know what is the what is the classic example of a stock fraud while the telephone call principly or a telegram or a letter where people are offered stock stocks and very often the false statements that are made in the telephone call or the telegram upon checking up you might find in the absence exists or you might find that the representations are untrue so even promises were made to the prospective buyer when we find out they were untrue and and there were misrepresentations that constitutes fraud on the right Martin that's the greatest way to avoid being duped and that. To make sure that anyone you speak to you know that's the thing we beg people when you get a telephone call of you don't know them just refuse consoled the gentleman brokers there are so many brokers they can give you the real information the best thing to do is avoid talking to strangers and check on a legitimate see the man of God You don't just part with your money and check later question of course next so I wonder there have been a lot of newspaper articles recently about the labor camps in upstate New York and the working conditions of Puerto Ricans in New York City has your office dealt with a great increase in complaints do you think through the state committee are you going to nation you're referring rule families my grand Labor claims Yes well there's presently pending an investigation which commissioned a little bit with the Industrial Commission is conducting and going the harm and also point of a special committee a few weeks ago to present a look into it. The commission Logan has a right to refer to my office for prosecution complaints once he gets the evidence together he investigates we prosecute we haven't as yet received any specific filed to warrant an investigation but is presently being conducted by the two Force sources I just mentioned to you and how about the other problem of this problem the getting of the labor union in relation to one another again of the governor appointed a committee which consists of the commission it costs the dean Summers and I think two other gentlemen who are looking into that specific question about the exploitation of the Puerto Ricans and other people in connection with labor rackets I think that investigation is no one to complain they just were designated I think about three four weeks ago a matter of fact they were in to see me we had a very pleasant to our conference several days ago to get my view as we exchange views and they want to know in my respects I thought the law should be amended and we're looking forward to another conference that just exploring of non are going to go around the state and get the views of various prosecuting agencies in the force and the potential. Question from my experience what is the New York state government doing about the problem of juvenile delinquency Well Mike we have a delinquency commission headed by commission of a class and if you recall when they had some difficulty in the city among other agencies the state agency was called in. Or ever sent in by Governor Howard meant the city hall and they conferred then with the city authorities and more recently there was a something in the newspaper the fact that the governor and the legislative leaders would recommend an increased appropriation to the city agency here so I think it's fair to say that they're cooperating and doing all they can and connection with reduction of the elimination of this problem as much as possible and then really it must lock which is this problem a serious throughout the rest state as it is in New York City which problem they do not link was a problem well frankly I don't have specific information I do read the newspapers were occasional or a break guys for I think it's fair to say that judging by the prominence in the papers I get the impression it's more pronounced in the papers here that's because probably I read the papers here every day and lawyers the upstate papers I probably don't read as often but from all I can hear or talk to people I don't think it's pronounced but bear in mind we have a larger population and we have this problem of a lot of training it's a lot of people coming from more people coming into this country or settling into Les get acclimated and all that so I fits I guess potentially a good model break out in the city of this type of elsewhere. Thank you Mike Spillman you say that more money is being appropriated for can the problem but could you give us an indication of what this money is being used for well my recollection is that the city for a an additional sum of money which was given by the governor as well as with the consent of the legislature to get we call this a third when the city has happened about a month ago I don't know what it was specifically earmarked for again what I'm telling you is just what I read in the paper it's something that I have no jurisdiction over or about I'm giving it my best recollection of what appeared in the paper and I'm sorry that that did take place what earmarks for I don't remember like I would call it that. Money was earmarked to matching a sum of one hundred thousand dollars of the study appropriated to get more U.S. board workers into the into the areas where the situation was real bad but this is a problem that the state let's see individual units polities take care of rather than working through the state government yes it's a matter of just supplying the financial assistance that a city would need but the space on its own through commission McCloskey has just when I'll delinquency commission I think they're cooperating with Mr Pallies throughout the state question from Jim Fassel you're Well certainly a current issue of the Ford alumni magazine you pointed out that the answer to your You're one of the liquidity problem is a strong family but I think community should aid the family specifically where can the community aid in the strengthening of the family mom I take a lot of pride in that article I was happy that Fordham alumni magazine saw fit to publish it so the speech I delivered before the Women's Federation club I felt that there should be more printed responsibility and that there should be more education of the parents rather than just condemning one there's a break out in the family the community can help by having the agencies that might be the Church of the synagogue with spiritual guidance it might be the wealthier agencies the settlement houses I felt where parents are letting down their children there were children not behaving properly set of just trying to punish the parents I think this is becoming a reeducation of trying to tell parents what their responsibilities are and reminding them that they have children with those responsibilities of. Worrying about where they let the child feel that they're comfortable with them finding out who you're playing with home where you're going out of the coming home late with their parents find out why we lost late in a nice way because I've had two children of my own and I've found in every difficult and then one always perfect as a sit down have a decent discussion with them and children like to know what I want to be loved they want to know what you think of the bottom in your caring for them and not that you're indifferent about when they come in late oh they're friends and they want to have children invite their friends in the house more often do that's what I had in mind as far as parents but the agency specifically should be of some help in bringing educating the parents just for their responsibilities toward children I had in mind then let it be the courts the social agencies as I said before the spiritual guidance and advice that comes from the church or synagogue What do you agree with the Republican candidate for Mr Christian Barry who was defeated last Tuesday that Mayor Wagner had sort of fumbled the ball on juvenile delinquency that he was responsible for its upsurge in recent months when our I maintain months ago and I still maintain now that when commissioning candy and asked for the additional five thousand policemen a year ago and then they repeated the question eight nine months ago and it should have been granted here is a commission trying to do his level best he knew of the problem or intimately to anybody else and I felt that money should have been found to comply with the request of Commissioner Kenny I wouldn't go so far say that when his juvenile delinquency complained the mayor or anybody else bought anything that could help toward its reduction or elimination start and should have been done Mom Jim Fassel do you think that the state legislature should have done something to find such money to help the city out of the police problem that's a local problem here that's part of their budget no request was made from the city for a specific sum of money for extra police from you were just read the X X from financial condition reported by comptroller generals are just about a week or ten days ago and they find money for other things and this was a problem the money should have been found again if I had a police commissioner who felt he needed the extra policeman. I think it should have been I proceeded to I'm a great believer of one of the more police from on the beat. Having come from the neighborhood as a youngster I found a terrific psychological effect they have more likes to be on the feet I like to see that club being swung not to hit people not the one largely use it I'm not for just using that club without rhyme or reason but I felt that the Sweeney of that club just to have its presence seen by somebody is tough these who were D's days are just getting out of hand assaulting cops and people would do a lot toward reducing crime scene that they get off the streets where they. Assault people rattled and Mr left if I may turn for a moment from a problem which perhaps you are more intimately associated with and namely fraudulent advertising in the legislative session after nominee last winter a series of laws I believe were adopted governing consumers buying on a credit basis and you announced six weeks ago and much to the disdain of various Democrats that you were setting up a consumer's division and appointing a deputy to look into that problem I wonder now if you're going to retain that consumers' division Ronald I'm glad you asked me that question because my Democratic friends use the word that I was you sorry the policy of banking department let me give you a little history on that in the first place attorney general before me under the statutes on the which I am now proceed and have always had jurisdiction to enjoin the frauds practised by dealers this legislation and went through this you have to do only with credit buying or installment buying if you win the game that's in a bank in the pot and the license people take it away but there are hundreds of dealers who will not be getting licenses in the bank in the past and who likewise sell merchandise or sell services in return for money pipe or trade these frauds this is a field in which there's enough to do for the bank in the park and there's a lot to do for the attorney general and I didn't just create a new fairy doesn't exist I'm proceeding under existing statutes that event. Three years and just as I said in a release to the press I'm going to tell you now that the annual reports of a Chinese general so prior to me will indicate in report after report that they when they have to dealers who fight for trade of frauds and I'm just continuing what I should do now the reason I set up this division and by the way