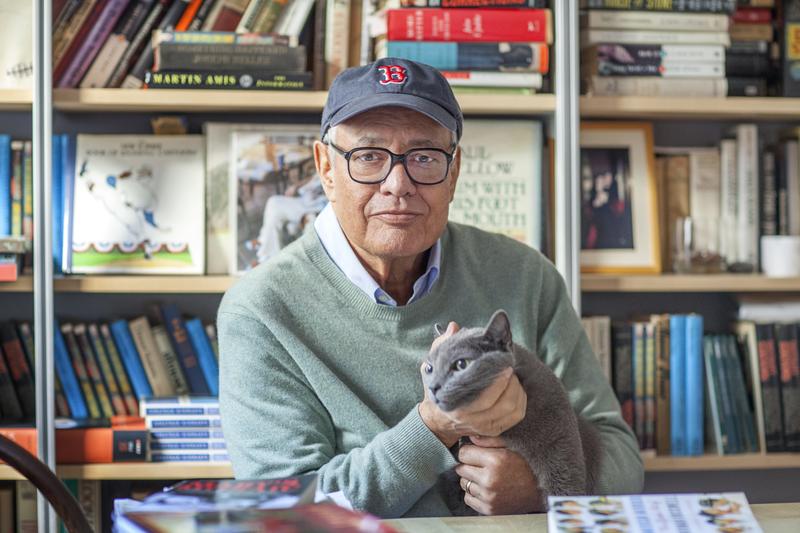 A while ago, a summer evening laced with humidity, I left a Pizza hole-in-the-wall that was jammed. Country music without distinction had hollered from two green speakers dangling from the ceiling.
I became, after departure, a citizen of 8th Avenue and 38th Street, and I walked with an August melancholy uptown. At 44th Street I missed the light and stood waiting with a group of enthusiastic theater goers who were bound for Phantom of the Opera; they spoke with the reverence one would employ for an upcoming performance of a Sondheim piece.
To my right, on the avenue, I cast a glance at a black Toyota similar to my own that was parked on east 73rd and was safe until Friday at 11AM, another two days. But hold it, the licenses was my own, a New York plate: HRD1641, no question. And now suddenly it was moving.
Behind the Toyota an empty taxi awaited a green light. I plunged in while shouting to the driver that the car in front of us was mine, MINE!
And I'd pay the driver to follow it. I'd pay anything. I had four fifties in my wallet that I slipped to the driver through the slim availability at the side of his partition. He was a black fellow wearing a Mets hat and an amused smile. Immediately he said "Let's go pal. I ain't been asked for this for about ten years. THAT was somethin'!"
"Just follow it," I repeated, as the light changed. "Follow him. Money is no problem."
We followed him up 8th Avenue. "Stay behind him," I said again.
Lights changed, we waited.
At 55th Street the Toyota hung a quick left on 55th, picking up speed.
"I think he's goin' for the highway," said Russell Manderdum, a name vaguely printed on a card on his side of the partition, under the ominous announcement that if I bopped the driver on the head I'd be thrown into jail for 25 years.
"I think he's got wind of us," he said, whipping through a red light on 10th Avenue.  "Yeah," I said. "That's what I was thinking."
Both of us knew by now that the driver in my Toyota was a man wearing dark glasses; we'd had enough time to piece together glimpses from behind and once from a three second side look that revealed the Kleenex box on a pile of books on the front passenger seat.
The man in the dark glasses swerved onto the Henry Hudson Highway and took off. Russell Manderdum was up to it, risking a $160 ticket and two points on his record. "If we are stopped I'll pay everything," I told him. "Yeah but the points," he said. I didn't reply.
My own Toyota was picking up real speed, and we lost it for a moment, but then it showed up in the middle lane. "Always drive in the middle lane," I'd been told years earlier, by Annie Mercher, as we drove north to Boston for a concert. She had dominated my dreams for years, in love and fury. These days I was fifty, Annie thirty-nine. On her 26th birthday, Annie had married the cellist who had played in that very concert.
Oh, Annie. Once I had called her "a tough cookie." Rapidly she had replied, "And you are half baked."
In Russell Manderdum's taxi I was surely half baked. And all these years half baked. Annie with two children, me with two divorces, chasing my own car in what, I suddenly noticed, was rain.
The man in dark glasses surprised us, swinging a right on the ramp up to 125th Street and a maze of streets. We were with him for a bit, swinging behind him on Riverside Drive, then up to Broadway, then another left on 120th Street, across Amsterdam, a left on Morning Side Drive back down to Amsterdam, by which time we'd fallen behind. We lost him.
"Let's just pull over here, Russ," the name I had begun to use at some point in the excursion. We rested in quiet. "My car," I said, observing the rain that had intensified. "Now you take it easy," my driver said, still facing forward. "I'm out of fifties," I said, truthfully. "Take it easy, man." Russell said, saying, as I perceived it, good bye, and good luck to ya'.
In the rain I ran to the subway, watching Russell Manderdum disappear into Harlem.
Annie, you were right. Half baked guys cry in subways.