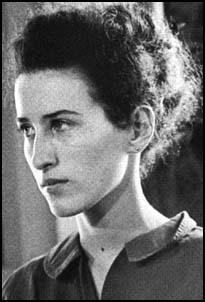 In the Summer of 1964 following the disappearance of civil rights workers Andrew Goodman, James Chaney and Michael Schwerner, attorney and reporter Eleanor Fischer had the opportunity to do a series of interviews with some key figures of the unfolding story there. Among them, Rita and Steve Schwerner, the wife and brother of Michael Schwerner. While the tape is undated it appears to have been recorded not long after the bodies of the missing men had been discovered on August 4, 1964.
Rita Schwerner from the interview:
"Mickey's reason for going was an overpowering feeling that a person can't live like an ostrich ignoring what's going on all around him. If you believe something, you do something about it...He really believed, as I did too, that to bear children into a world and a country as confused and as unfair and as unjust as this one is right now would be an injustice to these children. And since we selfishly believed we wanted a family we had to do something to create an environment in which these children had a chance."  
Eleanor Fischer produced several documentaries for the Canadian Broadcasting Corporation with the tape she collected in Mississippi and had this to say about her welcome to the state.
"I first visited Mississippi in February, 1964. I had come down as a lawyer to give legal advice and to defend a group of white ministers engaged in voter registration work in among Negroes in the city of Hattiesburg.  I remember being introduced to the county prosecutor and the cold hard stare with which I was greeted. And I also remember the first words spoken to me by this white citizen of Mississippi. 'Miss Fischer, this is war.' War had indeed come to Mississippi but its full impact was not felt until several months later when the Mississippi Summer project got under way. Sponsored by the Conference of Federated Organizations, 600 young people from outside of Mississippi descended upon the magnolia state much to the outrage of an already beleaguered white community. They came as a peaceful army because of the way things are in Mississippi for the Negro, because they wanted to help."
Special thanks to Elizabeth Starkey.