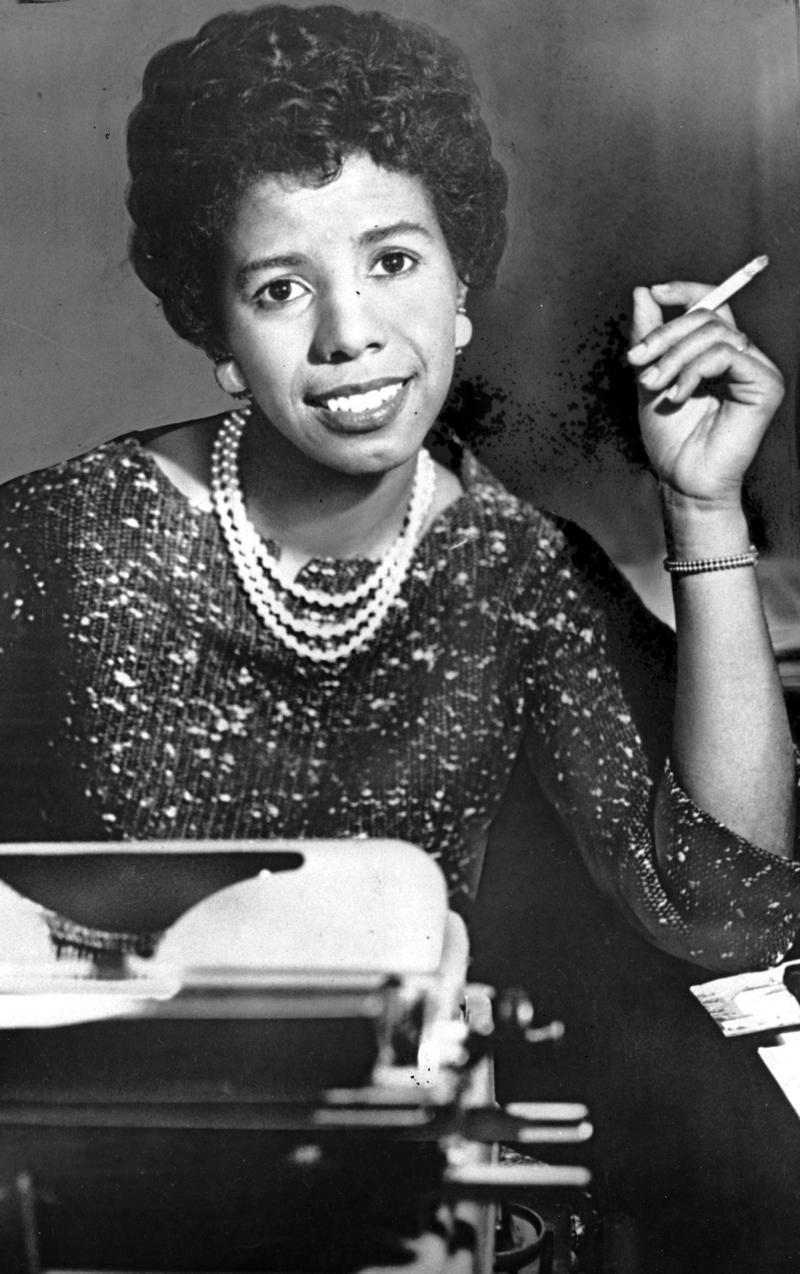 Summary
Patricia Marx interviews playwright Lorraine Hansberry after the success of her seminal work "A Raisin in the Sun". Ms. Hansberry discusses the characters in the play, and how each of them reflect ideals that she herself carries. She also shares her feelings on the importance of African tradition to the African-American community, and her future plans and dreams.
WNYC archives id: 56198
Transcript
Title: Patricia Marx Interviews: Lorraine Hansberry
Last Updated: 2016-06-16 7:16PM
Origin: https://opentranscript.herokuapp.com/transcripts/patricia-marx-interviews-lorraine-hansberry
This transcript was generated by Open Transcript Editor Pilot and may contain errors.
Read more about how this transcript was created at https://opentranscript.herokuapp.com/

Misandry I like to begin by discussing some the problems you raised in A Raisin in the sun and
I want you so that everyone will know what we're talking about you be kind enough to describe the story briefly.
Well what it involves is an examination of
a family South Side of Chicago where I was born
to belong to the lower classes a family of domestic
workers who I hope are fairly typical of people
who think that there is something more to do with your life
and accept it as it is. The young son becomes
the what we call the today as of drama and his ambition is
to accepting American values and their
totality to become a successful businessman but very simply
the mother and the his wife want to get home so there's a
conflict between the
two in terms of a statement I think with the play that tries to say is
that we really don't have very much in the world at all if we allow
any aspect of money values to transcend the requirements that are
necessary for human dignity.
You said that the play is a great deal about dreams dreams deferred
dreams realized why there are certain kinds of dreams or right and certain kinds of dreams that are wrong in
my opinion yet. Which of course
is my opinion I'd I. I for one simply can't get
terribly excited about anyone who wants to commit their lives to just making
money as an end in itself I can't
understand it if someone can give me an appreciation of it. Then perhaps I
would but at this moment in my life. I happen to think a
life that has as its end something.
Of service from Purpose village of mother with the making shoes or writing books.
Plays
or being an engineer but has some end product is a far
more substantial life than someone who have somehow gotten let into the way
of thinking that tells him that money is the reason why we
live
the younger people in the family were consumed with material benefits were the
same material goods that you were saying that perhaps the message in the play is that this kind of concern
is not enough is that correct.
Well I think that all value of ultimately come out of materialistic approach to
life yes but there is no such thing as simply saying to people not
being nice.
That you can't be nice if you're living miserably and you can't be anything except very much concerned about how
to live better right. So that to that extent all life. I think has
a materialistic base under your In other words it is marvelous people to have a
clean
home only does it relevant for them to have two television sets. There's a there's a vast
difference and I don't and. I hope that that kind of materialism isn't linked with
what I'm talking
about so after the bare minimum is remote and there are other things that
are more important. Yes I think so but isn't mamma the embodiment of this kind
of ideal when she seems to value
principle of our profit years. Yes much of what
she has to say and much of her inspiration in this
family is toward a principled and some the best
kind I think but you can't just dismiss everything because you have an
objective to do something in the world but you have to emerge as a human
being and stature as wife characterized her my own mind as a great
woman. Yes. Well we see this emphasis
on material gain say Walter the central figure has Do
you think by necessity there will be a loss in this kind of moral backbone and old fashioned virtue.
You mean if they become middle class family yes. Well no I don't think so. I
think there are other dangers but I don't I don't think particularly that.
The middle class loses its notion of virtue or loses other things.
What the the transition may mean a certain attraction.
Ultimately to a lot of the meaningless parts of
comfort. That one must have two cars
or a car of a certain make that the children
must address a certain way or that particular in terms of
negro questions of course but. A
tendency which already exists in the Negro middle class to want to disassociate.
The middle class from what is really the most
exciting and vibrant part of negro culture which is that it's working class and
the Blues spiritual great yes I'll talk. Art and
Culture and the
Negro people you see
they have had in the past it's beginning to diminish. It's now an artistic You see they
get a little arty now to appreciate it in
reverse and yes always Japanese like you know German leader has become.
An art song in the concert hall
before everyone can universally say well my word is this mob of well that happens.
I know that you said that science will bring more rewards for our generation
than mysticism does mean that you place faith in a very rational
scientific approach to existence now rather than the traditional your religious believing
and of the model.
Yes I do I think that
to use anything anything new has happened since
rationalism burst
forth with the Renaissance and the subsequent developments
in rational thought that the only time we revert back
to mystical ideas which includes most
contemporary orthodox religious views and my.
It's because we simply are confronted with some things we don't yet understand so we start all over
again what people were doing two thousand years ago and things well you see because we don't
know that from the US. Therefore there is some
other agent but we'll never find out I don't
find how that follows. I think it's simply a question of things we don't yet
know yet in the case of mama she gets so much sustenance from this this
kind of yes a yes for those on the glories of man that the inventiveness of
the human mind and the human
spirit that whenever life. Doesn't seem to give an answer we
create them but it gives us strength. I don't attack people who
are religious at all as you can tell from play a rather
minor the human quality to make their own questions as long
as we need them. The only thing I'm saying is that want to be can walk. You know and drop
them but actually you believe in a kind of increase in moral and philosophical
strength by the use of reason only is yes. I don't believe there will be. I don't think the
time will ever come when we will dismiss the human spirit I don't think there's any contradiction and we
don't
need mysticism to absolve man man exalts himself by
his his achievements and his power to rationalize or
excuse me his power
to reason as
his rationalization has its benefits so I don't know if we can get along without that
it
is very interesting because in the play as you write it the younger generation is no
stronger even with their advanced reason they don't seem as strong as the mom
or is this intentional on your part.
Oh well but actually they are you
say. Another words I
think it
would be a very quick inclination
of beneath.
To wish to function as a citizen of the world. You know and to go
to the United Nations and try to affect the
political life of for a
nation. Rather than pray for me I think
this enormous development very positive one over the past I don't mean
that mamma wasn't an effective force in the past she was obviously she left out
she felt she had to do something
but the less
dependent attitude on Providence. I think is this is a trial.
I can say that strongly people say that there is no difference between today and
the past of course there is of course each generation brings a
triumph
of rationality. There's an enormous difference between. The
Greeks from the Romans there was a time when people thought was perfectly all right old lives even though we exult So you
know so-called Greek democracy today the fact was matter was a slave society and
today we would not think that this is a proper thing to admit to even if going and
secretly as a
dozen or covertly in certain parts of the world human morality.
Now negates that you're saying that we can take much smaller
evidences forty years ago nobody thought women should vote today they do You couldn't
really run for office
today saying that you were going to stamp out the suffrage of women those are all
achievements we rarely think of
a dubious achievement.
You have faith and then we will have
reason or you have a reason and. So position here that through
increased rationality men will behave better towards
men. Oh yes I think there's been every evidence of that in history by the rise
of Germany in the US and all of that you can
say well this Denise which is the sister
of the young man who has these dreams of. Financial
success seem to look to Africa for a
sense of identity. Do you find that this is appealing to you to
me personally
as well by look to that. Has to be
clarified and what is really almost a
philosophical sense it's true I think that negro intellectuals and grow
artists are profoundly attracted once again
but there's a rebirth of that feeling.
Has to do with the reassertion of the of the possibility that what we
currently call the Western world is
not necessarily the universe and that perhaps we must take a
more respectful view of the fight but African leaders today say that
with regard to Europe and European traditions in the world that we will take
the best of what your perspective and the best of what we have produced
and and try to create a superior civilization out of the census.
I agree with them and I think that that commands respect
for what will be inherently African and
that contribution. What do you think
the tradition of Africa is meaningful to.
American Negro born and brought up here knowing very little about Africa just as most as every
American knows very little.
Is it meaningful yes only because of the peculiar history of American Negroes which has been one
of oppression. You see that the without intellectual understanding of
African culture and I. You're quite correct that just doesn't exist. Nobody hardly
knows where it is on the map or right until
recently what there was was emotional can
ship use it because. For obvious reasons you know
people who really honestly didn't know where or which
part which was East African which was West Africa you know but. Of Kenya as being in West
Africa still has this profound emotional can ship. In
spite of you know so many years and years
of contrary kinds
of reformation about it this is certainly still exists and
it's yeah strong and it is it's getting much stronger. I
think I know that you were twenty seven when you wrote
to supply and you said
that perhaps one of the reason why so many current Negro writers are so
young and that they have so much say they started
earlier. What do you feel that they have to
say
or that was a smart aleck you quote to prove that I still have a little
bit Meath in May but I think what
I meant. Aside from the fun of it was the Negro Artist
a negro a writer and to killer does have a particular vantage point which is a little different from
the white writer we have so many people have remarked in the original as me have
the
peculiar stance of being within and without
a culture at the identical moment you see of existence but we're never really
quite in to the
mainstream and yet we are obviously. Tyrolese
completely American and in every way conditioned and I thinking as Americans
and so on so that many of the things which puzzled other
people it seems to me.
Stand out in more bold relief to us some of the values. Some of the contradictions.
Some of the goodies that we most longed for and what not and another part of us we've
already judged you know I have already seen their
emptiness and some of the really marvelous things that other people don't pay that much attention to we know
how precious they are you know when you speak of civil rights civil
liberties that. We know that these are not things to be
toyed with because we're still just barely getting out.
I this is for you what are you trying to achieve through your own
writing while
trying to achieve. Well. I
suppose I
think about Hyacinth Yes
but
man has his art and I am audacious enough to think
of myself as an
artist.
But there is both joy and beauty
and illumination and
communion between people to be achieved through
the dissection of personality. That's what I want to do
I want to reach a little closer to the world which is to say to people.
And see if we can shift from a lumination to gether about each
other this is where you are speaking of the desire
to communicate what do you ask of a play what you asked to play do.
First of all I think I like for it to activate my imagination. I like very much to
sit back together and feel that I'm going to be transported
out of my own narrow
confines of the human being in speaking of what you ask to play then it
partly to move you. Yes I happen to believe very much that it should
move you. I think you must feel something about what you are
consuming. Otherwise you can walk down the street and see any number but set
against all of us being callous as we are by the facts of our life.
Don't have any reaction to it
because there's been no preparation no compulsion on our part
to participate in a crisis. You know so that you just pass the blind man
somewhat so but if you are involved on the station the fact of how he got blind
its relationship to other people because he. Blind
of his needs and tendencies this ability to involve the audience
or viewers in the scene. Do you consciously I think that when I'm writing this
this is going to an involved. How do you stay dramatic moment how do you say my
strong very good question that no one else
has ever asked and. That's very good. I
suppose I would have
to to think more carefully when I was working to really answers. Honestly
I I'm sitting here and to hear it I'm not that sure.
Do you see this drama in everyday experience as you're walking along the street or wherever
the yes but. I happen to believe
that most people and that's where I differ from many of my contemporaries or at least as they express themselves.
I think
that virtually every human being is dramatically interesting not only is he
dramatically interesting. He is a creature of stature whoever he is Mencken
said in journalism that there are no dull subjects there are only
doll writers. This is probably very very true.
And dramatic material that most people have was in them the
core of their conflicts which give them stature if the
writers able to probe it.
Do most people. Resolve these conflicts in a way that Dustin's don't you don't you know. This.
Well of well that's the beauty of the question
because it's in the struggle to overcome a
problem whether it ends in failure or what we might call for lack of a better
word success that people exhibit their possibilities as
being you know Hamlet
sales but does he so you would say that most people have there's a potential for stature.
Or that they only have it. Yes they have it within them to do that right. But
the but the drama to what the artist can do
that other people don't think to do in the course of. It's to wonder
about all that the elements of it you know. I felt that you know
the fact of getting up and going to work every day is a monument to tribute.
To the average
human but it really is you see and if you did you'd dissected then and treated
with all the conflicts that the man has just getting out of the bed that short story.
The things that must pass through his mind the responsibilities the weight the maybe the worst work
at the office you know or
the factory. He's not at that moment in time what he has
done just to get out of bed and get out and quite a saying
this is Brad like to ask a rather large question what do you get out of writing.
That is
large it's also balance.
And some measure I guess what I said before a sense of participation in my
time and what I call my world. The people that
I create give a great deal back.
I'm very very lucky of course to be only approaching. Thirty one
of the moment and had the opportunity to. You
know see it put before many people and have
their reaction to it and there is nothing yet that has been written I
don't think in poetry or that has quite articulated the
gratification of that I don't know how one
can know it probably is the most fulfilling experience a human
being can I don't mean just to write but I mean
to to try and create something and I haven't received any measure
of recognition for the work. So that I can only
said in personal terms I get enormous sense of personal fulfillment.
A slight sense of just occasion to be.
Meeting the people that you create. Something that to you how do you mean that you're involved with
the characters themselves and grow with us Will they argue with
me in the best traditions that writers are always talking that isn't just I'm artsy
craftsy thing they really do talk back to you and yet you're angry
and they really do have a lot
have ideas of their own I suppose what I'm trying to say is that to the extent that I
have evolved any. What I can only
call grandly. Philosophical notions as a whole comes from the process
of conversation
with people in life and also through the struggle
of trying to create people who are true. So that it's pretty much the
same process they do argue with you they demand that you prove your
point foreseen to be true. I want
to close with two personal questions first and quite simple factual one what are
your plans for the future what are you intending to work on
next three years ago or four years ago whenever it was I had
written follow plays. And I said
little but there were three place and I started out. Never having
written a play in my life. Third Act
play three act plays which was a hangover from my painting days when I
never could start anything other than you know the
whole thing at one time you know
just into it very big I want to continue the process.
I want to continue just typing things and writing plays all the way
out and those but I think have some merit. I will dare to
read to other people as I find a day to read that the
one. On from there I kept think
of any part of the world. I'm not sure how this sounds but it's what I feel.
And I can't think of any part of the world that doesn't intrigue me and that I would like to try and deal with
I want to try and deal with the drama and deep in my heart of course like every writer I would like
to write and.
The final question I want to ask you was raised in the sun was about dreams.
I wonder what your dream is. Well my
dream. Is largely outside of
myself. Which is a happy thing to be able to say but it
is I don't feel especially compulsive
about keeping up with anything or anybody in terms of career or anything like
that I've really think I'm in the process of living my dream I'm able to
work freely with.
Not a great deal of insecurity materially to use our word.
On what I want to work on and to do the things I want to do terms of
activities so that there isn't anything. I spiration ill and that's.
And which is why so that most of my dream is outside of myself I would like very
much. To live in a
world where some of the more
monumental problems could at least be solved I'm thinking of
course peace.
That's part of my dream that we don't fight. Nobody fights we get rid of all the
little bombs and the big
bomb and then just all the
other things that encompass human
questions and I think on that note I'd like to close and thank you very
much for years and alike. You're quite welcome I've enjoyed it very much.