Looking Back and Looking Forward in 1965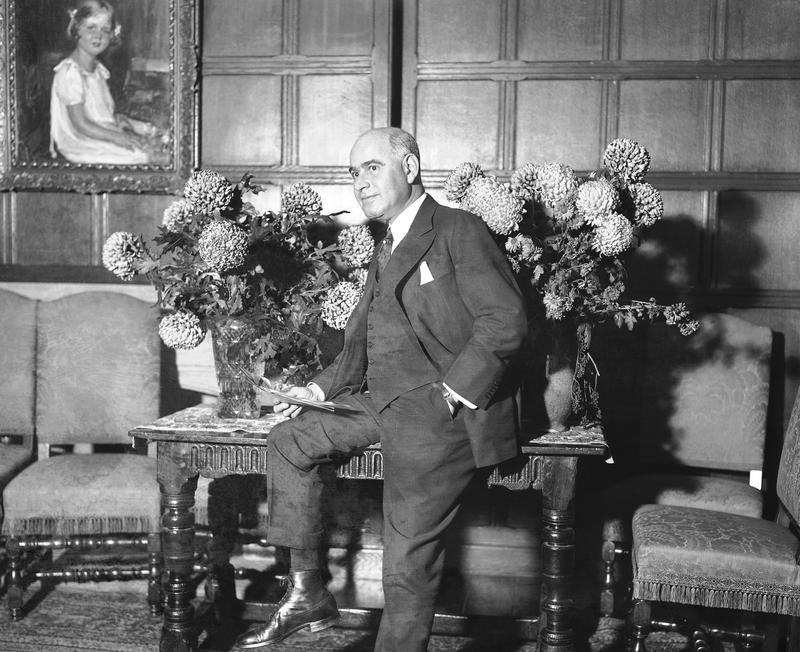 The late governor and senator Herbert Lehman is remembered at this 1965 meeting of the American Jewish Committee. The well-known civil rights attorney Morris Abram chairs the event, reading a telegram from the prime minister of Israel, Levi Eshkol, and going on to eulogize Lehman, particularly for his standing up to McCarthyism, noting he had "a conscience that did not respond to the fashions of the day." The rather incongruous method chosen to honor the former governor of New York is to fund in his name a chair in Molecular Theoretical Physics at the Weizmann Institute of Science in Tel Aviv. Mrs. Lehman accepts an honorary scroll. The emphasis then shifts from politics of the past to politics of the future, as Abe Feinberg, the noted Democratic fundraiser and link between the Jewish community and the current administration, introduces the guest of honor, Vice President Hubert Humphrey. Feinberg lauds Humphrey's push in 1948 to include a civil rights plank in the Democratic party's national platform, recalling how he "stood up courageously and tenaciously and…opened up a new era in the posture of this country." Feinberg claims this new direction energized "ethnic groups" (a code phrase for Jews) who were "sensitive to discrimination" and led to Truman's surprise victory over Dewey. He then goes on to clearly position Humphrey as the odds-on favorite to capture the presidency in 1968, concluding, "Your career has only just begun!" Humphrey steps to microphone but just as he begins his speech the tape, unfortunately, breaks off.
This meeting provides a snapshot of mid-century Democratic politics, the all-important Jewish vote providing money and a reliable constituency in several important urban centers. The strong bond between Jewish concerns and civil rights is striking. (Martin Luther King Jr., is in attendance.) But this leftward drift would lead to a break with the formerly "Solid South," which was a crucial component of past Democratic national victories. And so Hubert Humphrey's prophesied victory never came to pass.
---
Morris Abram (1918-2000) was a prominent lawyer and public servant who also served as president of Brandeis University and, as can be heard here, as a major fund-raiser for American Jewish and Israeli causes. Abram's most lasting legacy, however, was in the area of civil rights.  As the New York Times recounts:
Mr. Abram was a young lawyer in Atlanta specializing in railroad cases in 1949 when he began a 14-year struggle to overturn a Georgia electoral rule that gave disproportionate weight in primary elections to ballots cast in predominantly white rural areas at the expense of those cast by urban blacks. The rule perpetuated segregation in Georgia…. Over the years Mr. Abram helped bring cases against the rule to the United States Supreme Court. On March 18, 1963, Attorney General Robert F. Kennedy, who had been briefed by Mr. Abram, argued the case before the Supreme Court. In a historic ruling, the court declared the rule unconstitutional because ''within a given constituency there can be room for but one constitutional rule -- one voter, one vote.''
---
Herbert Lehman (1878-1963) was the first Jewish governor of New York and later the Senate's only Jew as well. Uncompromisingly liberal, he opposed the anti-immigrant McCarren-Walter Act and went even further out on a limb when he attacked the excesses of Joe McCarthy. Duane Tananbaum, in his book Herbert H. Lehman: A Life of Public Service, tells how:
Lehman continued to speak out against Senator McCarthy and McCarthyism.  He gave speeches in McCarthy's home state in which he denounced the Senator and his followers for inciting fear in order to achieve their political ambitions, and he lamented the failure of President Dwight Eisenhower and the Republicans to disavow McCarthy and his methods.  Lehman rejoiced when the Senate finally voted to censure McCarthy in December 1954, but he warned that "the forces of fear," the "anti-Communist vigilantes of the present day," still posed a grave danger to "our liberties, our traditions, and our way of life," and that the struggle must continue to safeguard "freedom, our civil liberties, and the principles of justice, of decency, and morality."
---
Abraham Feinberg (1908-1998) was widely credited with revivifying Harry Truman's seemingly moribund campaign for reelection in 1948. Contributions he provided from Jewish backers helped fund the famous "whistle stop tour" which became a rallying point for Truman's cause. This cemented the bond between the Democratic party and, through its American proxies, Israel. As the website prnewswire notes:
In an interview, Feinberg summarized his long success in Democratic Party politics:  "My path to power was cooperation in terms of what they needed—campaign money." According to new histories of Israel's clandestine nuclear weapons program including "Israel and the Bomb" by Avner Cohen (1998), Israeli Prime Minister David Ben-Gurion secretly named Feinberg his chief nuclear weapons fundraising coordinator in 1958.  According to Michael Karpin's "The Bomb in the Basement" (2007) Feinberg and 25 others contributed $40 million to the Israeli nuclear weapons program against opposition from presidents Eisenhower and Kennedy.
Audio courtesy of the NYC Municipal Archives WNYC Collection.
WNYC archives id: 70700
Municipal archives id: T1248, T1249, T1250, T1738 and T1879