Longest Serving Sanitation Commish Departs Saying 'Thank Youse'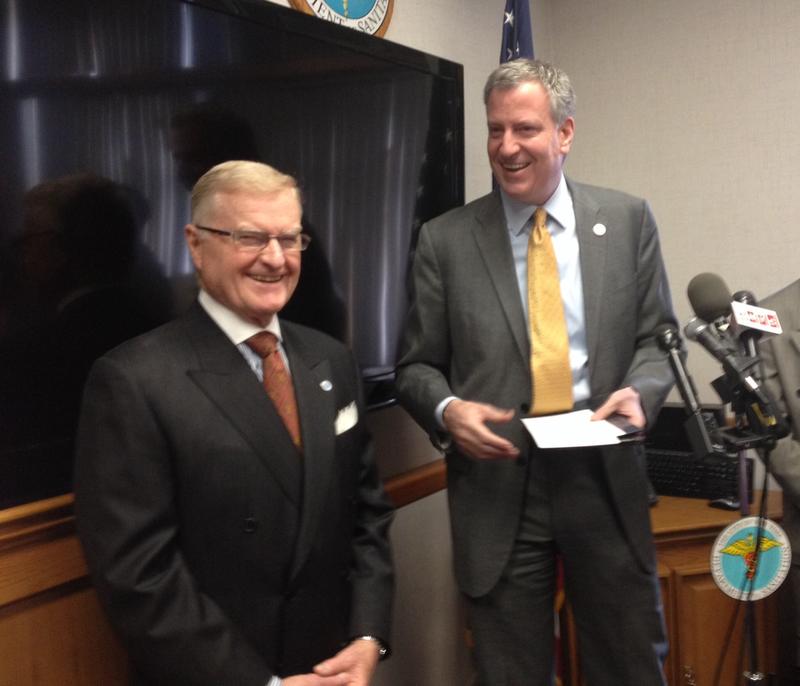 The city's new sanitation commissioner, Kathryn Garcia, starts Monday, taking the reins from the city's longest serving sanitation commissioner, John Doherty, who left his post on Friday.
After 54 years with the agency, Doherty was feted by Mayor de Blasio and dozens of the city's "strongest" who packed a conference room for a farewell breakfast at Sanitation headquarters Friday morning before sending him out the door with fitting serenade that afternoon.
"He was truly a hands-on commissioner," said Vincent Whitfield, a former deputy commissioner, who started as a sanitation worker with Doherty in 1960.
"John went out there and he got his fingernails dirty. He worked."
That ethic helped Doherty earn the respect of his department and eight mayors, including de Blasio, who asked Doherty to stay on and help him through the transition.
"I said John, can you saddle up one more time? I need you for this winter," de Blasio said at a farewell breakfast for the outgoing commissioner.
Doherty joked, had he known the city would be hit with record-breaking snowfall in January and February, he might have said no.
But after 17 winters as Commissioner, he has a sense of humor about it all.
On those snow-induced trash backups, Doherty offered some tongue-in-cheek advice: "It's packed in ice. Don't worry about it. It's like sticking it in a refrigerator."
In a neatly tailored gray pinstriped suit, with a white handkerchief folded into points in his breast pocket, Doherty posed for photos, traded handshakes and offered some parting advice about how to manage the agency's burly workers.
When he left work for the last time Friday afternoon, members of the department's Emerald Society pipe and drum band lined the foyer of Sanitation headquarters at 125 Worth Street in Lower Manhattan.
Doherty strode the length of corridor with his long time girlfriend Ellen Ryan just behind him, stopping to salute the band's conductor before walking out the door.
On the street, where a black SUV sat waiting, Doherty waved to a handful of Sanitation workers gathered on the curb saying simply, "Thank youse."